Tue, 13 Dec 2011, 18:34 PM



This Time I Came To Race



By Bob Frey


Photo copyright 2011 Auto Imagery, Inc.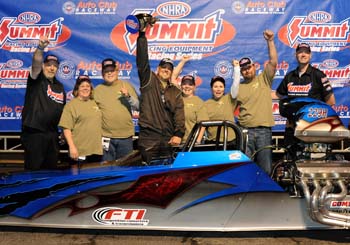 Mark Horton with friends
and family celebrate win.
In an earlier report on the 2011 Summit Racing E/T champions I mentioned how Brandon Schmall, the Pro E/T winner, had been to Pomona before with his brother. After the race Brandon said how much his brother's attendance at the race had helped him prepare for what he would be facing, and the result was a national championship for the eighteen year old. Looking back to 2010 there was a racer in the competition by the name of David Scott, and even though he didn't win he did have a hand in the 2011 championship. "I came out here with him last year," said Mark Horton, the 2011 Super Pro champ. "The whole experience was so nice that I knew I would like to do it sometime for myself." Well, after winning the Division 2 title at South Georgia Motorsports Park, Mark got his chance and he made the best of it. "It was a long ride but winning made the trip a lot easier," he said. "I can honestly say that the ride home was the best!"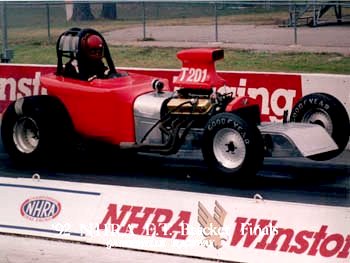 Terry Horton at
the 1992 Bracket Finals.
Mark Horton, not to be confused with "the other" Mark Horton, a guy who has won several NHRA national events, began his drag racing career as so many of today's top drivers did, in the Jr. Dragster ranks. "I started the first year that they had the class," he said. "And I really enjoyed it." Even though that was his initiation as a driver Mark said that he has been going to the races since he was six. "My dad used to race and he would always take me to the track with him. It was a lot of fun and that's where I got my love of the sport." His father, Terry, used to race a classic '23 roadster at tracks around the family's home in Florida. "He did a lot of bracket racing, but when I got my first car at sixteen he stopped driving to help me." But even though he isn't racing himself doesn't mean that Terry isn't there to support is son. "He and my mom, Susanne, and my wife, Kaye, all came to Pomona with me and it was great to be able to win in front of them." It was also nice to do all of the touristy things while they were there. "We went to Santa Monica Pier, Hollywood Boulevard and did a few other things. It was a lot of fun."
For the thirty-one year old electrician from Callahan, Florida, racing at Pomona was a dream, but one that was made easier by his visit there last year. "David and I have been friends forever and it was nice to be able to go out there with him last year." What was also nice was the fact that being there before he was racing there really did take a lot of the pressure off Mark. "I have to say that we were really kind of laid back this year. We knew where to go, what to do and what was expected of the racers, so all I had to do was concentrate on running the car." And that's something that he did very well.
Horton vs. Steven Shearer
in the final.
Like a lot of racers Mark will look back on the win and realize that he may have had one lucky round. "I'd have to say that the first round was a little bit of luck. He had me on the tree (Jimmy Harrison's .013 to Mark's .023) and I had to push it on the track. Fortunately for me the car did its thing and I was able to get the win." By "doing its thing" Mark is referring to the fact that his car, a dragster that he unveiled for the first time earlier this year, ran dead-on his 8.09 dial. "I went 8.093 and that was good enough to get the round win." In the semi-final round he faced the Division 6 champ, Dale Green, and again his car was the better of the two. "In that round we left together and I was able to run closer to the dial than he did (his 8.10 on an 8.09 dial to Green's 7.24 on a 7.22)." That set up the final round with Steven Shearer from Division 7, who fouled out giving Mark the win. "It was nice to see him go red and knew that I had the win as I went down the track."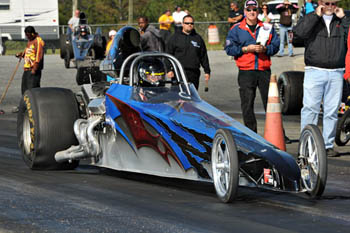 Horton at the
D-2 E/T Finals at Reynolds.
Photo copyright 2011 BME Photography/Chris Simmons
Don't let the fact that Mark knew what to expect in Pomona, or the fact that his opponent in the final round fouled out fool you, because he is one of the most competitive racers out there and he knows how to handle the pressure of a big race. To prove that point all you have to do is look at the final round of the Division 2 E/T Finals. "We were running in Reynolds, Georgia, and I was running for my track, South Georgia Motorsports Park. Going into the final run we were tied with Bradenton for the team championship." That's the run where Mark squared off with Trevor Beard for both the individual and titles. "I tried not to let the pressure bother me and look at it as just another race," Mark said. "But everyone kept coming up to me and saying 'We're counting on you' and 'It's all up to you' and things like that." Well, the pressure didn't get to him, he won the race and his track took home the team title.
Even though Mark's car may look like the average, run of the mill rear-engine dragster, there is one thing that is different about it. "I run E-85 fuel in it. I switched from the regular racing gas to E-85 because it was more economical." A difference of about eight dollars a gallon, to be exact, and when you race as much as Mark does that can add up to a lot of money. "It was really easy to make the switch. All I did was make some carburetor adjustments and changed plugs, and the E-85 isn't bothered by the weather changes that you can get in a long day at the track. At the Division 2 finals it was cool in the morning, got up to the mid 70's during the day and cooled off again at night and the car never missed a beat."
Mark Horton
Now that he has won the Summit Racing Series national championship and made the long, thirty-five hour drive home, Mark is back at work and getting ready for the 2012 season. "I'll still do a lot of Super Pro racing but I think I'll go to a few more division races and some national events and see how I do in Super Comp." Based on what he has already accomplished it shouldn't be too long before this Summit Series champ is wearing a Lucas Oil championship hat, too.