Sat, 10 Dec 2011, 09:14 AM



Northeastern Stars



By Kelly Wade


Photo copyright 2011 Diane Kubicke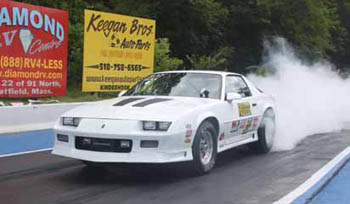 Joe Santangelo
NHRA's Division 1 again proved mettle as three of the regions champions were also crowned nationally. Earlier this week we touched on Top Alcohol Funny Car's Frank Manzo and his not-so-surprising dual championship win, and this story will take a closer look at the title-worthy divisional performance of Joe Santangelo in Stock and Peter Biondo in Super Gas, both of whom also won the national gold. Settle in because we'll also be covering the title chases of James Antonette Jr. (Super Stock), Chris DePascale (Super Comp) and George Forster (Super Street).
Santangelo came awful close to doubling in the division to make it a trio of trophies to grace the mantel at season's end; in addition to the Stock national and divisional wins, he finished second in the Northeast's Super Stock charge. He also scored a top 10 finish in the national Super Stock points and was seventh when all was said and done.
Early in the season, Dan Fletcher was taking his chances out of division in the warmer climes, and he was in the Stock Eliminator quarterfinals at both the Phoenix and Houston divisionals to begin with a nice little advantage. At the region's first hosted event at Maple Grove, the Stock victory went to Steve Szupka, and former world champion Lee Zane garnered attention with a semifinals performance there followed by a win at Lebanon Valley. Katie Sepanek put herself on the board by grabbing the title in Epping, but Santangelo was starting to show the good stuff and followed a quarterfinals finish at Lebanon Valley with back-to-back finals: a runner-up in Epping and a win at the Division 2 event in Charlotte.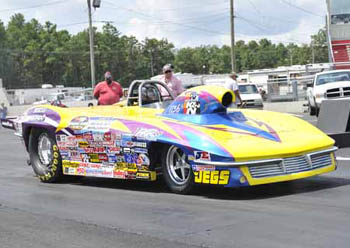 Peter Biondo
The Marlborough, Conn., resident was a bit off at the home race in Englishtown, but he headed out of town to hit Silver Dollar Raceway in Reynolds, Ga., and placed in the semis before moving on to Las Vegas, where he came up aces with a season-sealing final-round victory over Jimmy Hidalgo Jr.
Biondo joined brother Sal, the Comp victor, on the division champ stage as he was awarded his 14th Lucas Oil divisional title and emerged as the best Super Gas racer in the Northeast. The national title was his sixth.
Maspeth, N.Y., driver Biondo was out of the gate with back-to-back wins at the Division 2 events at Bradenton and Gainesville, and after a quick and uneventful stop at Cecil, Ga., it was back home for the D1 opener, where he pocketed a couple of round wins before taking off for Epping and driving his '63 Corvette to the winner's circle for a family celebration - brother Sal also won Comp at the event. Biondo didn't produce much more than a couple of round wins in the category in August, but when he swept at Englishtown and went on to score in the first round at the Auto Club Finals in Pomona, he had division and world titles in his possession.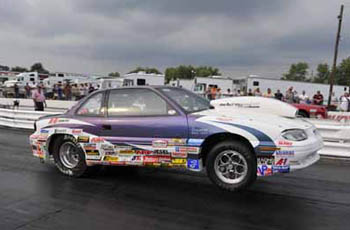 James Antonette Jr.
Mike Sawyer kept Biondo on his toes with a win at Lebanon Valley followed by a runner-up to Biondo at Epping, and he laid low throughout August before finishing the season with back-to-back final round appearances in Englishtown and Las Vegas. Biondo won the division with 471 total points over Sawyer's 418.
Biondo's early success outside of the region would also give him an edge for the division's Super Stock title; he was a semifinals player at Bradenton and rounded out a double at Gainesville with a Super Stock win to accompany the Super Gas trophy. But rounds became scarce for Biondo and his GT/DA Firebird through the summer months, while Antonette, of New Hyde Park, N.Y., and Santangelo were only heating up.
Santangelo would total three final rounds in the category over the course of the season, while Antonette and his '98 Grand Am would win at the opener in Maple Grove and then again after having to swap the motor following the first round at New England Dragway. He added a runner-up to his scorecard at New Jersey's Atco Raceway soon after. Though Biondo would come back with a victory in Englishtown and Santangelo would make an appearance at the Division 7 closer in Las Vegas, Antonette was the Northeast titlist with a final score of 408 to Santangelo's 397 and Biondo's 384. His season would also produce a top 10 finish in the national standings.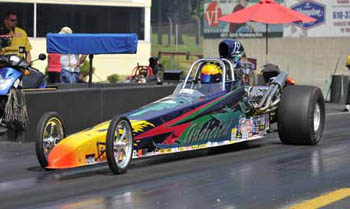 Chris DePascale
Parlin, N.J.'s DePascale earned the right to carry the No. 1 on his Super Comp rail next season by visiting the final round twice (Maple Grove and Atco), picking up a couple of round wins at New England Dragway, and then finishing the year with a quarterfinals out-of-division in Charlotte and a semifinals in Englishtown. He put together a brief but effective season as he only traveled outside of the division once - to Charlotte - and participated in six total events to claim his five best for the win.
DePascale, who was 8th in the nation, was threatened by the Kenny family of Kingston, Ont., - Jason won the Division 3 event in Indy in May and had a runner-up in Charlotte but couldn't quite muster enough points in the final days of the season despite making the trip west, and patriarch Al won the event in Epping over Justin Mason, who would make it to the final twice to ultimately finish fourth in the division.
DePascale exited the 2011 season with a victorious 54 point advantage over Jason, with Al accumulating 308 marks to the winning 374 and Mason just a bit back at 299.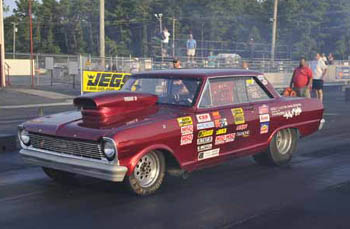 George Forster
Forster and his '65 Chevy II, out of Greencastle, Pa., weren't among the Division 1 competitors who earned an event trophy this year, but a final round at the opener in Reading and three trips to the quarterfinals as the season wound down - Cecil County, Englishtown and Columbus - aided in the acquisition of the overall Super Street win.
The points were particularly close, and second-place in the division was awarded to Edward Brooks, the runner-up at Atco and semifinalist out-of-division in Columbus. Forster totaled 331 marks to Brooks' 309, and Englishtown winner Chris Butcher was just one point farther back thanks to a win in Englishtown. Gary Federico (NED winner) and Don Garbinski (Maple Grove's last man standing) were tied with 299 points a-piece for respective fourth and fifth place finishes, and Ronald Ross was only one point behind them to finish just outside of the top 5.

Division 2 Point Standings

Super Stock
1  James Antonette Jr. 
2  Joseph Santangelo II 
3  Peter Biondo 
4  Dan Fletcher 
5  Shane Carr 
6  Jacques Blais 
7  David Thomas 
8  Frank Maiolo 
9  Arnie Martel Jr. 
10 Nick Scardelli 

Stock
1  Joseph Santangelo II 
2  Lee Zane 
3  Dan Fletcher 
4  Billy Pires 
5  Katie Sepanek
6  Jim Boudreau 
7  Russell Linke 
8  Steve Szupka 
9t Mike Ficacci 
9t Dustan Lowell

Super Comp
1  Chris DePascale 
2  Jason Kenny 
3  Alan Kenny 
4  Justin Mason 
5  Jason Hoff 
6  Jack Sepanek Jr. 
7  Tom Hunter Jr. 
8  Steve Martel 
9t Mike Robilotto 
9t Kyle Cultrera  

Super Gas
1  Peter Biondo 
2  Mike Sawyer 
3  Ray Sawyer 
4  Shawn Harp 
5  Jason Kenny 
6t  Alan Kenny 
6t  Matt Schurman 
8  Donald Miller 
9  Tom DePascale 
10 John Malcolm 

Super Street
1  George Forster 
2  Edward Brooks 
3  Chris Butcher 
4t Gary Federico 
4t Don Garbinski 
6  Ronald Ross 
7  James Neville 
8  Brenda Hunter 
9  Judith Perrino 
10 Kevin Tiedemann