Thu, 08 Dec 2011, 09:23 AM



Now He's A Three-Time Champion



By Bob Frey


Photo copyright 2011 Auto Imagery, Inc.






Bill Jenkins vs. Ronnie Sox in the 1970 final.
Photo copyright 2011 NHRA
Of all the Full Throttle classes, Pro Stock is the easiest one to define in terms of when it started to be part of the NHRA national event scene. Top Fuel had an on-again, off-again start in the early 1960's, Funny Cars ran a few events in the '60's before becoming part of the regular tour in 1970 and the motorcycles had a variety of sanctioning groups, names and races long before they became an "official class" in 1987. Pro Stock, on the other hand, always has had one defining moment, a moment that changed the face of the sport, and that moment came at the 1970 Winternationals in Pomona, the year that Pro Stock first raced as an official class at an NHRA national event. For those who have followed the sport since then it's hard to imagine what the class has become, after all, when Bill Jenkins beat Ronnie Sox in the 1970 finale, he ran 9.996 at 139.53 miles per hour. And, as the expression goes, the crowd went wild! In fact, some reports of the race say that "Pro Stock stole the show in Pomona" that year, and with Jenkins, Sox, Dick Landy, Wally Booth, Mike Fons and other stars in the field it's easy to see why. Pro Stock was the family car going down the drag strip, a car that the average fan could identify with, and they were driven by some of the sport's greatest stars. Did you know that four of the sixteen qualifiers at the '70 Winternationals eventually went on to win the Pro Stock national championship? Sox, Fons, Jenkins and Don Nicholson were all part of that historic field and all went on to win the championship. Did you know that, other than those four, there have only been eleven other drivers to win the NHRA Pro Stock Championship? Since the points system was instituted in 1974 there have been eleven Pro Stock Champions, and of that group three of them, Nicholson, Larry Lombardo and Mike Edwards have only won the championship one time. For the 2011 champ, Jason Line, it's his second Pro Stock title and his third national championship overall, and that includes his 1993 Stock Eliminator championship. Did you know that in the history of NHRA there have been forty-seven drivers who have won three or more championships and Jason is the latest to add his name to that list?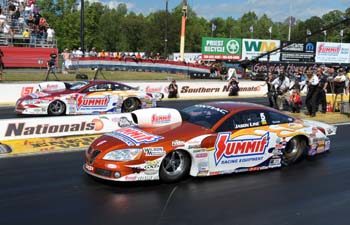 Line vs. Greg Anderson
in the Atlanta final.
Jason's run to the championship included eight final rounds, six national event wins and a national record. Did you know that four of those final rounds were against his Summit Racing teammate, Greg Anderson, and that Jason won three of those matches? The only final round he lost to Greg was at Indy where Greg beat him on a holeshot. He also qualified number one seven times, set low elapsed time eight times and, oddly enough, only recorded top speed once during 2011. That one time was in Dallas where he ran the table, swept the event and picked up a lot of points. Did you know that when Jason set the record at Maple Grove with that 6.477 pass, he did win the event but he didn't sweep it? That's because Greg grabbed top speed honors at 213.13, otherwise it would have been a perfect race for Jason. As it was, it wasn't too bad since that really was his springboard to the championship...With Jason's record setting performance in Reading he joined a very select group of racers who have accomplished that, and as fate would have it, while I was preparing this little tidbit I got an e-mail from John Jodauga, one of the great Pro Stock historians (in fact he wrote a book about it), and he asked me about this very topic. Did you know that in the history of Pro Stock there have only been eight drivers who qualified number one, set the record and won the race? Of course most of them did it more than once but only eight different Pro Stock drivers have ever done that, and since Jason has now done it twice (Virginia 2006 would be the other time) I'd say that puts him in very good company....Jason was one of three drivers to set the record this year and that doesn't happen very often. In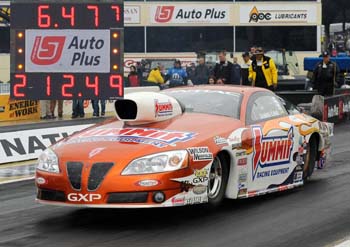 Line set the
E.T. National record at Reading.
fact, in the last thirty-five years it's only the fourth time there have been three drivers who set the national E/T record in the same year, with the other times being in 1977, 1992 and 2001.
Did you know
that in 1971 there were four drivers who set the national elapsed time record and that's the most in a single year in Pro Stock history? Of course they were running at divisional races back then so they set records, or could set them on almost a weekly basis so I didn't include them in this group.
Ron
nie Sox,
Don Carlton
,
Butch Leal
and Mike Fons were the record setters that year and they did it at places like
Phenix City
,
Alabama
,
Suffolk
,
Virginia
,
Fremont
,
California
and
Saginaw, Michigan
. And, for the record,
Ron
nie Sox ended the year with the record thanks to his amazing 9.52 pass at
Atco, New Jersey
in a race that I announced. Really!!...Jason's Pro Stock title goes with the one he won in 2006, a year that he also finished as the record holder. Now that I think about it I may see a pattern developing here. Set the record and win the title, and while they don't always go hand-in-hand, they often do.
Did you know
that twenty-eight times in the history of the class the driver who finished the year holding the national elapsed time record also finished the year holding the champion's trophy? I guess it's good to have a quick car, isn't it?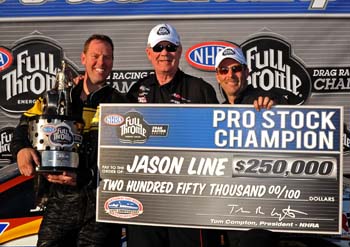 Line, Ken Black and Anderson.
It really should come as no surprise that Jason won the championship because he has had a very good car for a number of years. In fact, since he entered the class full time in 2004 he has finished in the top five every year and he has been in the top three in five of those eight years. In 2011 Jason won 47 rounds and that was the best in the class. Second place finisher Mike Edwards, who had another good year, won 39 rounds and third place finisher, Greg Anderson, won 40 rounds. Those three alone made the 2011 season one of the best and most competitive in the Pro Stock class history....Jason's title season began with a win at the Winternationals, and from that point on he was never lower than second in the points. Once the "Countdown" began he was in first place from the time he went to the final round in Charlotte until he clinched the championship in Las Vegas. In other words Jason and his Summit Racing team had a great year from start to finish and one of the keys to his success was how well he did in the early rounds. Did you know that Jason only lost twice in the first round and one of them was at the 4-Wide Nationals? Now I don't like to, and I don't normally make excuses for racers but Jason may get a "pass" for that opening round loss. Lined up with Dave Connolly, Ron Krisher and Shane Gray, Jason had a 1.069 reaction time and lost. But Shane was timed-out and that may have thrown Jason off, and even Connolly, normally very good on the line, had a .189 reaction time while Ron posted a .640. All I'm saying is that round was wacky so Jason can be excused for losing that one. The other opening round loss came in the "Countdown" in Phoenix when he shook the tires and lost to Shane Gray. Did you know that other than that run the only other time he didn't make a full pass in eliminations was at the last race of the year when he got out of the groove and shut down in his run against Kurt Johnson? That little fact alone shows why Jason is the 2011 Full Throttle Pro Stock Champion.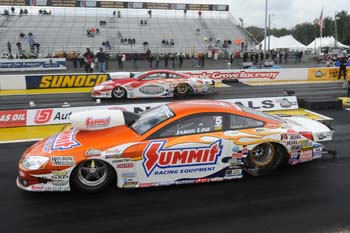 Line vs. Ronnie Humphrey
in the Reading final.
One of the reasons why there are so few champions in the class is the simple fact that two drivers, Bob Glidden and Warren Johnson accounted for sixteen of them, ten by Bob and six by WJ, and that doesn't leave a lot for the other drivers. Based on what I've seen over the past few years you would have to expect that both of the Summit team drivers, Jason and Greg, have shots at winning more championships, that is, as long as neither one decides to retire like Del Worsham did......One of the big stories in the class this year was the first 6.4-second run in Pro Stock, and while not quite as significant as the first 6-second pass or the first 200 mile per hour run, it was still quite a milestone. Mike Edwards earned that distinction when he went 6.496 in the first round of qualifying in Gainesville. Mike's joy was short lived when Rodger Brogdon, who was up next, went 6.495 to take the top spot, and eventually the record, away from Mike. When Greg Anderson matched that 6.495 at the end of the session we had a log jam at the top of the list, and that jam got even tighter when Jason eventually went 6.496 on Saturday. So there were four drivers on that weekend in Florida who ran in the 6.4 range, and do you know how many did that during eliminations in 2011? How about two? That's right, after a performance barrage in Florida that saw four drivers rip off 6.4 runs, for the entire rest of the year there were only two drivers, Jason and Ronnie Humphrey, who ran 6.4 in eliminations. Nobody did it in Gainesville and Jason and Ronnie both did it later in the year in Reading. Jason did it in each round of eliminations while Ronnie did it in his semi-final win over Rodger Brogdon. And if you talk about timing, I remember at the time saying how Ronnie had just gone 6.489, which was one of the quickest runs in history and he wouldn't even get lane choice because Jason ran 6.482 in his half of the semi-finals. The reason I mentioned that was because it's impressive that none of the other title contenders including Mike or Greg, made a 6.4 pass on race day in 2011 while Jason made four of them. Like I said, it's nice to have a good car.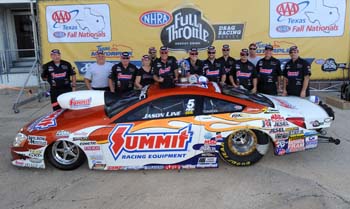 Line and crew celebrate win.
Jason will be the first one to tell you that he couldn't do it alone. Ok, so most guys who win the championship will say that, but as an "engine guy" himself Jason knows the importance of having a good team on his side. That said, let's congratulate the other members of the entire Summit Racing team, the ones you probably don't see or don't know, but they are the people who made Jason's second and the team's sixth championship possible. It all starts with car owner, Ken Black and his wife, Judy. The Summit team includes Greg Anderson, Rob Downing, Tommy Utt, Jeff Perley, Nate Vanwassenhove, Lynn Muller, Eric Maj, Dan Blabolil, Andy Cooper, Pat Topolinski, Doug McGill, Daniel Tillman, Sonny McCurdy, Keith Smith and "Uncle Les" Williams.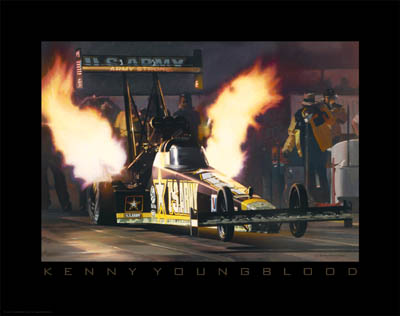 Kenny Youngblood's Tony Schumacher
With the holidays just around the corner I wanted to mention two special offers that are great for the drag racing fan in your life (or yourself!). Legendary artist Kenny Youngblood is offering a special set of four posters, all in color and all autographed by Kenny for just 99.95 (plus shipping and handling). Each one by itself would make a great gift, so buy the package, keep one for yourself and give the other three as gifts. Or, give one as a gift and, well, you know. You can find order them by calling 888-367-9830 and you can find out more about it by going to the "Press Release" section right here on DragRaceCentral.com and believe me it will be well worth your time. Plus, you'll make a lot of points with that special drag racing fan on your list.....Another great gift idea would be the new book by John Jodauga. Believe me when I say that he didn't ask me to plug it, but since I wrote the foreword for the book I'd like to see it do well. It's called "The Art of Drag Racing" and features some of the best artwork that John has done over the years and some of the classic artwork in the history of the sport. This includes several of the famous press kit covers that he did for Bill Jenkins, the "Blue Max" and any more and it even has some contemporary art featuring Ashley Force. It's beautifully done and reasonably priced, so what more could you ask for? You can find the book on Amazon.com so check it out.