Mon, 05 Dec 2011, 14:17 PM



14th Annual JFR Holiday Car Show Biggest Ever



Courtesy of Elon Werner



YORBA LINDA, Calif. --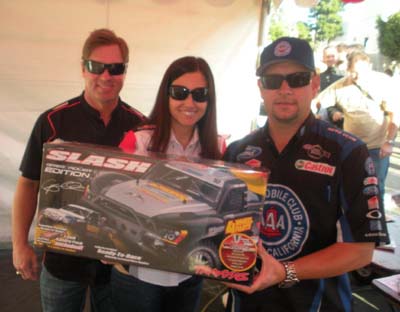 Mike Neff, Ashley Force Hood, and Robert Hight
pose with one of the remote controlled
trucks donated by Traxxas
A day after the 14th annual John Force Racing Holiday Car Show the staff at the West Coast JFR HQ is still recovering from what many long-time employees consider the biggest and most well attended holiday car show ever. Fans began arriving at the home of the 17-time championship NHRA Funny Car headquarters and museum at 7:30 a.m. even though the event wasn't scheduled to open to the public until 10 a.m. and crowds mingled long after the 4 p.m. closing time. Crowd estimates by local media exceeded 25,000 and the number of toys donated is expected to come close to 10,000 items for the California Highway Patrol "CHiPS For Kids" Toy Drive.
"We had a great weather and thousands of people turned out to support kids in need throughout Orange County and Southern California. It was an awesome, awesome day," said Craig Hoelzel, Special Events Director for John Force Racing.
"I can't thank the car club guys enough for bringing out their cars and trucks plus I have to thank all the Yorba Linda police officers who helped us with traffic and crowd management. I don't think I have ever seen a bigger pile of toys in all my years of being a part of the Holiday Car Show."
This year's Holiday Car Show featured two Batmobiles, numerous land speed racers, a 2006 Bugatti Veyron valued at almost $2 million and nearly 1,000 cars and trucks from area collectors and hobbyists. The featured cars of the show were Pontiacs and Hoelzel thought the car owners really did a great job of representing that era of classic hot rods well.
In the middle of the event the autograph session was the main highlight and all the JFR drivers including 15-time Funny Car champion John Force along with Robert Hight, Mike Neff, Ashley Force Hood, Brittany Force and Courtney Force signed for over two hours alongside NHRA Funny Car racer Jack Beckman, NHRA Legends Tom "Mongoose" McEwen and Linda Vaughn.