Mon, 05 Dec 2011, 09:47 AM



Reigning in the Northeast



By Kelly Wade


Photo copyright 2011 Diane Kubicke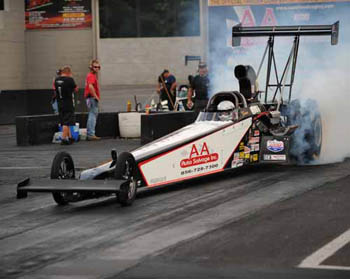 Karen Stalba
After a long and laborious battle, the 2011 Division 1 titles were awarded to the guys (and gal) who, by luck and skill, were able to overcome the elements and the odds and rise above the rest. This year's reigning Northeasterly winners included Top Alcohol Dragster's first-time division titlist Karen Stalba, THE Frank Manzo in Top Alcohol Funny Car, and a pair of blazing Biondos (Sal and Pete), with this feature discussing brother Sal and his charge for the Comp Eliminator title. In Top Sportsman, Ryan Ondrejko defended his 2010 title and was again the last man standing, while the Top Dragster crown was awarded to IHRA standout Jason Hoff.
After taking a couple of years off to start a family with her husband, multi-time Super class division champion Tom, Stalba eased back into Top Alcohol Dragster competition in 2010 and finished the year 8th in the Northeast, but this season she picked up a whole bunch of steam, especially right in the middle.
Like most everyone in the region, it all started not far from home for the Hammonton, N.J., racer at the Maple Grove points meet in May. Stalba was the No. 4 qualifier on the basis of a 5.437, 262.59 mph, but she was out early and went on to keep the engine warm by competing at the national event at Englishtown and then in Norwalk, where she picked up a couple of round wins and finished in the semifinals.
At Lebanon Valley Dragway, Stalba continued to show progress and put up good numbers in qualifying, 5.400 and 265.52 mph, to earn the No. 2 position and a start against Richard Bourke. With a round-win in the bag, Stalba moved on and up to Epping, N.H., where she would make her way to the winner's circle, and getting there by knocking out then-division points leader Daniel Page in the final round was a big feather in her cap. At the Atco meet just a week later, Stalba took him out in the first round, reset her career best by breaking into the 5.30s for the first time (5.366), and went on to finish in the final to move around Page in the standings.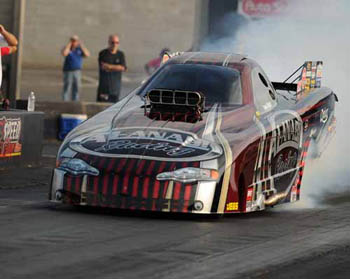 Frank Manzo
Page and Dan Mercier were among those still in the running for the division championship, but another final round - this time at the Division 2 event at zMax Raceway in Charlotte - gave Stalba a mighty boost. Late bloomer Mike Kosky earned wins at Atco and Rising Sun, but the final count saw Stalba scoring the Division 1 championship by 33 points over Kosky, with Mercier in third and Page fourth - but just by a handful of markers.
Manzo's scorecard didn't start off stellar. A runner-up at the division race in Indianapolis was followed by a very early exit in Norwalk for the driver of the Al-Anabi Racing Funny Car, but by the kick-off of the Northeast schedule, he was good and ready to drive right into his 21st division championship that would be part of his 15th world title. Manzo was perfect in the final six division events he competed in this season, scoring six wins to finish with an astronomical 425 points.
Fighting for second in the final hours were Eric Lourie and Todd Veney, with Wayne Morris hanging in there and finishing third based on a win at the Gainesville meet early in the year. Lourie and Veney both ended the year with 267 points, but Lourie won the tie-breaker for the No. 2 position.
Terryville, Conn., racer Lourie stuck close to home, competing in two national events and five divisionals and picking up a win at Lebanon Valley and a runner-up at Atco. Veney put a few more miles on the Permatex/Follow a Dream racecar, and for his efforts was rewarded with four overall final-round finishes for the season (three at the divisional level and one at the Summit Racing Equipment-backed national in Norwalk).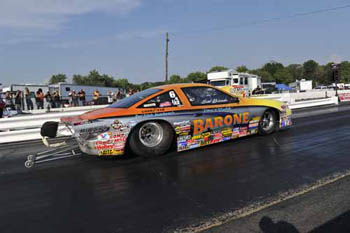 Sal Biondo
As the season wound down, Veney and company traveled to Reynolds, Ga., to see about edging Lourie in the standings; he needed a win to do it and fell just short, but he finished in the top 10 nationally for the second year in a row.
Biondo earned his fifth NHRA Division 1 championship title and very narrowly missed earning a second world championship in a Vinny Barone-owned entry by bringing home to Maspeth, N.Y., three wins (one at the national level) in eight final rounds in the Comp Eliminator category.
After traveling west to Pomona for the Winternationals, Biondo made his way along the national trail and scored a victory at the Gatornationals in Gainesville. He continued to race voraciously but didn't bring out the racecar at a divisional event until July, and the strategy proved effective as he warmed right up to a win in Epping, N.H., at his second division race of the year.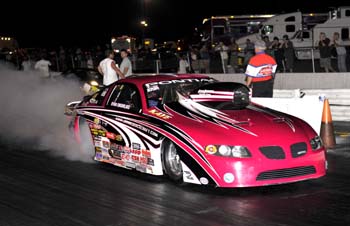 Ryan Ondrejko
Already on the board with Division 1 wins were Charlie Greco and Al Ackerman, but Biondo would ensure his eventual glory and add to his total by following the New England Dragway victory with five more final rounds in a row that would include one additional win, this time at Cecil county in Maryland. Kyle Cultrera and Gerry Russo were the victors in the other two events contested in the region, but the title was earned by Biondo.
Ondrejko, of Roslindale, Mass., knew what he was after from the start, and he started the successful defense of the championship he earned last season by racing to victory at the Top Sportsman opener at Atco Raceway with the Northeastern winter snow barely a memory.
It wasn't exactly smooth sailing from there - the divisional in Reading was won by Connecticut-based driver John Prime while Ondrejko bowed out first-round, but he recovered a bit with a semifinals run in Lebanon Valley, a round win in Epping, and a final-round at his home track in Cecil County.
Ronald Proctor was nipping at his heels with a runner-up at Lebanon Valley, a semifinals performance out of the division in Columbus, and the Cecil County win, and Jeff Brooks was keeping it scary with a runner-up at Reading and a win out of division in Charlotte. But Ondrejko closed the door on another successful season as he capped off his efforts standing in the winner's circle at Maple Grove. His 368 points trumped Proctor's 336, and Brooks finished third with a 303 total.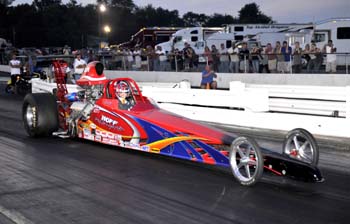 Jason Hoff
Hoff earned the Top Dragster title for the division by way of two important victories - one early in the year out of the division in Gainesville and another at the season-ender at Maple Grove Raceway.
The Littlestown, Penn., driver jump started his season by traveling south as the winter wound down, and his first race of the year, Bradenton, was a precursor to the Gainesville trophy that would be awarded a week later. A quick stop and a couple of round wins in Commerce, Ga., were followed by a return to the Northeast, where Hoff would complete his scorecard with five events and 335 points to next-closest competitor Jason Bridge's 324.
Canadian racer Bridge, taking a more varied approach with home division and out-of-division excursions, went to the final round at the Reading meet in May and was the winner at Cecil County. Following a semifinals finish at the October divisional at Maple Grove and surely with the Northeast title on his mind, Bridge traveled west to Las Vegas but was unable to produce enough points to grab title honors from Hoff, the IHRA 2010 Summit Allstars champion in both Top Dragster and Quick Rod.
Look for more recaps of the Northeast Division's championship chases soon, with breakdowns of the Division title runs within the other six regions to follow.

Top Ten Point Standings
Top Alcohol Dragster
01 Karen Stalba    299 
02 Mike Kosky      266 
03 Dan Mercier     257
04 Daniel Page     256 
05 John Finke      235 
06 Richard Bourke  203 
07 Jackie Fricke   171  
08 Tom Pickett     116 
09 Dave DeAngelis   62   
10 Ken Winward      50  

Top Alcohol Funny Car
01 Frank Manzo       425  
2t Eric Lourie       267  
2t Todd Veney        267  
04 Wayne Morris      214 
5t John Anderika     203  
5t DJ Cox Jr.        203  
07 Paul Gill         160  
8t Dan Pomponio Jr.  149
8t Fred Tigges       149  
10 John Headley      105  

Comp Eliminator
01 Sal Biondo         412 
02 Charlie Greco      357 
03 Kyle Cultrera      325 
4t Dave Yediny        304 
4t Frank Aragona Jr.  304 
06 Calvin Hill        271 
07 Tom Stalba Jr.     260 
08 Al Ackerman        259 
09 Chip Ippolito Jr.  249  
10 Steve Szupka       227