Sun, 06 Nov 2011, 16:25 PM



The Gassers, Pre-War Funny Cars



By Steve Reyes


Photo copyright 2011 Steve Reyes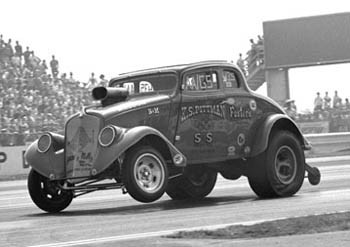 KS Pittman
The supercharged gassers of the 1960's are officially a vanished class of drag racing. This was the early version of today's funny car class sans nitro. Living in Northern California I had a nice selection of supercharged gas coupes to photograph. Sure we didn't have Stone Woods and Cook or Big John Mazmanian, but we did have "Hippie" Mike Mitchell and Ronnie Nunes. The Willy's were cool, loud and the NorCal drag fans loved them.
The supercharged Anglias and Austins were also loud, cool and ill-handling. Of course these racers would do battle all over the USA. From coast to coast these "Pre -War" funny cars would attract a cult following of drag racing fans. The rivalry of this class was wild. It seemed like weekly ads in Drag News would heighten these rivalries with Isky Cam Ads taunting Big John Mazmanian's exploits of his candy red Willy's. The following week Engle Cams would brag about Stone, Woods and Cook's adventures down the quarter mile.
The rock stars of this class were "Ohio George," Stone, Woods and Cook, Big John Mazmanian, KS Pittman, JR. Thompson, Kohler Brothers and Shores and Hess. In the Northwest, Jack Coonrad and Twig Zeigler raced their Willy's. The East Coast was the home of the S and S Automotive group of Gassers. The Willy's and Anglia bodied racers started to give way to other body styles and classes. Ohio George would trade his 33 Willy's for a Mustang bodied gasser. Stone, Woods and Cook would forgo the Gasser class and go funny car racing. Big John and Jr. Thompson would combine forces and race an Opal bodied gasser before both would go funny car racing. New York's Jim Oddy would switch from Austin to Opal bodies.
The Hill Brothers would go funny car racing, Prock and Howell's beautiful '33 Willy's was parked and a Mustang nitro burning funny car was debuted in 1970. All of a sudden a fleet of super charged Opal gassers flooded the quarter mile from West coast to East Coast. The old style gas coupe was dead, the victim of progress. But folks like Phil and Dee Morris who publish the Gasser Wars Magazine will never let the old style gasser die. Their all color self-published magazine features restored, original and the best of the Willy's, Austin, and Anglia's from all over the USA. It also includes coverage from reunions and nostalgia races. It is truly the gasser fans bible.
For me the supercharged and non-supercharged gas classes in drag racing were a special part of the sports history and I am glad I got to experience it. Below is a photographic glimpse into this special part of history. If you wish to purchase any of the photos below, please contact us at blrenterprise@cox.net or you can find other photos at www.reyesontour.com.
At Irwindale, California on December 26, 1966, Jr. Thompson raced his battle scarred Austin AA/GS. About two years later Thompson would team with Big John Mazmanian and race a AA/GS Austin.
The pride of Buffalo, New York was, Jim Oddy and his beautiful blue AA/GS Austin. Oddy would forgo his Austin for an Opal in the early 1970's Jim's booming engine building business would curtail his racing somewhat but he would remain active on the local drag strips.
Two of the best AA/GS square off at Fremont in 1968. The famed Shores and Hess Anglia vs. the Austin of Jr. Thompson and Big John Mazmanian. Thompson red lit and gave the race to the Anglia.
In 1969 at the NHRA US Nationals and KS Pittman is muscling his AA/GS Willy's down the Indiana quarter mile. I got to see Pittman drive some very cool race cars. A '41 Willy's, '33 Willy's, 48 Austin, Opal and a BB funny car.
Two giants in the AA/GS class meet at Englishtown, New Jersey 1971. Ohio George Montgomery and his Turbo Mustang vs KS Pittman and his Tiger Opal. It was strange to see these two icons of the gas classes driving modern bodied race cars. Gone were the '33 Willy's bodied gassers that both were known to have raced.
The best of the best side by side at Riverside, California in 1966. The Kohler Brothers King Kong Anglia vs. the Shores and Hess Anglia. Whenever these two raced they were out for blood. No love was lost between these two teams.
A local gasser hero in the San Francisco Bay area was "hippie" Mike Mitchell. Mitchell's AA/GS '33 Willy's was a favorite of Bay area drag fans. Mitchell would sell his Willy's and build a topless Corvette AA/GS. Mike then sold the Vette and built a Cuda funny car. Mitchell then twice got to feel what a burning race was like and he soon retired after his fires.
Another Bay area AA/GS team was Brasher and Cummings. This beautiful purple Willy's ran well and would battle other local AA/GS racers like Mitchell, Ron Nunes or Warren, Miller and Warren for AA/GS honors at Fremont, Half Moon Bay or Lodi, California.
In 1968 the Hill Brothers brought their east coast based AA/GS Willy's to Fremont, California. Here they disposed of local Northern California hero Mike Mitchell and his AA/GS Willy's. In a few years both would vacate the AA/GS class and go funny car racing.
The biggest rivalry in the AA/GS world was between Stone, Woods and Cook and Big John Mazmanian. Whenever these two match raced it was a major happening in drag racing. This match in 1966 at Fremont, California was won by Stone, Woods and Cook in two straight. Mazmanian's candy red Willy's suffered a major transmission failure that ended its race day.
The Speigal Brothers made a pass with their four door Willy's AA/GS in Sacramento, California in 1967. This Willy's body style was rare in the AA/GS class and I believe it was rare in any gas class. The Speigal Brothers would go funny car racing with the Burkholder Brothers. This team of brothers was not successful.
One of the many Opal's to surface in the early 1970's was Bobby Lombardi's purple AA/GS Opal. These Opal's could be a handful. Look at the side of Lombardi's race car, he said hello to the Columbus, Ohio guard rail at the NHRA National event.
The Airoso Brothers would venture from central California and race their BB/GS Willy's at Fremont. Here in 1966 the Airoso Brothers took on another brother team, the Panellas and their 1941 Willy's pickup BB/GS.
These supercharged gas coupes could be a real handful at speed. Nunez and Dillon found out first hand about high speed handling. The Salinas based duo's Willy's AA/GS was destroyed in a finish line crash at Fremont in 1967. Driver Phil Nunez walked away with a broken arm. And yes, they did return with an all new 1941 Willy's truck AA/GS.
The Goldfinger Anglia was a fan favorite whenever it raced. Owner/driver Steve Korney had rigged the hand on the sides of the race car to light up and when the car left the starting line the top finger on the hand would pulsate pointing at the end of the quarter mile. Not only did Korney's Anglia race well, he put on a one of a kind light show.
Two of the best in 1966 clashed at Irwindale, California. The Herrera and Sons Austin vs. the Kohler Brothers Anglia. A couple of months later and Herrera's Austin was destroyed in a strange crash at Lions. While racing at Lions, Herrera did a huge wheel stand. Upon returning to mother earth, the Austin crushed its front end resulting in the Austin having no steering so it made a left turn behind its opponent. Oh yeah, the throttle was also stuck wide open. At Lions on the left side about 90 feet out there was an opening for the ambulance to drive on to the track. Yes, you guessed it, the wayward Austin found the opening and smacked into the ambulance. Driver Manuel Herrera was shook up but not injured. The ambulance crew was very surprised, but uninjured. It was just another night at Lions.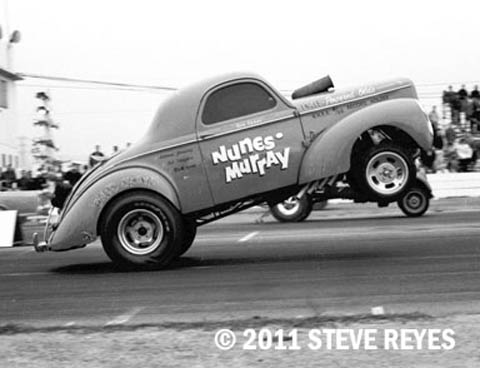 One of the first Willy's gassers I got to see run was Ron Nunes' Olds powered Glass Spook. The supercharged Olds supplied plenty of power for the orange '41 Willy's. Nunes had a lot of wheels to the sky passes in the mid-1960's. Ron would park the Willy's and race an Austin and Corvette in the AA/GS class.
Big John Mazmanian was on tour at Half Moon Bay, California in 1965. I can't imagine towing this candy red coupe on an open trailer, but they did it. Big John's Willy's is on the trailer due to a broken transmission.