Thu, 31 Mar 2011, 08:16 PM



Where Have These Guys Been?



By Bob Frey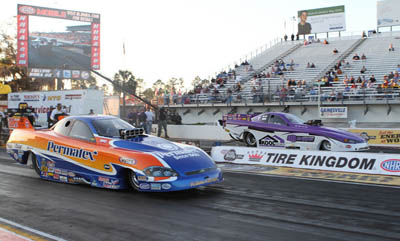 Todd Veney vs. Kris Hool
in round one at Gainesville.
Photo by David Smith, Speedzone Magazine
Over the course of the years that I have been covering, following and enjoying this sport a lot of people have come and gone. I'm not talking about racers who have passed on, I'm talking about guys (or gals) who made a big splash over a short period of time and then, well, disappeared. If you read a lot of the stories in my "From the Tower" section you know that many of these racers leave to start a business, raise a family or to do any number of things. And while that's natural, there are still those that burst on the scene and, just as quickly, burst out of the scene. While that may not be good grammar I'm sure you know what I mean. Recently there was that Evan Knoll guy. He came, he saw, he apparently conquered a lot of things and then, poof, he was gone. The folks with CMKX also come to mind. Here today, gone tomorrow. Years ago there was Barry Setzer. Although he did hang around for a number of years, he left the sport almost as quickly as he joined it. And just whatever did happen to that Don Schumacher fellow? He had three Funny Cars racing at one time in the early 1970's and then, all of a sudden, he was gone, but I'm sure we'll hear from him again. To a certain extent, the Hool brothers fall into this category. They ran the Division 5 races in Top Alcohol Funny Car in the mid to late 1990's and they were very competitive. Of course trying to win races or divisional titles in D-5 back then was tough, after all, you had to contend with Vern Moats and Cy Chesterman to name just two of the Division 5 hitters. But they raced and did very well, and then, gone. Well, now they are back and to say that they are back better than ever would be an understatement. After winning the Division 2 race in Bradenton they came to Gainesville and promptly ripped off a career-best 5.614 - 260.97 mph pass and they made the show in the tenth spot before losing to Todd Veney in round one. So the big question is, where have they been and what brought them back?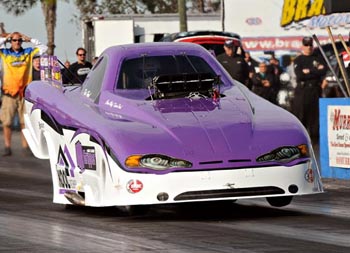 Hool at the Bradenton.
Photo by BME Photography
Kevin and Kris Hool are brothers from Casper, Wyoming, and they made a big splash in Gainesville. "Where we live, there aren't a lot of tracks close by," Kevin said. "In fact, the closest national event tracks are Las Vegas, Topeka and Brainerd and they're all about 900 miles away." With that in mind and with a new car in tow, the brothers decided to head South for a few weeks. "We figured that we could hit three or four races in a couple of weeks and they're all within 125 miles of each other." The strategy paid off with a win at the Division 2 race in Bradenton and a runner-up at the one in Valdosta. "Rich (Schafer), the Division 2 director, couldn't have been nicer," Kevin said. "The Bradenton and Valdosta tracks made sure we had a place to park on the off days to service the car, everyone was very accommodating, and we really can't thank them enough." And while the boys knew that they could get some racing in they also knew that they would face some stiff competition. "We knew that Mickey (Ferro) would be there along with Mark Billington and others, but we needed to get out and run the car. With the price of fuel I think you'll see a lot of guys trying to consolidate their travel this year. I know we will."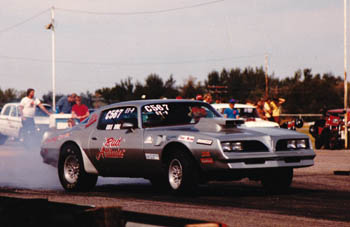 Hool in their Trans Am.
While the Bradenton race ended on the day it was supposed to end the Valdosta race didn't, and that affected the way the brothers approached their next race, the Tire Kingdom Gatornationals. "Normally we would run the first two sessions and sit out the third. But because the third session would also include the final from Valdosta we had to run." On that pass Kris, the designated driver for the team, fouled out by one-thousandth of a second, giving the win to Thomas Carter. And as much as that hurt, that little glitch would play a part in their first round of the Gatornationals' event. "We ran well in qualifying but still ended up in tenth place. When we ran Todd Veney and the 'Follow a Dream' car in round one, because of that earlier foul, Kris was a little hesitant to push the light like he normally does, so he held back a bit and we lost on a holeshot. Still, when you run 5.553 and make three runs in the 260's and you don't hurt anything you have to be happy with the weekend."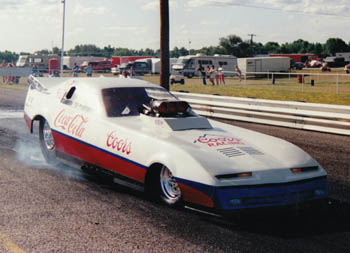 Hool in their Camaro Funny Car.
The car that they are running this year is the first brand new car that the brothers have had in their racing career, and that goes back a long way. "We initially started when a friend of ours was going in the service. He crashed his car the night before he was to leave, came by our shop and asked us how much we would give him for it. We bought it and now had a Trans Am that we could race." After fixing it up they ran it for a few years at their home track in Douglas, Wyoming. When asked why Kris got to drive, Kevin said that his little brother just always had the knack for driving. "He was a natural. He once won twenty consecutive rounds with that car and a track championship." For his part, Kevin does the tuning although he did get to drive the Trans Am and their next car, a Chevrolet Camaro, a few times. "Kris said that I always had to drive at least once a year, and so I did." That includes all their cars except the alky Funny Car. "No, you need to learn how to drive them and that takes a while, and it takes money and we didn't have that luxury."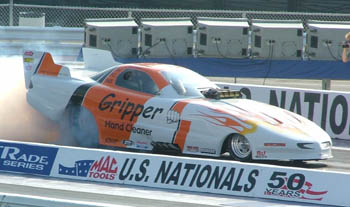 Hool at Indy.
After a few years with the Pontiac and the Chevrolet, the brothers finally stepped up to the alky ranks. "We bought a car that actually went back to the original owner, Jerry Gwynn. We ran that car for a long time, in fact, when we went to Indy with it in 2004 and they were honoring all the old cars, ours could have qualified. It had a 1979 chassis stamp on it." Even with that ancient piece of equipment they still managed to qualify at Indy, only to lose to Frank Manzo in round one. At the end of 2004, with their stepfather's passing, the brothers went into building mode, building a new home for their mom, a new shop, and a new Funny Car. "We moved mom into her home in January of 2006," said Kevin. "Not long after that mom got sick with cancer and we put any thought of racing on hold, but we really wanted her to see the new shop and car completed. Kris worked 18-20 hours a day, seven days a week on the shop and cared for mom during the day, too. I'm no Bob Villa, but I tried to help Kris where I could," said Kevin. "Mom got to see the shop done, and we got the new car home from RCF before she passed in May of 2009. She was such a great fan and she loved coming to the races with us. When she couldn't make it she would take her NHRA flag and run it up the flag pole in front of the house. That let all of her friends know that we were away racing."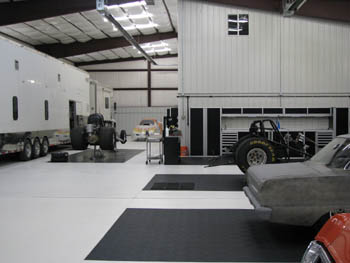 The Hool brothers didn't just build a shop, they built a shop that just happens to include a 3,600 square-foot house inside of it. "The shop is so cool and a lot of teams looked at it and wanted to know how we did it." Those inquiries led to a thriving business for the Hool brothers, a business they call Cool Race Shops. "We have a web site,
www.coolraceshops.com
, where teams can go and find all of the information they need about building the perfect shop for them. We don't actually sell anything on the site but it shows you where to go, who to contact and how to go about the project. It really is, well, cool." They also use the site to promote their other product, Gripper Hand Cleaner. "We sell that to individual stores and shops and everyone who tires it loves it." I guess that's cool, too.
At the end of 2010 the brothers debuted the car that they are now running, a 2010 Chevrolet Monte Carlo that was built by Mike Robeck, the owner of Robeck Custom Fabrication. "We met Mike in 2004 and when we heard that he was building cars we got in touch with him. As you know, car builders like to build cars for guys who have gone real fast, and we weren't in that category, so we were very fortunate when Mike took a chance on us." The end result has worked out well for both parties, the Hool's have a car that can run with just about anyone, and Mike has a great billboard to advertise his service." I grew up working with a lot of the top tuners and drivers in the class and I learned a lot from them," Kevin added. One thing that he learned came from Denny Lucas, who told him to never be afraid to change things. "Even when you've made a good run, Denny said you can always do something to make the car go faster. This new car is such a treat to tune because it responds so well to everything I ask it to do." Kevin admitted that, once in a while, he lets his ego get in the way. "Yeah, I tuned it with my ego instead of my head at the Gainesville divisional race and it bit us." Kevin said that he learned from that, and one thing the drag racing community has learned already this year is that the two brothers from Wyoming will be a factor at the Division 5 races and on the national level this year. "We'd like to think that we can run with most of the guys out there. We'll go to Houston in a few weeks and then start the D-5 races after that. We have about 15 more races planed this year. We just want to get better every race." Based on what we've seen so far, they are well on their way to accomplishing that goal, and it's good to have the boys from Wyoming back in action again.