Fri, 4 Mar 2011, 02:12 PM



What Do You Do For An Encore?



By Bob Frey


Photo copyright 2011 Bob Johnson Photography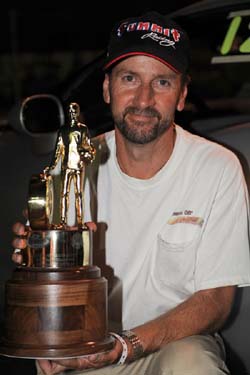 Gary Hairfield won the
2010 Division 7 ET Finals.
Success means different things to different people, and it certainly has different meanings in the racing world. If you qualify number one, set low elapsed time and top speed but lose the race was it a success? If you are a decided underdog but make it to a final round only to lose to the heavy favorite, was it a success? And if you are given no chance of making the field at all and yet, somehow, manage to qualify, is that a success? See what I mean, success can be defined in a variety of ways. To most people it seemed that Matt Hagan had a very successful year, but if you ask him, it wasn't. Going into 2010 if you told him and his team that they would finish the year in second place behind only John Force they would have been ecstatic, I'm sure. Looking back, though, it's a little different for them. And so it goes, up and down the ranks, from pros to the weekend racer, the definition of success is open for discussion. That is, unless you happen to be named Gary Hairfield, then, no matter how you look at it, 2010 was a very successful season. You can say that when you win a track championship. You can certainly say it when you win two championships. But when you do the unthinkable and win three track championships all in the same year, you, my friend, had a very successful year, and that's exactly what Gary did in 2010.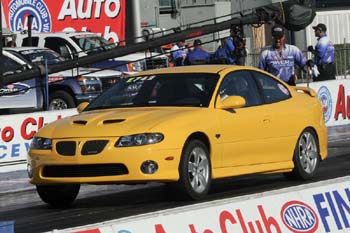 Hairfield in his GTO at
2008 Summit ET championship in Pomona.
Gary Hairfield has been racing since the early 1980's. "I used to race at Carlsbad Raceway," he said. "In fact, I'll bet if you totaled it all up, I've made more runs down Carlsbad than any other racer." When I pressed him to tell me how many passes he thinks he made down that fabled drag strip, he thought for a brief moment and then said, "Oh, about 10,000." Even if he's off by fifty percent that's a lot of runs down one track.
Gary began racing with a 1973 Pontiac Trans Am and to say that he got his money's worth out of it would be an understatement. "That was a good car," he said. "I made most of my runs down the Carlsbad track in that car and I held on to it until 2005." He added that he got rid of it because he was, in his words, "finally done with it." By that he meant that he had the car long enough that he had accomplished all of his goals, which included winning a lot of races and getting the car to go from 15.60 at 92 miles per hour when he bought it, to a very impressive 12.48 at 110 when he sold it. "The car looked all stock, it just evolved over the years. You tweak it here and there and learn more about it and you can get better performance out of it." Once he sold that he stepped up to a 2005 Pontiac GTO that he had for the next few years until he picked up his latest ride, a 2009 Corvette with an LS3 engine. And as much as he liked the Trans Am and the GTO, Gary loves the Corvette. "The things that GM has done with this engine and this car are just unbelievable," he said. "This is a magnificent car. It runs in the twelve-second range at over 119 miles per hour and I can drive it on the street and get over twenty-five miles per gallon with it. I wish GM would hire me to advertise about how good this thing is, because believe me, it's a remarkable car." When pressed about that mileage report, and remember your mileage may vary, Gary said that even though the car isn't his "daily driver," it does see a lot of time on the street. "I drive it to almost all of the races that I go to, race it and then drive it back home. About the only exception is if I'm traveling a long way, then I put it in a box." Based on what he did last year the 'Vette saw a lot of highways, a couple of boxes and a lot of winner's circles.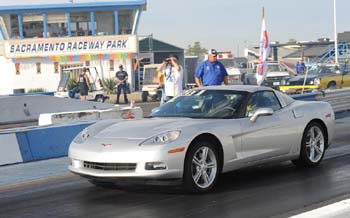 Hairfield in his Corvette
at Sacramento Raceway Park.
When I asked Gary to tell me about his 2010 season he was almost apologetic when listing off his accomplishments. "Well, since you asked," he began, "I won three track championships, nine NHRA 'Wallys," the Division 7 Summit Racing Sportsman Championship, the Division 7 ET Racer of the Year, four National DRAGSTER Challenges, two King of the Tracks and the State Championship race for sportsman." Hey, Gary, I won two dollars on a scratch-off lottery ticket!! Anyway, all of those track and divisional titles meant that Gary qualified for a trip to the Summit Racing ET National Finals in Pomona, something he had done before in 2008. "I lost in the first round in '08 and was determined to do better this year." Well, sometimes being determined just isn't enough. As fate would have it, Gary drew Jeff Hefler, one of the more accomplished racers in the competition in 2010, and Jeff took him out. "I have to give him credit," he added. "He put up the numbers and the pass that he needed to do and I didn't. It's that simple. He whipped me because he was better than I was." Besides having a year like he did, which is something you don't hear about often, you also don't often hear a racer say that he just flat got beat. How refreshing.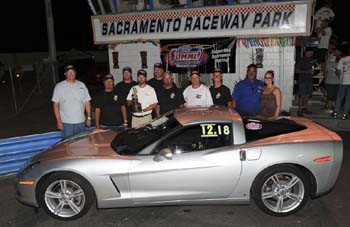 Haifield won the
D 7 ET Finals at Sacramento.
When Gary rolled into Pomona last year he was one of the most talked about racers ever to come to the Summit Finals. Usually the racers from the seven division haven't even heard of the other guys, except for a very few occasions, but in 2010 lots of them, especially those in the Sportsman class, knew about the year that Gary had. Even Jeff commented at the racer's dinner before the event that he hoped he didn't have to race "that guy who won all those track championships." Well he did and he beat him. "It was tough, because I thought I was prepared and had my car set up right. It did what it was supposed to do I just didn't do my job as well as the guy I raced." So what now? "Losing like that has only made me more determined than ever to work hard in hopes of getting back there for another try. If it's possible, I'm even more driven now than I was last year." That could be bad news for the competition out West.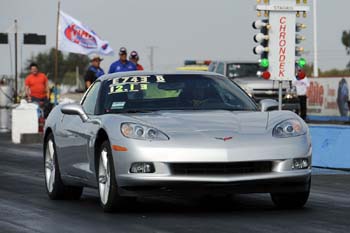 In 2011 Gary plans to work his race schedule around his regular job, which is serving as a field damage appraiser for an insurance company, and the fact that he lives in San Diego enables him to get out and race more than most others in the country. In fact, he has already won a couple of races at Fontana and one at Barona. "We start complaining if it gets below about sixty degrees out here," he said. And then he added that, with all the tracks available to him, he will once again try to represent Barona at the ET Finals this year. "It's a great family operation. A lot of there people, including the owners, are old Carlsbad folks and I'm honored to be racing with them. I'd love to win the track championship and go to the Division 7 ET Finals again for Barona." And even as the new racing season gets underway, no matter what happened at the 2010 Summit Finals, by any standard Gary Hairfield had a year that any other drag racer would love to have on his resume.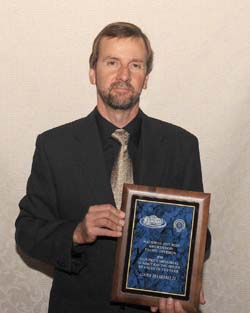 Gary Hairfield won
ET Racer of the Year Award.
"I would like to thank Mike Rice for his hard work taking care of Division 7 and for the ET Racer of the Year award from last year, it is a real honor. Also thanks to my home tracks Barona, Fontana and Irwindale for being there for the racers. Thanks, too, to my wife Nancy for putting up with my passion for racing, and thanks to Bob Frey for his contributions to this sport (I am a BIG FAN). Thanks to the NHRA and Summit Racing for giving racers on a budget a great venue to compete. In closing I would like to address the folks at Chevrolet Marketing....I need a Sponsor!! Taking cars out and showing people what they are capable of sells cars!!"