Wed, 2 Mar 2011, 11:52 PM



The Chance Paid Off



By Kelly Wade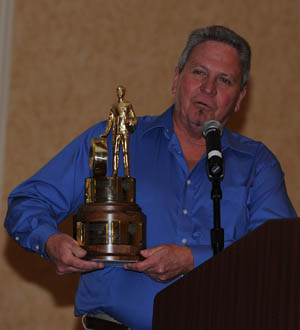 Mike McCullah
Photo by Robert Grice
NHRA Division 4 Sportsman Motorcycle rider Mike McCullah is totally at home on two wheels, but man, that class is tough - especially in the South Central region where rounds and races and titles are often won by just a little bit. The intense competition is what makes the reward so sweet, though, and when McCullah emerged from battle with a stranglehold on his first Division 4 championship, he knew he had earned it.
Event titles within the division were shared, no one rider came in and swept, but McCullah and rival racer Ben Brown were the two who waged war to the very end. They faced one another in three final rounds over the course of the season with Brown reigning in two of their matches, but McCullah had the advantage in overall round-wins and scored the title by 11 points.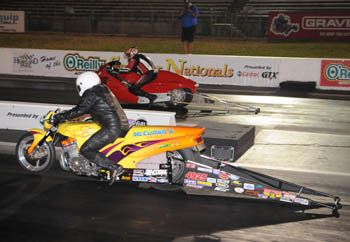 McCullah vs. Ben Brown
at the Topeka divisional race.
Photo by Barry Bergeron, Eagle Eye Photography
"I always think I have a shot at the championship, every year," said McCullah, who was No. 2 in 2006 in his first season racing the division and has finished in the top 5 in four of the past five years. "Every year we lead the points at some time or another, but there are a dozen or so racers who are equally as good. It would be nice to run away with it, but no one ever does."
Last season, McCullah had the advantage when the last Lucas Oil Series race on the schedule came up. The event was the Division 7 closer at The Strip at Las Vegas Motor Speedway, and since Las Vegas was a fair distance from his home in Houston, McCullah crossed his fingers and stayed put while Brown traveled West to try to make up the small deficit.
"I thought I'd take a chance," said McCullah. "Ben was at a disadvantage - they don't allow electronics in our class there - and he had to go out and do something he wasn't familiar with. I got lucky because he lost first round."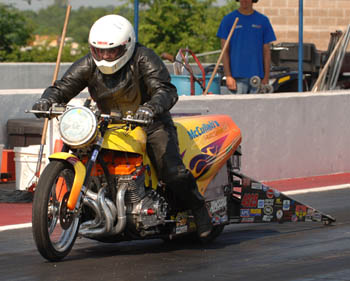 Mike McCullah
Photo by Robert Grice
Luck may play a part in success, but McCullah has vast experience on two wheels that cannot be overlooked. His parents were both motorcycle riders who would plop their kids behind them and ride around sunny Florida in the 1960s, where they lived at the time. The attraction to motorcycles took hold of McCullah, and it stuck. From the age of 10 he began collecting motorcycles, going as far as to weld plates on bicycles so that he could install motors from lawnmowers.
McCullah continues to ride daily (weather permitting), even when not at the track, and he has upgraded to a '96 Harley-Davidson Electra Glide and also has a few Suzuki street bikes that he takes out for fun.
At the track, he commands a Suzuki with a Pro Mod track chassis and a 1570cc GS motor built by Jerry Pomilla of JP Race Engines. The powerplant clears what McCullah says is "somewhere between 280 and 300 horse." Impressive, especially when you learn that he has over 300 laps on it. He typically swaps a motor between 150 and 175 passes, but 2009 was not a typical season. McCullah took half the year off from racing, the swap didn't happen, and the outcome was exceptional.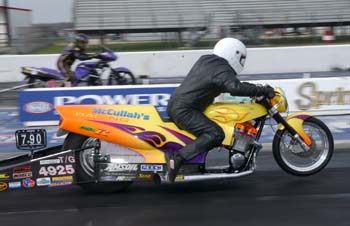 McCullah at the
2005 Houston Pro Stock SuperBowl.
Photo by Auto Imagery, Inc.
"I laid out in 2009 because of the economy, and we came back pretty good in 2010," he recalled. "Maybe I needed the break. I had a whole new outlook coming back. I was excited about it. Plus, me and my old girlfriend from high school, Karen, had gotten together again. Maybe I was just trying to show off a little bit. That's what my sister says, anyway."
McCullah's sister Brenda chides him a little, but she is an important part of his racing. Though she resides in Ohio, she is crew chief for the Suzuki. She tows McCullah, starts the bike, manages the weather station and predictions, and brings along McCullah's nephew Vince, who cleans the motorcycle and helps load and unload. Vince also helps other South Central racers with their programs, towing and starting for the father/daughter team of Rich and Raegan Gentili and the Bennett family. McCullah's mom, Joyce, has been able to make it to a few races, too.
He values the time with his family and his gal, and McCullah believes that there is a possibility of passing down the racing gene to his nephew Vince, as it was passed down to him. McCullah's father, James Frank McCullah, raced as well.
"My dad used to drag me to the races all the time, and he was good," said McCullah. "The car was a '57 Plymouth, like an ex-police car, and it was the only car we had. It was used to take me to school, do the grocery shopping, and drag race. It was all in one. He left it on the street one night and it got hit, so he took the motor out and put it in a '32 Ford sedan and raced it."
His father passed away in 1986, and around that time McCullah took up racing door cars and has been hitting the track ever since. His last car was a Jerry Bickel Camaro that was built originally for Pro Stock. He enjoyed success bracket racing in the Camaro, but he traded in four wheels for two in 2004 after helping a friend with his motorcycle at a race.
"I said, well, I'm going to try that," said McCullah. "I looked for a bike, found one, and won the very first two races we went to. We finished second that year."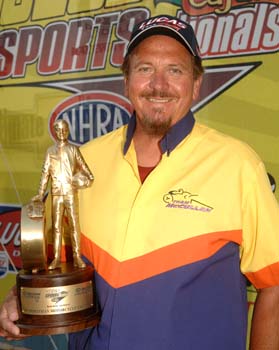 McCullah with the
Cajun SPORTSnationals trophy.
Photo by Auto Imagery, Inc.
McCullah raced Top Gas on an 8.20 index, competed in ProStar for a spell, and ran the Texas Shootout Drag Bike Motorcycle Racing Series for two seasons before taking on Division 4. He has acquired a nice collection of victories along the way, including four divisional event wins and one national in the NHRA arena, the 2008 JEGS Cajun SPORTSnationals. McCullah has done most of his racing out of pocket without much sponsorship or contingency dollars available for the two-wheeled crew, and he'd like to change that for the class.
In addition to owning McCullah's Paint and Body - a small shop behind his house - McCullah recently took possession of another business that Karen is taking the reins on, McCullah's Ugly Signs, a vinyl sign shop that will deal in business cards, T-shirts, banners, vinyl lettering and numbers for cars and trailers.
McCullah would like to launch a contingency program for the motorcycle class and is working to come up with a plan to offer a bonus for racers who ride with his company's decal on their bike and accomplish a specific feat, such as best package or winner of the event. He hopes to enlist the help of other local businesses as well, like Houston's AJ Foyt Kawasaki, Bob Lunsford Harley-Davidson, Mancuso Harley-Davidson, Smiley's Racing Products or Cycle Gear.
Aside from aiming to ignite a nice contingency program for his fellow racers, McCullah is simply looking forward to defending his championship.
"It would be great to wrap two of them up back-to-back, but I haven't seen that too often," said McCullah. "In fact, I'm not even sure that's been done before. We would sure like to be the ones to do it."