Wed, 29 Dec 2010, 11:10 AM



Taylor Ends Memorable December with Round Three Win in Qatar



Courtesy of ADRL Communications



DOHA, QATAR --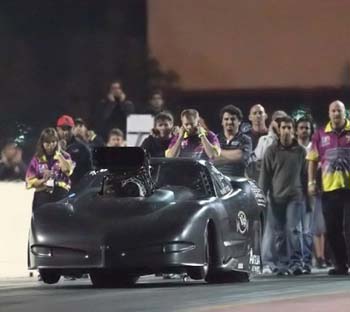 Frankie "Mad Man" Taylor
Earlier this year, Frankie "Mad Man" Taylor could not have envisioned traveling abroad to race in the Middle East, but after setting the world record and winning the American Drag Racing League (ADRL) title this year in Pro Extreme, it was an easy decision for Frankie to keep his momentum moving forward by racing through the winter.
It's already been a memorable time through three of the eight races in the Arabian Drag Racing League at Qatar Racing Club (QRC) in Qatar.
After setting two tracks records and advancing to one final, Taylor wrapped up his December with a win, going 3.63 at 210.41 miles per hour to beat Joshua Hernandez in the finals of Round Three. Taylor's celebration was well-earned after beating a loaded field that included Mike Stawicki in the first round (3.67 at 193 mph) and J.R. Todd in the semifinals (3.64, 209 mph).
"Each ladder we race is like racing in the 'Battle of the Belts' where everyone is so good. There is no easy win," Taylor said. "The drivers and teams running in Pro Extreme are unbelievably strong."
Taylor had to make adjustments after the first event when Taylor lost in the first round of eliminations.
After setting the two track records in the second event with a pass of 3.613 at 211.03 mph, Taylor was able to make up some of his lost points. That momentum ended in the finals of Round Two, as Taylor broke against Todd, who has quickly adjusted to a PX car and has become an impressive doorslammer driver in the process.
After beating longtime racing rival Hernandez in the final of Round Three, Taylor moved into second place in the PX points standings, just three points behind the Bahrain Racing standout.
Round Four of the eight-race Arabian Series resumes in January at QRC and Taylor appears ready for even more excitement.
He is also amazed at the outpouring of support from the staff and fans at QRC.
"Thank you to the Qatar Racing Club for putting on these great events, Sheikh KH (Al-Thani) for helping all of the teams and, of course, special thanks to the race fans in Qatar as you have been extremely gracious to all of us racers," Taylor said.