Wed, 22 Dec 2010, 11:02 PM



Just A Few Notes



By Bob Frey


Photo copyright 2010 Auto Imagery, Inc.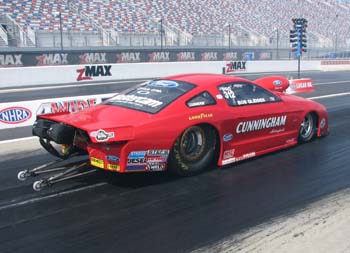 Buddy Perkinson
As usually happens at this time of the year there are a lot of rumors flying around about who is doing what and with whom next year. Also, as usually happens at this time of the year, there probably won't be a lot of official news until after the holidays. We do know one thing, thanks to a release just issued yesterday, and that is that
Buddy Perkinson
will be driving for
Jim Cunningham
and his
Ford
team next year. Perkinson, who is nineteen years old and who competed at a few races in Competition Eliminator this year, will drive one of the Fords that will be built by
Jerry Haas
and, as of this time, tuned by
Bob Glidden
..Still in the Pro Stock area I expect a release any day now on what
Johnny Gray
will be doing in 2011. Speculation is, and I think rightfully so, that he will be moving to a fuel Funny Car next year leaving his son, Shane, to run out of the team's Pro Stock shop. I spoke with Johnny the
other day and he mentioned that they are going full speed ahead with their Pro Stock operation with Shane and that they would entertain the idea of building and leasing or selling engines to some other Pro Stock teams. When I asked Johnny about the Funny Car scenario he simply said, "We should have an announcement before too long about what I'm doing." He didn't offer any more than that and I didn't press him for any more information....I have heard that
Art Chrisman
is having some health problems and I hope you'll all keep him and his family in your prayers at this special time of year. There is a new book out called, "The Chrisman Legacy," and it centers on Art,
Lloyd and Jack Chrisman
and a lot of the things that the Chrisman family has done over the years. It's a limited edition book (I've already ordered my special edition copy) and I think it would make a great addition to anyone's collection. You can find out more about the book and order it by going to
www.thechrismanlegacy.com
. Thanks to the author,
Tom Madigan,
and
Ed Justice Jr
., who published it, for this special edition. And get well, Art.
Since we are heading into the end of the year I thought I'd take a moment to mention some of the more memorable runs, races or moments from the 2010 season. I know that
National DRAGSTER
will have their year-in-review issue coming out very soon (if it's not already out) and they do a great job picking highlights from the season. They're so good at it, in fact, that every year when I read it they often mention runs that I had completely forgotten about. Of course I'm sure I have some on my list that they don't have and I guess that's what makes for a great bench-racing session. They also are conducting an on-line voting for some of the top moments of the year. They're calling it their
NHRA Fan Choice Awards
and I think it will be interesting to see who the winners are. I also know that those nominations will get a lot of scrutiny, too. For example, in the "Driver of the Year" category they have
Greg Anderson, John Force, Matt Hagan, Shawn Langdon, Greg Stanfield
and
LE Tonglet.
It certainly isn't hard to make a case for any of those drivers as the "Driver of the Year," but my first question would be, where's
Larry Dixon
? In their synopsis for each driver
NHRA.com
mentions how many times guys were first off the line, what their average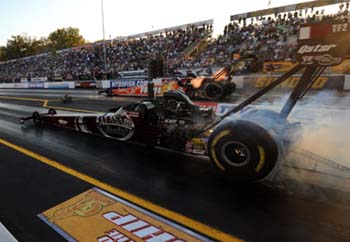 Dixon vs. McClenathan
in Reading final.
reaction time was and things like that. And while all of that is good and must be considered when picking the best driver of the year, I like to point out what happens after the light goes green. Drivers like Larry and
Tony Schumacher
, to name just two, but two of the best, win a lot of races because they don't make mistakes, at least not many of them, once they leave the starting line. I've watched enough races over the course of the years to know that a driver can have a good reaction time and then give it all back by messing up on the track. Driving it out of the groove, not knowing when to "pedal" the car and letting the car get away from you are mistakes that the great drivers don't make. Larry, Tony and others fall into that category and I'd almost always have to have them in my "Driver of the Year" voting. I know something like this is very subjective, and with a limited number of spots open for the voting you can't put everyone on the ballot, but in 2010 to leave Larry off the list is, to me at least, an oversight. But then I guess that's what the off-season is for, to talk about and debate these things. And if I want to have certain guys on a list I guess I should have started my own. Who knows, maybe one of these years I will. By the way, if I wanted to make an argument for Larry I would simply point to the final round at
Maple Grove
this year. That was the tire-smoking, pedal-fest that he had with
Cory McClenathan
, a race that Larry won. I rest my case.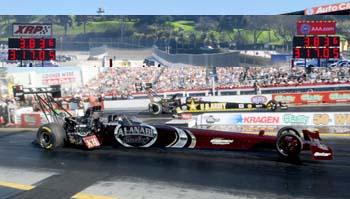 Dixon vs. Schumacher
at Winternationals
I should say right here that I do get asked by DRAGSTER to contribute my selections to their year-in-review issue and I thank them for that. I should also mention that Larry and Tony were both included in my "Best of the Year" runs. Like the one they had at the Winternationals when they ran identical numbers, 3.836 - 317.07 mph.
Did you know
that that was only the third time in Top Fuel history that two drivers posted the exact same elapsed time and top speed? And stranger than that,
did you know
that Tony has been involved in two of them? He also had identical numbers in
Houston
in 2009 when he raced
Morgan Lucas
. Strange, but true....Tony also gets special mention, from me at least, for his win at the second
Las Vegas
event. Tony qualified number one, set low elapsed time, recorded top speed and won the event to move within striking distance of Larry going into
Pomona
.
Did you know
that, in his career, Tony has swept fourteen events, but the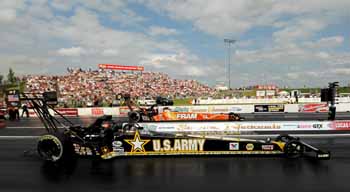 Schumacher vs. McClenathan
in Topeka final.
Vegas race this year was the first time that he did it since that same event in 2008? In fact, the Vegas win this year was the first time since 2008 that the "Sarge" won a race after qualifying number one. Hard to believe, but true..Tony also gets a nod from me for his win in
Topeka
. That's the one where he beat Cory on a holeshot in the final round and it was just one of many displays of how the
Team Schumacher
cars raced each other in 2010..Some drivers, like Larry, Tony and
Jack Beckman
in the Funny Car class, are not as concerned with their numbers on (or off) the starting line as much as they are in what they do with their cars on the track and how many times they turn on the win light. That "left first" stat or even the holeshot numbers can be skewed based on how a driver stages and how the car reacts. But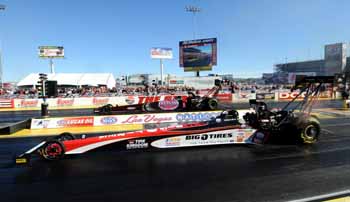 Lagana vs Dixon
in round two at Las Vegas 2.
like I said before, give me a driver who makes no mistakes on the track and I'll proudly give up being the one who left first every time....
Dominick Lagana's
run to the final round in Las Vegas has to get consideration as one of the best Top Fuel stories of the year, especially when you consider who he beat to make the final round. In case you forgot, it was
Clay Millican
in round one, Larry Dixon in round two and
Antron Brown
in round three. I haven't seen anything yet to indicate how many races the brothers will be attending next year but I hope it's more than the eight that they went to in 2010. That's a good team and a great family and they were a nice addition to the Top Fuel class this year.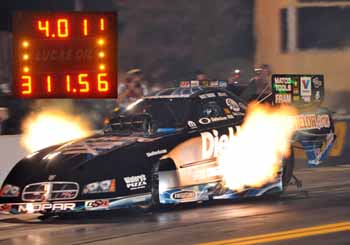 Hagan's 4.011 pass at Maple Grove
There were also some great runs, moments, upsets and surprises in the Funny Car class in 2010. Among them would have to be
Matt Hagan's
4.011 pass at
Maple Grove
, or his four qualifying runs at the Grove, the ones where he went 4.14, 4.01, 4.08 and 4.04. Not bad, is it? Hagan had a great race in
Pennsylvania
and he did everything but win the event. Matt made the historic pass during qualifying and it stood as low elapsed time of the event as well as the quickest Funny Car run of the season.
Did you know
that only
Robert Hight's
4.005 in
Richmond
in 2008 was quicker than Matt's run in
Reading
? Even with that run Matt, as I said, didn't
win the race,
Cruz Pedregon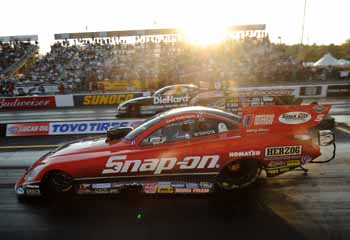 Pedregon vs. Hagan
in the Reading final.
did...In the "Comeback of the Year" department I put both John Force and Cruz on my list. John just for the sheer determination to overcome the obstacles that he faced, and Cruz because he had a very good year, or more correctly a good second half of the year. Like I said in an earlier column, Cruz may have been the only driver in a fuel class who hated to see the season come to an end..For his part John had a "career year" in 2010. Sure he has had years with more wins and with more final rounds but I doubt that he ever had a year that was as emotional as this one was. To win the Winternationals and then go on and win the championship was, literally, a dream come true for John and his team. Throw in the fact that he won both
Pomona
races and the inaugural 4-wide event in
North Carolina
and it really couldn't get much better for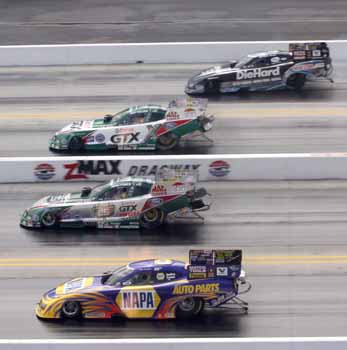 Ron Capps, John Force
Ashley Force Hood and Matt Hagan
John, could it? Oh yeah, he also got to race his daughter in the final round at Indy, a round that Ashley won. Now that I think of it maybe it could have been a little better for John, although if he has to lose, losing to Ashley would be his first choice..Even though he didn't have a good year, and by his standards that would be an understatement, Robert Hight did have a couple of shining moments, and the numbers he put up would be considered a great year by most drivers, but not Robert. Let's face it, when you're the defending series champ you want to be competitive at every race, but we all know that's tough to do on a regular basis. After all, there were even races where John wasn't competitive. Nonetheless, Robert still won four races and that's better than almost every other driver in the class. Plus he won three straight at
St. Louis
,
Atlanta
and
Topeka
and that's very impressive.
Did you know
that Robert was the only Funny Car driver to win three consecutive races in 2010? In fact, only John and
Tim Wilkerson
won two straight, so that makes Robert's accomplishment look even better. Robert's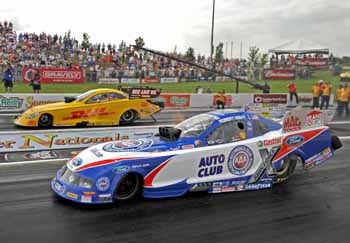 Hight vs. Arend
in Topeka final.
win in
Topeka
also fell into that "sweep" category, you know, where you set all of the performance marks and win the race.
Did you know
that in his career Robert has swept three events, with
Dallas
last year and
Denver
in 2005 being the other two? Still, as I mentioned, I'm sure Robert didn't enjoy the season as much as he would have liked, but he'll be back with a vengeance in 2011....Taking nothing away from Robert and his team, the fact that he didn't repeat as champion shouldn't come as a real surprise.
Did you know
that it's been since the 2001 and 2002 seasons that we have had a driver win the Funny Car championship in consecutive years? And how about this?
Mark Oswald
won the Funny Car championship in 1984 and then in 1985 he not only didn't repeat, he didn't win a race, make a final round, qualify number one or make the top ten in points. And I'm sure he's glad that I pointed that out. My point being that it isn't easy to win the championship once let alone do it in back-to-back years. It's only fair here to report that Mark did win almost sixty percent of all his races in his career and that he was always considered one of the best drivers in either fuel class.
Did you know
that Mark ran almost 500 rounds of fuel competition and only lost ten times on a holeshot? Ten, in almost 500 rounds. I rest my case.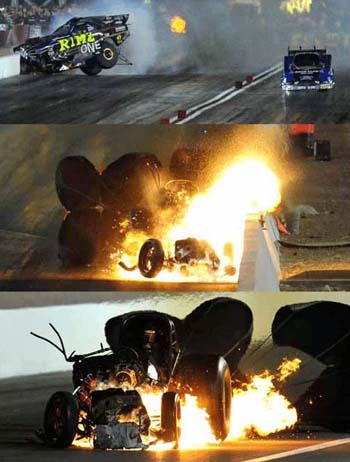 Diehl at Las Vegas 2.
There were a lot of wild rides in 2010 in the fuel classes, most of them coming in the Funny Car category. Among them were a plethora of runs by
Jeff Diehl
, a few by
Tony Pedregon
and one or two by Matt Hagan. Matt's wild ride in Charlotte, the one where both he and Jeff blew their bodies off on the same run, has to go down as one of the more spectacular runs of the year. And the fact that Matt was able to come back and make the finals on Sunday was a real credit to him and his team. After a great 2010 season, the
Die Hard
crew has to be looking forward to the start of the new year..
Jim Head
got a lot of attention when he banged the wall in
Norwalk
. I guess that is especially worth noting because Jim doesn't do that a lot. Of course the banter back and forth between Jim and
Warren Johnson
about which car is easier to drive, a Funny Car or a Pro Stocker, also sparked a lot of interest in 2010. Johnny Gray, who has driven them both, says without a doubt that a Pro Stock car is a lot tougher to driver than a Funny Car. And you don't even want to know Johnny's feeling about driving a Top Fuel car.
Next week I'll take a look at some of the highlights of the Pro Stock season, both cars and motorcycles. In the meantime, have a great holiday a Merry Christmas and drive safely.