Mon, 20 Dec 2010, 01:34 PM



It's Nice To Have Goals



By Bob Frey


Photo copyright 2010 Auto Imagery, Inc.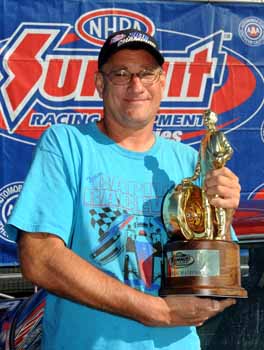 Butch Weinreich
If you read the stories about the 2010 NHRA Full Throttle Champions you will see that they all set goals for themselves at the start of the season. Some were a little more modest than others, but they all had goals. And if you read any motivational book you will see that the key to any successful person is to set goals. Achieving them is nice, but you can't reach a goal if you don't set a goal. LE Tonglet, the Pro Stock Motorcycle Champion, set a goal for himself and that was to qualify at the first race of the year. Once he did that he set loftier goals, qualify for every race, win a race and make the top ten. Well, as you know, he can check all of those things off of his "to do" list. John Force wanted to contend for a championship. Check! Larry Dixon wanted to be the best he could be and improve on his 2009 finish. Done deal. And Greg Anderson just wanted to see his car owner, Ken Black, return to good health, and it's easy to see that Greg delivered a little more than that. The same holds true for the racers who compete in the Summit Racing E/T Series. For example, Butch Weinreich simply wanted to go rounds at the Division 1 bracket final, enough that he would qualify for a trip to Pomona. Once he did that Butch set his sights on winning the national championship, and like LE, John, Larry and Greg, he did just that.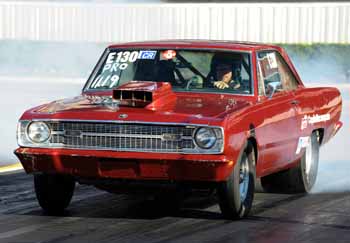 Butch Weinreich
Butch Weinreich is a little different than a lot of today's racers and I mean that in a very good way. Unlike some racers who change cars every year, Butch doesn't even change cars every decade. "I'd have to say that I've got my money's worth from this car," he said. "I bought it in 1986 and I've been racing it ever since. I change oil once a year and that's about it." The car, a 1969 Dodge Dart that Butch bought from Norman Hall, has seen a lot of runs down the track. "Norman raced it pretty seriously when he had it and there have been years when I raced it four or five nights a week. There can't be a lot of cars in the country that have made more runs down the track than this one." The car has a 440 cubic inch engine, the same engine combination that Butch had in his very first race car in 1978. "I get about 1,300 to 1,400 runs out of a motor," he said. Another thing that sets Butch apart is the fact that when he shows up at the races he's ready to go. "Sometimes I don't even take my car out of the trailer until they call me for round one," he said. "At Pomona, after one practice run, I was ready to go." It's a formula that might not work out for everyone but it sure works out for Butch.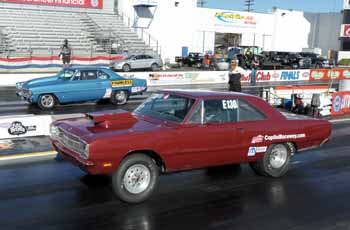 Weinreich vs. Jeff Hefler
in the Pro final.
Even though his car and his routine may be a little out of the usual, one thing that Butch does like a lot of other racers is get his family involved. "I had some problems when I was a kid, you know, with cars on the street, and my dad said I had to knock that off. So he took me to a track, 75-80 Dragway which was near our home, and we began racing." Butch has been racing, and mostly with the same car, ever since. "My dad means so much to me and it was great that he could make the trip to California with us and see me win. He was diagnosed with cancer earlier this year and the doctor didn't know how much time he had. Well, he went with us to Pomona, got to see me race and win and he's still doing all right, or about as good as can be expected. It meant so much to have him and my entire family there with me."
When you live in Jarrettsville, Maryland, and you're going to California to race, one of the first orders of business if finding out how you're going to get there. "I ran out of Capitol Raceway this year and the Cunningham's have been so good to me. They said that if my car would fit in their trailer they would tow it out to Pomona." It did and they did, and that brought about an amusing
story from Butch. "It would take about forty-five hours to drive cross country, and that's not counting stopping for food," Butch said. "I told my wife that I hadn't been away from that car for that long in thirty years. She said that I seemed more concerned about it than I was about her." I'll let Butch tell you if that's true or not.
For a guy who had raced for over three decades you would think that he has seen and been through a lot of pressure. And while that's true, Butch says that the pressure of racing at the divisional finals and then at Pomona is different from anything else he has faced. "I've been very lucky in my career," he said. "I've won a lot of races, like the Moroso Five Day race years ago, the Race of Champions in 1994 and also a lot of the big money bracket races, but I always feel the pressure at the divisional finals, and I felt a lot of pressure in California." He said that's because those races weren't all about him or the money, they were about 'team.' "When you're running for your track and for your friends at the bracket finals you want to do well, you don't want to let them down. And in Pomona you want to win for your division. I guess I put a lot of the pressure on myself but I just wanted to do well for the team." And he did.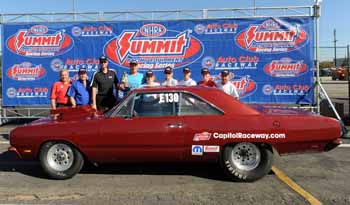 Weinreich and family celebrate Championship.
As far as the experience of going to Pomona, Butch said that it's something he hopes every bracket racer can appreciate. "Everyone was so nice, from the people at the track to the NHRA staff and especially the folks from Summit. Even the people in town treated us well. When I came home I told people that it was the best ten days of my life."
Butch has been racing the same car for years and his family has been there to support him through it all. Now he has another generation of racer coming up through the ranks. "My oldest daughter, Jillian, is racing now. She made it to the Race of Champions at the Division 1 Bracket Finals. After all my years of trying I thought, wouldn't it figure that she would probably win it before me? I know that I love racing but I have to say that I love it even more now that she's into it." And if she is like her father, who knows, maybe dad and her "Pop Pop" will get to see her win at Pomona someday, too. Hey, it's nice to have goals.