Tue, 14 Dec 2010, 11:06 PM



Solid Foundation Pays Off for Southeast Champs



By Kelly Wade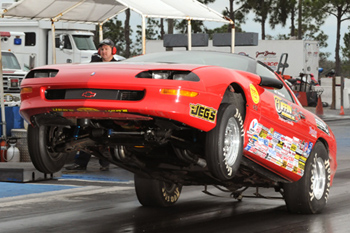 Jeff Strickland
Photo by BME Photography
A group of fellows with a sturdy skillset rounded out the Southeast sweep this past season, with extensive bracket-racing backgrounds making the difference in a few categories and a mental box of well-shined tools complementing fine racecars and helping out the rest. The racing affliction has long plagued the division's Super Stock winner Jeff Strickland and Stock and Super Comp double-titlist Luke Bogacki, while David Tatum III kept his racing gloves plenty warm competing in two categories before tying up the Super Gas win, and Joseph Skala rode the high of competing in the Allstars to end the year with the season title in his possession.
Strickland, an acclaimed bracket racer with seven national event victories on his resume, has regularly finished in the Division's top 10 in either Stock, Super Comp, or both, last season ending 10th in Stock and 5th in Super Comp. His most recent previous first-place finish was in Super Comp in 2006, and this year he took home third-place honors in Stock and the big Southeast win in Super Stock.
The Red Bay, Ala., competitor posted triple threes as a closing points total, 43 marks ahead of second-best Jeff Adkinson and 44 points in the lead over third-place Joe Tysinger Jr. Former national champ Kevin Helms wasn't far behind, logging 278 marks. Mike Crutchfield, the Montgomery, Ala., resident who was second in the area last season, rounded out the five best of the year with an out-of-division win in Bowling Green, Ky.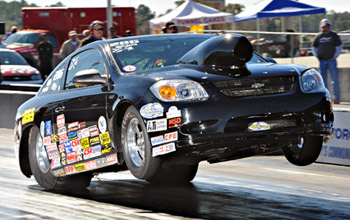 Jeff Adkinson
Photo by BME Photography/Chris Simmons
Strickland's quest for the top spot began at the region's first event of the season at Bradenton Motorsports Park. Though the title was claimed by Division 1 ace Joe Santangelo, Strickland socked away a couple of round wins and then moved ahead to the next points meet, at Gainesville Raceway, where he outshined them all and drove his SS/JA '95 Camaro to the win over Pat Clifford. The next event - the first of two Atlanta Dragway points meets for the season - resulted in a runner-up for Strickland, who was too quick at the hit and fouled away the chance to win the race but walked away with another final-round worth of points that greatly affected the end result.
Strickland only competed in a total of five divisional events, counting points for each. He exited early at his lone out-of-division effort (Bowling Green), but went to the quarterfinals at the last meet for the region, held at Silver Dollar Raceway, and that was enough. Adkinson recorded equal points at the event and was done for the year, and Tysinger traveled to Noble, Okla., and enjoyed a promising victory, but his title run ended with a second-round loss in Las Vegas. Helms stayed alive for a spell with a win at Belle Rose but his run ended when he failed to pick up any rounds at his last two divisional events.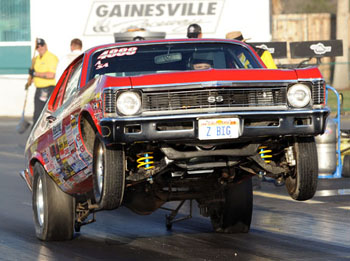 Luke Bogacki
Photo by Auto Imagery, Inc.
Bogacki made what could rightly be deemed as a spectacular showing in his first go at chasing NHRA points. The Carterville, Illinois-based racer is no newcomer to competition, though. Like Strickland, Bogaki has strong roots as a bracket racer and is already well-established in multiple racing arenas; even so, to step up to NHRA racing and finish with a pair of division championship trophies in hand is a notable accomplishment, and he capped off the season by finishing second in the nation in the Super Comp category.
The journey towards the Southeast Stock title began for Bogacki without glamour but shined up quickly; a first-round loss at Bradenton was followed by a runner-up at Gainesville, then a runner-up in Atlanta, and then another runner-up, this time at the North Central event at Route 66 Raceway. By early August, the fine-tuned driver had wheeled his A/SA '69 Nova to enough rounds to rack up an effective 282 points.
Shaw, of Bowdon, Ga., won Gainesville over his rival but had a big challenge ahead to make up the difference in overall marks and was ultimately unsuccessful, with quarterfinals and semifinals performances completing his run for the money. Helms, No. 1 in 2009, won at Texas Motorplex but was unable to capitalize at future competitions, and Strickland was the victor at Silver Dollar Raceway, but it was too late to catch the blazing Bogacki.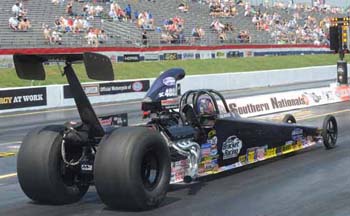 Luke Bogacki
Photo by Auto Imagery, Inc.
The Super Comp trail was set aflame early as Bogacki launched hard into the season with an off-the-bat victory at Bradenton and then stayed on top with a runner-up in Gainesville and a trip to the semifinals at Atlanta Dragway. His first race outside of the division, at West Central-based Cordova Dragway Park, was a throw away, but he got straight back to business at Bowling Green, taking home the trophy. Bogacki got beat in the second round at Belle Rose but again recovered quickly and notched the win at Silver Dollar Raceway, ending the year with an incredible 482 marks, leading second place Ray Miller III - the winner of the first Atlanta event - by 142 points.
Other event victors in the division were Troy Williams Jr., who got the best of Bogacki in the Gainesville money round and Edmond Richardson, who beat Jeff Brooks at the second Atlanta Dragway meet.
Multi-class competitor Tatum kept his racing dexterity in fine shape pulling double duty in the division. He scooped up a few Super Comp round wins at a handful of regional events and cleared a reasonable finish in the category, but his big win was the Super Gas division title, earned with a solid scorecard that included three consecutive victories in the middle of the season. Tatum, a regular top 10 competitor in the division, inched his way up to this season's glory after reeling in third place in 2007 and second in 2008.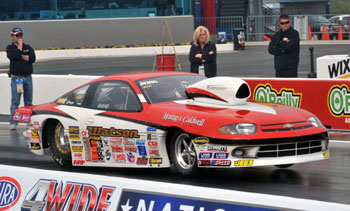 David Tatum III
Photo by Auto Imagery, Inc.
The first event in the region at Bradenton resulted in a victory for Greenville, S.C., driver Tom Joseph, who stopped Brian Forrester, No. 2 in the Southeast the previous season, in the title round. In his season debut at the same event, Tatum went three rounds and then bowed out in the quarterfinals, a decent beginning to the year. He then accumulated another three rounds at the race in Gainesville, where former Pro Stock powerhouse and Sportsman dynamo Dave Connolly got himself on the scoreboard, nabbing the Gainesville win in a nail-biter closing stanza with Matt Cooke. Connolly had nine-thousandths at the stripe and needed it at the finish line when Cooke ran dead-on the 9.90 index to Connolly's winning 9.908.
Tatum made some noise in his '05 Cavalier at the first Atlanta Dragway meet, cutting a remarkable .003 light and using the difference to cash-in at the top end with a 9.945 to 9.925 victory over Bruce Duncan. The success was a happy precursor for the Palmetto, Ga., racer, and he loaded up his operation and headed out to the North Central Division and up to Route 66 Raceway, where he registered another triumph before moving on to score at Bowling Green.
The second event at Atlanta Dragway was awarded to Rusty Cook, of Cynthiana, Ky., and Sherman Adcock Jr. rounded out his defending title season with a win at Silver Dollar Raceway, but the crown was already in the bag for Tatum. His final count was 429 points, with Adcock in second with 321 marks, and Connolly third with 290. Duncan (4th) and Michael Ruff rounded out the top 5.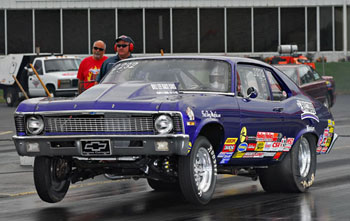 Joseph Skala
Photo by BME Photography
Palmetto, Fla., Super Street racer Joseph Skala clocked out for the year with 366 points at season's end and a nice, big trophy to show for it following a win in Gainesville, a semifinals finish at the first Atlanta event, a pair of round wins at Route 66 Raceway in Joliet, a runner-up at the second Atlanta race, and another semifinals ending at the division's season-closer at Silver Dollar Raceway, where it was Mike Griggs celebrating in the event's winner's circle.
Though Skala got the nod in the Gainesville Raceway final on the basis of a red-light start by Greg McInerny, he put together a neat package to make his point, recording a .014 reaction and driving his '70 Nova to a 10.903 on the 10.90 index.
David Owens, of Laurens, S.C., took the early lead in the region when he scored at the Bradenton kick-off, and his final result of 277 marks were good for the division's No. 2 spot, while a victory at Bowling Green aided in a third-place finish for Ken MacNicol. Bobby Taylor Jr. was in the No. 5 position at the end of the year, sandwiched between Atlanta 1 winner Donnie Gibbs Jr. (4th) and Atlanta 2 victor Mike DeSio, the Southeast Division's 2009 Super Street champion, who ended the season holding down the No. 6 spot.

Division Two Super Stock Top Ten Point Standings
Pos Driver           Points Events
1   Jeff Strickland    333   5 
2   Jeff Adkinson      290   8 
3   Joe Tysinger Jr.   289   5 
4   Kevin Helms        278   10 
5   Mike Crutchfield   235   6 
6   Gary Coccaro       223   5 
7   Pat Clifford       217   4 
8   David Simmons      205   4 
9   Mike Tueffel       186   3 
10  James Hill         182   5 

Division Two Stock Top Ten Point Standings
Pos Driver           Points Events
1   Luke Bogacki      343    8 
2   Robbie Shaw       331    8 
3   Jeff Strickland   287    5 
3   Jim Marshall      287    7 
3   Kevin Helms       287    9 
6   Jeff Adkinson     253    8 
7   Brenda Grubbs     233    7 
8   McNeal Freeman    223    6 
9   David Rampy       204    4 
10  Peter Noriega     192    5 

Division Two Super Comp Top Ten Point Standings
Pos Driver             Points Events
1   Luke Bogacki         482   8 
2   Raymond Miller III   340   8 
3   Jim Perry Jr.        235   6 
4   Wes Avant            234   5 
5   Ronnie Siani         232   7 
6   Sherman Adcock Jr.   222   6 
7   Troy Williams Jr.    217   3 
7   Otis Henry           217   3 
9   Larry Roberts        214   5 
10  John Taylor          213   4 

Division Two Super Gas Top Ten Point Standings
Pos Driver            Points Events
1   David Tatum III     429   8 
2   Sherman Adcock Jr.  321   6 
3   Dave Connolly       290   7 
4   Bruce Duncan        277   7 
5   Michael Ruff        266   6 
6   John Taylor         255   5 
7   Steven Furr         245   7 
8   David Watson        234   7 
9   Tom Joseph          215   4 
10  Billy Crenshaw      214   6 

Division Two Super Street Top Ten Point Standings
Pos Driver              Points Events
1   Joseph Skala         366    7 
2   David Owens          277    7 
3   Ken Mac Nicol        259    4 
4   Donnie Gibbs Jr.     257    6 
5   Bobby Taylor Jr.     256    6 
6   Mike DeSio           247    6 
7   Leland Poppell       246    7 
8   Ronnie Maggart       245    5 
9   Brian Funderburk     236    8 
10  Charles Fitzsimmons  225    7