Mon, 13 Dec 2010, 05:52 PM



Hefler Wins in a Funny Car



By Bob Frey


Photo copyright 2010 Auto Imagery, Inc.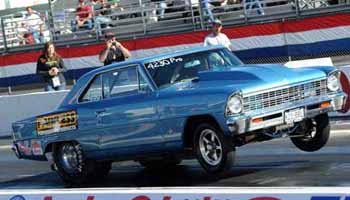 Hefler in his Pro ET car.
Winning two classes at the same race used to be a very rare occurrence. First of all, for many years racers weren't entering cars in two separate classes or categories. They would pick one class and stick with it, and they would compete in that class for most of the year, or in a lot of cases, for most of their career. Only once in a while would a racer venture out of his or her comfort zone to race in another eliminator. All you have to do is look at the history of NHRA divisional races to see what I mean. For the first thirty-seven years, from 1963 through 1999, there were twenty-seven "double-up" winners on the divisional level. In the last eleven years alone it has happened twenty times. That's because more and more racers who fall into the "Sportsman" classification are bringing two cars to the races. From an economic point of view it makes sense, plus it keeps the racer more active on the weekend. And while the "double-ups" occur at the divisional level they also happen at the national races. Of course, since there are fewer national events every year than there are divisional races, there aren't as many drivers who have won twice on the same day at the "big show." A lot of drivers have come close to winning two at the national races, but not many have succeeded. Jeff Hefler has "doubled" at the divisional level, winning two classes in Phoenix in 1997. He has also come close to doing it on the national level where he made it to the final round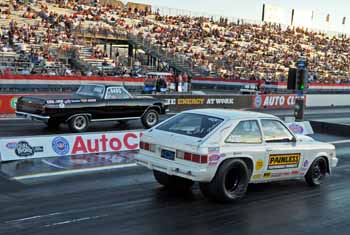 Hefler defeated Chad Isley
in the Sportsman final.
in two classes at Columbus in 2001 and again in Houston in 2002. And this year, 2010, he almost did something that no other driver has ever done and that is win two categories at the Summit Racing E/T Series Championships. He got the big prize in Sportsman Eliminator but broke out in the finals of Pro E/T. Still, his trip from Texas to California was well worth it.
Jeff Hefler comes from a very good racing family. His father, Jerry, does a lot of bracket racing in and around their home in Texas. In fact, in 2002 he made the trip to Pomona and went home with the Sportsman national championship. Jeff's brother, Jeromy, competes at the NHRA events and has been to three finals rounds, including a very dramatic one in Dallas in 2004, the one where he beat Jeff in the final round. "He drag raced for a long time and now he's doing some mini-sprint racing on the dirt," Jeff said. "He seems to like it so good for him."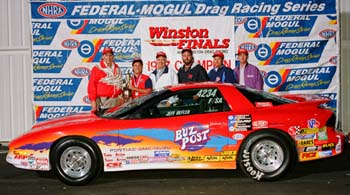 Hefler celebrates '97 World Finals.
For a seasoned racer like Jeff, going to a pair of finals was something that he knew he could handle, and so was the pressure of racing at one of the sport's legendary facilities. "I won Stock at the World Finals in '97, and since I was at Pomona in 2006 I think I had a little advantage over some of the guys who were there for the first time. Don't get me wrong, they are all very good racers, you have to be just to get there. I mean, they didn't draw names to see who would race at Pomona, you had to earn your way." They did draw names, however, for the first round pairings and Jeff remembers the process vividly. "There was one guy in my class who they said had won three track championships this year. I remember thinking to myself, don't pair him up with me, please." As it turned out he did get paired with that guy, Gary Hairfield in the first round of Sportsman E/T and we all know how that turned out.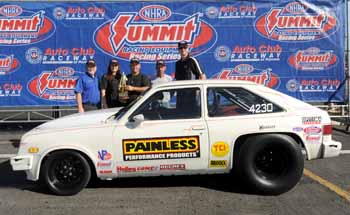 Hefler celebrates win.
Jeff raced two cars in Pomona, the Chevette that he won with and his classic Chevrolet Nova, and he describes the two cars like this. "Both cars are owned by my brother. The Chevette is a car that I only ran about four or five times this year. It's kind of a humorous little car. The Nova I race a lot and it's a really nice car." And he won with the humorous one. Go figure!! Even though he didn't win with the Nova just getting to a pair of final rounds again was a real treat for the veteran racer. "It's tough, you go into the finals thinking I'm going to win both of them and then you come out with one, but once you get that first one it takes some of the pressure off the second race." That was, or could have been the case in Pomona, but Jeff had some pressure and it came from an unexpected source. "They were very nice with the schedule," Jeff said. "They ran the Sportsman class first and then the others before running Pro. It was just like running two classes at the national events. I had a scooter at the end of the track to bring me back to the line. It was fun but it can be a little hectic." And it was a Pomona. After winning the Sportsman title Jeff hurried back to the line where his Nova was waiting for him, but not everything went as planned. "I hopped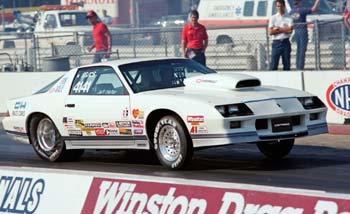 Hefler won "Class" at Indy
in 1987 in SS/CS '84 Camaro.
in the car and the door wouldn't shut. It's kind of a tight fit but I figured I could get it closed." With the NHRA officials looking on Jeff went through his pre-race ritual, but not his usual one. "I had to try to hold the door closed so they wouldn't notice it and shut me off." While he managed to do that it did take away a little bit from his focus on the run. "I was worried about getting shut off and worried about the door and it just threw me off." The big difference between making two finals at the Summit Series finals or a national race is big. "At a national event you still get something if you lose, but the Summit Finals are all or nothing. It's five-grand to win and nothing if you lose." So after splitting his final rounds Jeff took his five-grand and headed home.
Despite the fact that he is a relatively young forty-one years old, Jeff has accomplished a lot in his drag racing career and he has plans to do even more. "I worked at Texas Raceway for the last three years but now I'm looking for something that's a little more normal." Anyone who has ever run a drag strip knows exactly what he means. In the meantime, and during his off-season, Jeff is preparing a car that will be near and dear to his heart. "I bought an old Will Rells Pro Stock Car and I'm making it into a Reher & Morrison tribute car. It's an '84 Camaro and I'm fixing it up to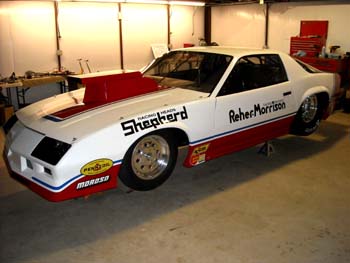 look just like the last car that Lee Shepherd drove." Being from Texas and from a good racing family, Jeff remembers fondly the great days of R & M. "My dad used to do a lot of welding on cylinder heads for them in the early '80's. I remember as a kid I saw that first 1982 body style Camaro in their shop and it looked like a million dollars and I thought, wow, now that's a race car. This car is going to be really nice and I can't wait until it's finished." He plans to run the car in Super Gas and maybe Super Comp, and who knows, even though it's not a Funny Car, or even humorous, maybe we'll see Jeff back at Pomona next year trying to defend his championship. Or trying to win two!
"I would like to thank my brother Jeromy for supplying me race cars over the years. Thanks to my dad for not only teaching me how to race thirty-three years ago but also sacrificing things over the years so that I could race. Special thanks to my wife Anna for everything she does and to good friend Randy Tanksley for taking the cars to Pomona. Thanks, too, to Hoosier racing tire, Weld Racing, Painless Performance, LenMar Motorsports, BTE, and David and Jackie Gardner's Hot Rod Paint of Texas."