Sun, 12 Dec 2010, 10:02 AM



Hunnicutt, Todd and Al-Balooshi Grab Round 2 Wins at Qatar Racing Club



Courtesy of ADRL Communications



DOHA, QATAR --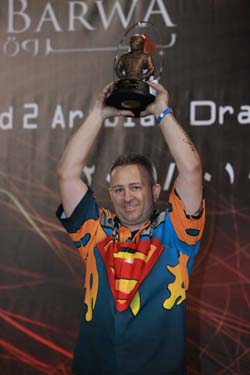 Rob Hunnicutt
Rob Hunnicutt stayed up most of Thursday night envisioning how Friday's eliminations would go at Round Two of the Arabian Drag Racing League at Qatar Racing Club.
Now, Hunnicutt will have a tough time sleeping for an entirely different reason.
Proving that consistent is best, Hunnicutt, a Pro Extreme Motorcycle driver with the American Drag Racing League (ADRL), won his first-ever race in either the ADRL or the Arabian Series, going 4.20 in the finals to knock off Billy Vose at QRC.
"I'm pumped, man. I don't know how I'm going to be able to sleep," Hunnicutt said. "Coming through the pits after I won, there was so many people congratulating me and cheering me on. This has just been a great experience."
After a runner-up finish in Round One, Hunnicutt did one better a week later to take the points lead after two of the eight events.
Joining him in the winner's circle in Qatar was J.R. Todd in Pro Extreme and Khalid Al-Balooshi in Pro Nitrous.
Todd knocked off Frankie Taylor in the final after Taylor broke. Todd barely did much better, but it was still a win, just more than a week after the former NHRA Top Fuel standout debuted in the Pro Extreme class with a sparkling new '57 Chevy.
"They stayed up late to repair their engine. Congrats to them," Taylor said.
Todd went 3.67 in a first-round win against Todd Tutterow, knocking off Joshua Hernandez, the Round One winner, in the semifinals with another 3.67.
The finals were a bitter pill for Taylor to swallow after re-setting the E.T. and speed records he set earlier this month in Qatar.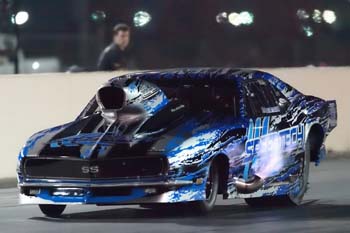 Khalid Al-Balooshi
In a first-round win, Taylor went an incredible 3.61 at 211 miles per hour, adding a second-round victory against Rickie Smith before his finals mishap.
Al-Balooshi overcame a holeshot loss in Round One with an impressive showing on Friday.
After qualifying second to Shannon Jenkins with a 3.87, Al-Balooshi went 3.90 in a first-round win and 3.86 in the semifinals.
In the finals, Al-Balooshi went a class-best 3.83, avenging his Round One loss and earning a vital victory in the process.
"We were the low for the Round One race, but we watched Bahrain Racing end up with the win," Al-Balooshi said. "We were hungry for our first win here in Qatar."
Al-Balooshi has posted the most eye-catching times throughout the two rounds and the win added another measure to his strong performance through two weeks.
Crediting a talented team, Al-Balooshi was excited about the victory, his first during the 2010 calendar year in either the ADRL or Arabian Series.
"We were ready to make up for last week," Al-Balooshi said. "The car has been very consistent and my team has given me all the confidence I need."
Hunnicutt aimed high ever since arriving in Qatar, but it was his consistency that paid dividends on Friday.
He used a 4.20 to beat PXM legend Vose in the finals, but he was right around that mark the entire day. It started with a 4.18 to beat Angie Smith in the first round, following it up with a 4.22 in a semifinal victory against T.T. Jones. Hunnicutt then split the difference with the time in the finals, which led to one of the most memorable moments of his career.
"I just want to be consistent and run my race," Hunnicutt said. "I have an idea of what I want to run and that has been working for me."
It also keeps Hunnicutt on pace to accomplish his big goal for the eight-race season at QRC.
"If I can, I want to be in the finals of every race over here," Hunnicutt said. "That's the goal."
Round Three will take place Dec. 16-17 at QRC, with qualifying set to start on Dec. 16 in Qatar.