Sun, 5 Dec 2010, 12:22 PM



Taylor's First ADRL World Title in Pro Extreme A Dream Come True



Courtesy of ADRL Communications


Photo copyright 2010 Roger Richards





O'FALLON, Mo. --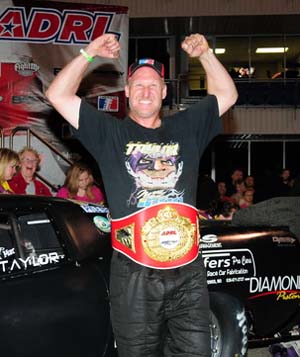 Frankie Taylor
Frankie Taylor put a tremendous amount of time, energy and resources for a moment that took place on Oct. 22 at Texas Motorplex.
When he wrapped a Pro Extreme World Championship belt around his waist, Taylor knew every extreme measure he used this season was worth it.
Taylor had waited several years in the American Drag Racing League (ADRL) for a moment like that, and when he won the Speedtech "Battle For The Belts" at the LenMar Motorsports ADRL World Finals VI, Taylor could not contain his excitement.
"I can't even describe what this feels like," Taylor said. "This is great and it's just been a great, great year. I can't believe I get to top it off with this. This is a great scene and this is the best stuff in the world."
Taylor's magnificent season was capped off in grand style with his first World Championship and it was the perfect ending to his memorable year.
Racing more this year than at any time in his storied career, Taylor was a standout at all 10 ADRL races in 2010, setting the world E.T. record in May at the Speedtech U.S. Drags III.
But that was just the start of his career year.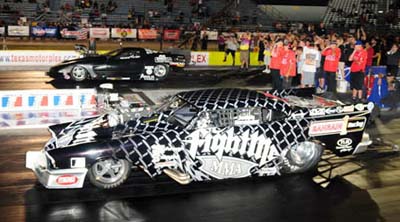 Hernandez vs. Taylor
Two months later, Taylor picked up his second career ADRL win by coming up victorious at his hometown track, Houston Raceway Park, at UTI Dragpalooza VI presented by Safety-Kleen.
That jumpstarted his hot streak to end the year, as Taylor's team got his Corvette dialed in for the stretch run. He wowed everyone at Rockingham Dragway by re-setting his world E.T. record with an incredible 3.596 run in September, making him an instant contender for the "Battle For The Belts" at Texas Motorplex.
But Taylor knew he wasn't the only one who could take credit for this impressive run to end the season.
"My brother, Billy, and all my guys keep this (car) going good," Taylor said. "I'm just lucky I get to drive. It's been a fun year and this is a pretty good way to end it."
Hoisting the World Championship belt above his head in the MAVTV Winner's Circle might have been the best moment in his marvelous racing career, but it certainly didn't come easy going against a loaded Pro Extreme field in Ennis, Texas.
Of course, that made everything that much sweeter when Taylor stood above them all.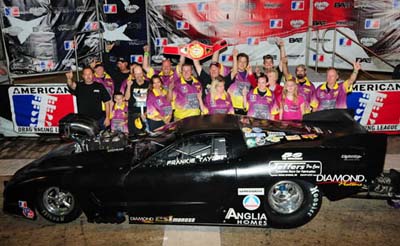 Taylor and crew celebrate championship.
He was close to perfect all day, immediately going 3.65 to beat Texas friend and rival Gaylen Smith in a must-see first-round matchup.
A round later in the semifinals, Taylor and his team dialed it up a little more as he chased down Quain Stott with a 3.64 at 208.59 miles per hour.
Saving his best for last, Taylor had a finals run to remember, going 3.62 at a whopping 209.98 mph to track down fellow Houston-area native Joshua Hernandez in the finals.
"All three of those guys are hard," Taylor said. "With Josh, I just didn't want to get beat on the tree. I've lost to him before like that. He's just a good, hard racer. Beating anybody in the class is hard, but to beat these three guys says a lot for our team."
Hernandez longed for his first ADRL World Championship in his illustrious career, but even Pro Extreme's winningest driver was impressed with Taylor's performance.
"I'm disappointed because I really wanted to hold that belt over my head, but those guys deserve it. They've definitely picked up their game the second half of the season," Hernandez said. "He found that consistency and he's been going rounds. They're the guys to beat."
Hearing that will certainly be music to Taylor's ears.