Sun, 5 Dec 2010, 09:32 AM



Schweigert Breaks Track Record, Rolls to Round 1 PXM Victory In Qatar



Courtesy of ADRL Communications



DOHA, QATAR --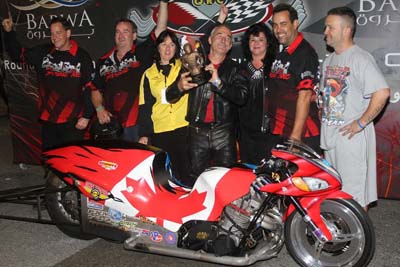 Terry Schweigert and crew celebrate win.
Terry Schweigert was so close so many times in 2010, finishing as a runner-up in four different Pro Extreme Motorcycle races in the American Drag Racing League (ADRL).
After Friday, Schweigert likes this side of the winner's circle much better.
In Round One of the Arabian Drag Racing League at Qatar Race Club, Schweigert was impressive, breaking into the win column by running a 4.14 in the finals to soak in the spoils of his first championship moment in either the ADRL or the Arabian Series.
"This is just incredible. What an awesome experience," said Schweigert, who finished second in points in the ADRL in 2010. "This is just unbelievable. It hasn't really sunk in yet.
"We're just sitting in our room with the trophy on our mantle. This trip is already worth it."
Seven races remain in the Arabian series that runs through February, but Schweigert is already beaming after just one week.
The same can be said for Pro Extreme standout Joshua Hernandez, who won his debut race in Qatar as part of the Bahrain Racing team.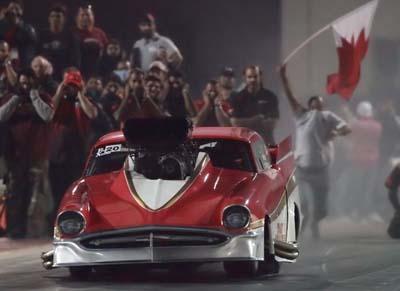 Joshua Hernandez
He pedaled to the finish in the finals, knocking off Bahrain teammate and racing legend Rickie Smith in the finals.
Al-Anabi Racing driver Shannon Jenkins lost in the Pro Nitrous finals, falling to a local Bahrain Racing racer.
Schweigert was consistent over the entire two-day race, qualifying in the top spot with a 4.19 on Thursday.
A day later, the Canadian standout was even better.
In a first round win, Schweigert ran a 4.18 and posted an identical time in the second round to meet fellow ADRL PXM rider Rob Hunnicutt in the final.
Schweigert finished off a flawless Friday with a 4.14, posting a personal-best 60-foot time of 1.01. The run also gave Schweigert the new PXM record for the Arabian series.
"The finals was a good race and the bike is just running good, consistent numbers," Schweigert said. "It went straight and it was just great. We're all very, very happy. I definitely consider this an ADRL win for sure. It's just incredible."
Even Hunnicutt wasn't overly disappointed, finishing runner-up in a 12-bike field that was pared to eight for eliminations.
Hunnicutt went 4.23 in first and second round wins, but couldn't chase down Schweigert in the finals.
"We were down to our last motor, so I was cautious with the tune-up. I didn't want to have two motors to fix and possibly not run in the next race (next week)," Hunnicutt said. "They made a great call to beat me. He won the first battle, but I'm sure there will be more. Hopefully I will have that green win light in my lane next time."
Both already marveled about the experience, as did Hernandez, who won the PX points race in the ADRL in 2010.
With Qatar getting awarded the World Cup for 2022, everyone noticed a festive atmosphere around Qatar Race Club.
It became even more of a celebration for Hernandez after he qualified third with a 3.77 in a loaded field and then beat PX newcomer - and former NHRA Top Fuel standout - J.R. Todd to advance to the finals.
"You could feel the excitement in the air all around," Hernandez said.
Smith also made a favorable impression in his new PX car by finishing second.
Jenkins had to make due with a runner-up finish in Pro Nitrous after qualifying in the No. 1 spot. "We were pretty confident for the final round, after having qualified No. 1 and running a 3.87 during second round of eliminations, but we shook in the final round and just didn't get the job done like we had hoped to do," Jenkins said.
"However, we come away with some points and that is what's so important to our team."
Round Two of the eight-race series will begin on Thursday at Qatar Race Club, with eliminations to follow for the second race on Friday.