Fri, 3 Dec 2010, 12:20 PM



It's Number Fifteen for John



By Bob Frey


Photo copyright 2010 Auto Imagery, Inc.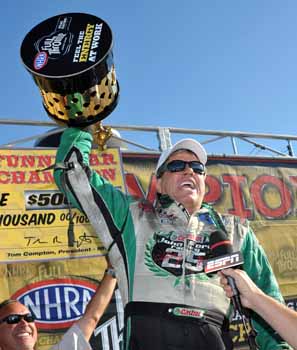 Force celebrates championship.
So many amazing things happened this year in the sport of drag racing but I would have to say that very few were as amazing as
John Force's
resurgence. Not only did he look like the John Force of old but he also won his fifteenth
Full Throttle Championship
and that's very impressive and it received the attention of more than just the drag racing world. Now before you ask, "What about
LE Tonglet's
win?" let me say this. That was also very surprising and amazing and I'll talk more about that in two weeks. For now, in one of the sport's premier classes, the "Boss is Back" as the expression goes. By the way, did you happen to see the full page ad that
Castrol
ran in the
USA Today
newspaper congratulating John on his championship? Now that was impressive.
Before I go on I should mention the big car show that will take place at John's
California
shop this weekend. It's the 13
th
annual
Holiday Car Show
and it benefits the California Highway Patrol
"CHiP's For Kids"
toy drive. Fans
who
stop by and bring an unwrapped $10 toy will see all of the members of Team Force as well as some of the hottest cars in
California
, and that's saying a lot.
Jay
Leno
will have his 1966 Ford Galaxie there and that will be one of the highlights of the car show. Hundreds of other cars will be on display and it's all for a great cause, so if you're in the area this weekend stop by. By the way, in addition to John and his team you will also be able to meet
George Barris, Chip Foose
and other great icons of the car world. Sounds like fun!
A few years ago it would have been impossible to imagine that any mention of John Force winning would be a surprise to drag racing fans. But that was before his accident in Dallas and the years and the turmoil that followed. After a 2008 season that saw John win one race and a 2009 season that saw him fail to even make a final round, let alone win a race, a lot of people may have counted John down and out. Did you know that 2009 was the first year since 1984 that John didn't make it to at least one final round? Well, after a reorganization in his camp, a major reshuffling of talent and a renewed spirit on his part, John was like the John Force of old in 2010. The drag racing world, and the other Funny Car teams, got a glimpse of what 2010 would hold in store when John won the season-opening Winternationals and he did it in style. After beating Bob Bode, Ashley Force and Jack Beckman,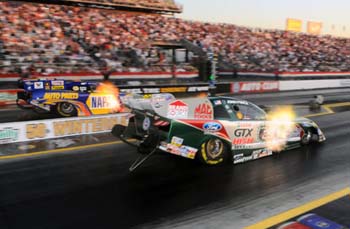 Force vs. Capps
in Winternationals final.
John won the race by beating
Ron
Capps
on a holeshot. I firmly believe that race set the stage for the rest of the year, a year that saw John make it to eleven final rounds and win six races.
Did you know
that John has had forty-nine holeshot wins in his career and that thirteen of them have come in final rounds?....Once he won that race, which according to our "stat guy" here at
DragRaceCentral.com, "Uncle" Larry Sullivan,
was by about seven feet, John was off and running, literally and figuratively. The win just also happened to be John's first at the 1,000 foot distance, but it wouldn't be his last...The eleven final rounds that John went to this year were the most for him since he went to a dozen in 2004 while his six wins were the most for him since he won eight races in 2002. It was also the first time since 2002, and the only other time in his career, that John began and ended the season with a win in Pomona....John's round wins this year gave him a total of 1,082 for his career. When you add in his 417 round losses you get a total of 1,499 rounds for his career and that is, by far, the most in the history of the sport.
Did you know
that
Warren Johnson
is next with 1,334 rounds and
Kenny Bernstein
is third with 1,042? They are the only three drivers who have competed in more than one-thousand rounds in their professional drag racing careers. As a note, did you know that if you add in
Frank Manzo's
national events with his divisional races, he too, is over 1,000 rounds for his career? But I digress.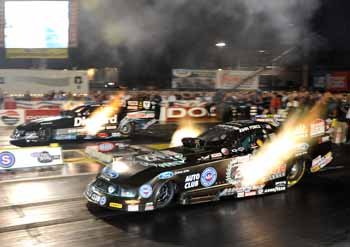 Force vs. Hagan
in the Vegas final.
Despite all the cries that you still hear from those you don't like (and never will like) the "Countdown" format, a look at the numbers would seem to indicate that the best car/team really did win the championship this year.
Did you know
that John won forty-four rounds this year and that was the most in the Funny Car class? The second-place finisher,
Matt Hagan
, won the next most with his thirty-seven round wins. One of the big factors in determining the champ this year was in the playoffs where John won fourteen rounds and Matt won thirteen. Of course John won two races in the "Countdown" which carries with it an extra twenty points per race while Matt only won once and that was a big difference. Matt said after his loss to
Cruz Pedregon
in
Reading
and his loss to John in Vegas that "We left a lot of points on the table and that could hurt us." And it did....As surprising as it may seem,
did you know
that Ashley Force, who finished third in the points, won ten of her twenty-five rounds this year in the six races in the "Countdown?" That means that for the first seventeen races of the season she only won fifteen rounds and that's surprising, at least to me anyway....
Jack Beckman
, who finished fourth in the points, won a total of thirty-six rounds this year but only eight of them came in the last six races of the year....Any playoff format that you have will have it's supporters and detractors, but since that's the way sports goes these days we have to live with it. It's just interesting to see that the driver with the most round wins this year won the Funny Car championship and that won't always happen with the "Countdown."...John also capitalized on the bonus points that were available in qualifying and that really was a factor at the second
Las Vegas
race.
Did you know
that John earned five qualifying bonus points at that race while Matt earned just one? That four point differential was huge since it reduced John's deficit to under three rounds, and while that became a moot point because John won there and in
Pomona
, it could have been the difference between first and second place. I'm sure that it gave John's team a lot of confidence going into
Pomona
, and if not confidence, at least a little breathing room.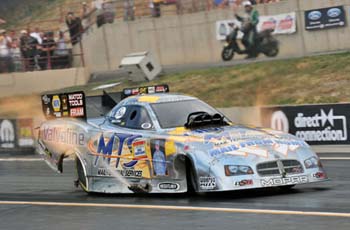 Jack Beckman
The two best drivers in the class also had very good records in the early rounds this year, and as I've always heard, you can't win your second round if you don't win your first. Over the course of the year John only dropped six opening round matches while Matt lost five times in round one. The best mark in the class, for those who competed at all of the races, goes to Jack Beckman.
Did you know
that the
MTS/Valvoline
car only lost four times in round one this year? That's pretty good in any class, let alone in the highly competitive Funny Car category...It's amazing when you look at the fact that
Larry Dixon
won sixty-two rounds this year and still hadn't clinched the championship until the last race, while John won the title by winning eighteen fewer rounds. But when you look at the fact that only five drivers won in Top Fuel while ten won in Funny Car it's easy to see how that can happen.
Did you know
that the ten winners is the second-most in the history of the Funny Car class? In 2006 eleven drivers won while in 1997, 2008 and 2009 ten drivers won, too.
Did you know
that of those ten drivers who won back in 1997 only two of them won again this year? John Force won six races that year and
Ron Capps
won two and they are the only drivers from the class of '97 to win a race in 2010.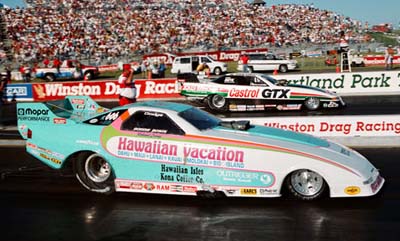 Gordie Bonin vs. Force
in '93 Toprka final.
With Team Force having three cars and Team Schumacher countering with a trio of their own Funny Cars, it's no surprise that there wasn't a lot of room in the top ten for anyone else. As you know, drag racing is the only sport where you have team members going at each other and that always brings up the topic of "team orders." You know how I feel, a team is there to do one thing and that is to win the championship, so if you can help your teammate, good for you. With that in mind,
did you know
that John was 7-5 against the other two Team Force cars in 2010? He was 3-3 against Ashley and 4-2 against
Robert Hight.
And what do you think his record was against the three Team Schumacher cars? How about that same 7-5?
He had a losing record against Jack Beckman (1-2), split his two races with Ron Capps (1-1) and was a dominating 5-2 against Matt Hagan, with two of those wins and one of those losses coming in the "Countdown.".John won the title in a heroic, come-from-behind charge that included his final round win over
Jeff Arend
. As mentioned earlier, Jeff became the 37
th
driver that John has beaten in a final round, and with an 0-1 record against the champ Jeff joins a group that includes eight other drivers. Among that not so select group are
Kenji Okazaki, Glenn Mikres, John Martin
and
Gordie Bonin.
I wonder when the last time was that those four guys were mentioned in the same sentence?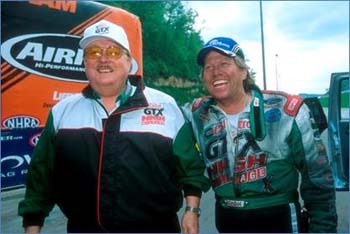 Austin Coil and Force.
Of course one of the big, really big stories already during the off-season is the resignation of
Austin Coil
from John's team.
Austin
dropped the bombshell right after the last race of the season, and apparently it caught John off guard. The two have been great for each other, and together they formed one of the most dominant teams in drag racing history. In recent years, as much as he said that he admired
Mike Neff
and what he did for the team, and I'm sure that was true, it was apparent to those who watched the team, and who have watched it for years, that
Austin
was being phased out. He has been doing this for a long time and now he'll take some time off. Speculation has already begun about if and when he will return. I certainly don't know if he will, but I do know that he has given us some great moments, and to be able to work with the same driver and team for so long says a lot about him. Austin is one of the more interesting and intriguing people in the history of the sport and we wish him well and hope that if he does come back it's with a team and a driver who can appreciate and use his skills and talents because they are many.
Did you know
that
Austin
joined the team of
John Farkonas
and
Pat Minnick
in 1966? That came after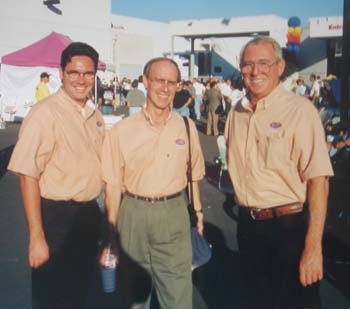 Jason Baffrey, myself and Steve Evans
years of racing his own Super Stock car and working as a mechanic at a Chicago-area
Plymouth
dealership. A year after joining the team they had their first car that was called the
"Chi-Town Hustler."
The rest, as they say, is history.
Did you know
that Austin actually drove the "Hustler" on a couple of occasions and one of them was in a 4-wide race in Rockford, Illinois? By my count that makes
Austin
one of ten different drivers to take a spin behind the wheel of that legendary race car.
I'll have more on the Funny Car season a little later during this off-season, but for now let's congratulate John and his team for a job well done. And don't forget the car show this weekend, it's always a blast. Did you know that the last NHRA Today show was filmed at one of the very first shows at John's shop? I was there along with Jason Baffrey and drag racing legend, the late Steve Evans.