Tue, 30 Nov 2010, 10:08 AM



Hot Finish Capped By Millen's First ADRL World Title in Extreme 10.5



Courtesy of ADRL Communications


Photo copyright 2010 Roger Richards





O'FALLON, Mo. --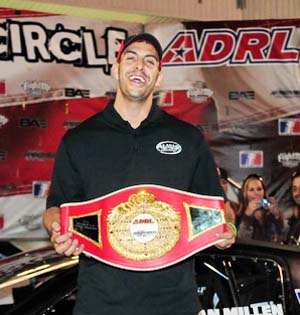 Dan Millen
Dan Millen tried to stay positive early in his 2010 American Drag Racing League (ADRL) season, but even he admitted he never saw this coming.
Four months after debuting his jet-black 2011 Mustang, Millen is now the quickest man in Extreme 10.5 history.
He is also an ADRL world champion.
Displaying the incredible consistency and immense power that seemingly came out of nowhere in early September, Millen rolled through the competition in the Speedtech "Battle For The Belts" at the LenMar Motorsports ADRL World Finals VI.
He went 3.84 in the championship round - just off his world-record time of 3.82 - and was never slower than a 3.85 last Friday at Texas Motorplex, wrapping up a championship run not many saw coming, Millen included.
"I never thought in the middle of the year we would be here," Millen said. "We were really skeptical and we had so much trouble with the car. I think having struggled in the middle of the season, it just adds to this."
The World Championship is also Millen's first ADRL win.
While Millen and his Al-Anabi Racing teammates had trouble harnessing the Mustang early in the season, they were as good as anyone the last two months of the season.
In early September, at Simpson Dragstock VII in Rockingham, Millen became the fifth and final member of the Mickey Thompson 3-Second Club with a spectacular pass.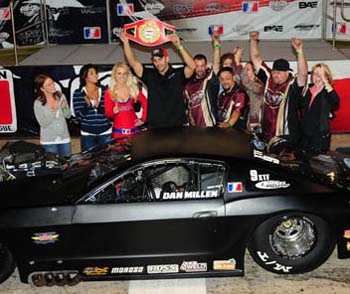 Millen and crew
celebrate championship.
Since then, Millen was nearly unstoppable and made 3-second passes almost every time down the track.
He went as fast as a 3.78 and set the record of 3.82 in that span. These were the scenarios he dreamed of when he first watched the XTF class. Getting a world title proved to be the ultimate capper to a marvelous year.
"This is the biggest thing I've ever won," Millen said. "I watched this class two years ago and I wanted to do it, but I knew with the car I had I couldn't win it.
"I wanted to race in the ADRL and somehow I was able to sell my (old) car and build this. To win this is just the icing on the cake. I never would have imagined this."
On a trip to Qatar a year ago, Millen found a buyer for his old doorslammer, which put the wheels in motion for him to get behind the wheel of his new Mustang.
Getting everything on track in his new car wasn't an easy process, however.
Millen and his team had many a frustrating night trying to figure out the combination, ultimately settling for a total dismantling.
"We've changed a lot of things and just got lucky," Millen said. "We changed a ton of things. It's just amazing. From the crew to the car to everything, it's just amazing to be here."
Whatever they changed worked; now nobody can track down the suddenly consistent Millen.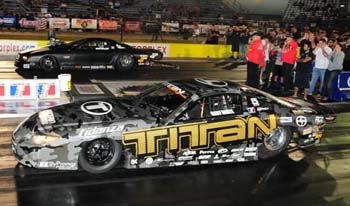 White vs. Millen
But he needed the late push just to squeeze into the eight-car field, slipping into the No. 8 spot for the "Battle For The Belts" at the final race of the season.
Millen, though, was hardly the underdog heading into Friday after his terrific run, and he quickly backed that up.
He went 3.846 in a red-light win to earn a first-round matchup with Billy Glidden. Another 3.84 popped up - as did a win light - against Glidden and a 3.85 in the semifinals carried him into the finals.
Matched up with No. 1 qualifier Gary White, Millen went 3.84 to claim his first championship. It's a feeling Millen could get used to.
"At the beginning of the year, I didn't know anything about these engines," Millen said. "Now I enjoy it so much. I don't think I could race anything else."