Sat, 1 May 2010, 12:28 PM



IHRA Closes Book On 2009 With Crowning of Sportsman World Champions



Courtesy of IHRA Communications


Photo copyright 2010 BME Photography





Tournament of Champions a Hit With Drivers



ROCKINGHAM, N.C. --
(April 30, 2010) - It was a scene of pure joy and celebration.
In the pits grown men cried and others wandered aimlessly trying to find the next person to pull in for a celebratory hug. It was a year's worth of emotion all spilled out at once and it all took place at Rockingham Dragway Friday evening.
In what had become one of the most anticipated races in IHRA history sportsman drivers were finally able relax and celebrate their accomplishments Friday as the IHRA closed the books on the 2009 racing season with the crowning of seven sportsman world champions Friday at Rockingham Dragway.
>From a weekend filled with constant rain and thunderstorms in October to near perfect conditions on Friday sportsman drivers couldn't have asked for a better day to finish the '09 Tournament of Champions and even more great weather is in the forecast for the Spring Nitro Jam Saturday and Sunday at "The Rock."
On Friday, however, it was all about the sportsman champions.
After nearly a year of anticipation for some, the race that was scheduled to be completed at the World Finals in October finally came to a close with seven drivers left standing. Those drivers were Mike Koontz (Top Sportsman), Donny Urban (Top Dragster), Slate Cummings (Super Stock), Michael Beard (Stock), Bo Upton (Quick Rod), Tommy Maedgen (Super Rod) and Keith Mayers (Hot Rod).
The seven drivers were the first crowned under the new Tournament of Champions format and all seven competitors had to navigate through a field of the best-of-the-best in sportsman racing today to come out on top. And in the end the TOC produced exactly what IHRA was hoping for.
At the end former world champions stood alongside championship newbies, but all of them had one thing in common - they were the best in the world on Friday.
"It was incredible. Everybody here was somebody and everybody can run the numbers and cut a light so I knew I had to be at the top of my game to win this thing," said Super Rod winner Maedgen. "It is amazing to come away with the win."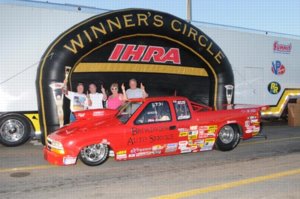 Mike Koontz
Some of the best racing of the night was produced in the IHRA's two quickest and fastest categories as Koontz (Warrenton, Va.) took out Billy Thigpen in the Top Sportsman final and Urban (Pittsboro, N.C.) defeated Travis Harvey.
Koontz ran a 7.315 elapsed time on a 7.31 dial to Thigpen's 7.370 on a 7.35. Koontz also claimed a slight advantage on the tree with a .018 light to walk away with his first IHRA championship.
"I have been racing for 15 to 20 years and this business is very tough. Everybody out there was real tough," Koontz said. "But today was just my day. Everything worked out my way. The truck was running fantastic and kept running the numbers I needed."
Koontz defeated Thigpen, Chris Gulitti and Bruce Thrift in the first four rounds and received a bye in the quarters on his way to the win with the eighth spot on the ladder as determined by reaction time during time trails.
"Right now it feels great, but you will have to ask me again tomorrow how it feels when it actually sinks in," Koontz said. "We went to a lot of races in 2009 and with the way the IHRA did everything last year it just worked out for me. We won one of the sportsman nationals and that got us here and that seemed to work out for a lot of people.
"It opened the door for a lot of great racers to have a chance."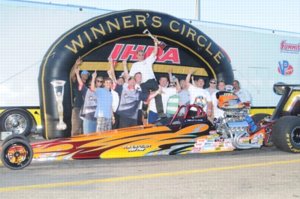 Donny Urban
In Top Dragster Urban dominated on his run with a .007 reaction time to help put up a solid 7.227 on a 7.22 dial to win his first IHRA title. Harvey, however, wasn't far behind with an equally impressive 7.184 on a 7.18.
"It was just one of those days where you couldn't do wrong. Somebody was definitely riding with me to do as well as we did against the type of competition I had against me, but the runs that I had just worked in our favor," said Urban. "The cars fell my way and to top it off and run Travis in the final, one of my best friends in the world, was an unbelievable way to cap the day.
"It couldn't have been scripted any better."
Urban, also known as "Hollywood," defeated Harvey, Dylan Stott, J.R. Baxter and Casey Spradlin on his way to the victory.
"I know someone was riding with me. I lost my grandmother and four really good friends within the past six months and I just think everything lined up today because they were watching over me," Urban said. "I have been fortunate to win what I have over the years, but this is just one of those days I am really proud of."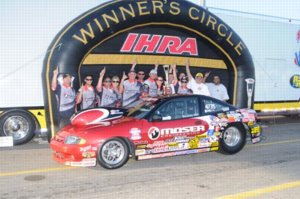 Slate Cummings
IHRA's Stock classes produced another batch of incredible tight races as Cummings (Hammond, La.) defeated David Simmons and Beard (Seagrove, N.C.) won over Brent Darrooch.
Cummings won his second career Super Stock championship with a perfect light leading to a 9.093 E.T. on a 9.07 dial. Simmons ran a 10.176 on a 10.16 in his runner-up effort.
"I had been very good on the tree all day and so was David so I knew I had to be good on the tree and not cut him any slack," Cummings said. "I was set up for a perfect tree and that is where I left it. It feels really good. You look at the final eight of Bertozzi, Folk, Lyons - you have a bunch of champions who should be there.
"They were all there to win the world championship and they earned their spot there. To win against that group feels really good."
Along with Simmons, Cummings also defeated Michael Lyons, Missy Phillips and Tracy Robbins in the opening rounds to win his first championship since 2004.
"This championship is great for my guys at Moser and my whole family. This is my anniversary weekend. Actually this weekend is keeping with a tradition in my family," Cummings said. "My dad brought my mom to a race on their anniversary and he won and my brother and I did the same thing so we kept the tradition going. My wife has been telling me she is bad luck, but she was here for my world championship here today."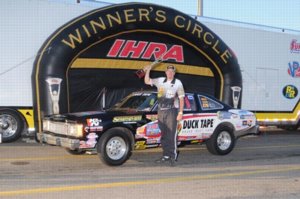 Michael Beard
Beard produced one of the best stories of the night in the Stock ranks with the largest payout of his career after years traveling up and down the quarter-mile. Beard also collected his second championship with the win over Darroch.
Beard ran a 11.116 on a 11.11 dial to Darroch's 10.667 on a 10.69 dial. Beard also cut a solid light to gain an early advantage.
"I was lucky enough that the last couple weeks I have been practicing running Top E.T. where you really need to be sharp on the tree. I only had one light worse than a teen all day long," Beard said. "I knew I hit the tree good, but Frank comes up right alongside me through the traps and I just went for the brake pedal and stabbed it and had a sinking feeling. When I saw that win light I covered my mouth with my hand because I was stunned. I couldn't believe I won."
Beard, in the famed Duct Tape Volare, used a string of strong runs to eliminate Darroch, Craig Marshall, Slate Cummings and Myron Piatek in the opening rounds.
"It is a lot like the bracket finals. It is a similar deal where you have to qualify for it, but this is a more compact field, but most of this field is a bunch of assassins," Beard said. "When I won the Spring Nationals last year I thought this was going to be easy until I realized the guys I would be going up against.
"It is very cool. I won this with the old point system back in 2003, did it that way and now this way, I also won a bracket finals in NHRA and last year won IHRA Division 2 bracket finals. I have done a little bit of everything, but man against this field of hitters they can't take anything away from this win."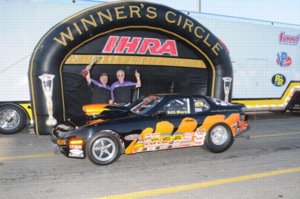 Keith Mayers
In the rod categories there was repeat champion and two new champs as Upton (Taylor, S.C.) roared past Matt Weston in Quick Rod, Maedgen (Troy, Texas) defeated Donald Webb in Super Rod and Mayers (Frutland, Md.) won over Doug Wood in Hot Rod.
Mayers won his second championship in Hot Rod with his other title coming in 2005. While the road to the championship wasn't easy, winning the final was as Wood went red to give Mayers an easy victory.
"I got lucky today, but either way the right man came out on top," Mayers said. "We won this race because we beat everybody that is somebody. It is all the tough people. Almost everybody has been a champion or earned the right to get here so this was really a battle of the big ones."
Mayers eliminated Wood, Glenn Ferguson, Tony Elrod and R.L. Koontz on his way to his second title.
"I did alright last year. We thought we had enough to take the division, but I had a guy who came out of nowhere and won a couple races and knocked us down to third so I didn't get any money. I just barely got in this race by finishing third, but I didn't even have money to get here," Mayers said. "It was quite a battle to get here, but here we are and we are winners."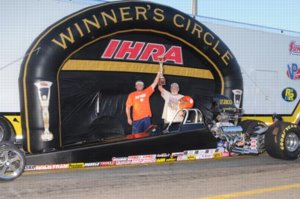 Bo Upton
In Quick Rod diehard Clemson fan Upton - with a replica of the Tiger football helmet on his racing helmet - roared past Matt Weston in the final with a solid 8.906 to Weston's 8.895 in the 8.90 class to claim his first career IHRA championship.
"I have been racing since I was 15 and I am 38 now. I am going to tell you that I am fortunate. I drove good all day. I had a heck of a run in the finals and the track was great all day," Upton said. "I have raced for a long time and I didn't get to travel a lot to run for the world title so to have a system like this, I don't know how anybody could have anything bad to say. It is amazing."
Upton took down Weston, Jacob Elrod, Tony Helms and Allen Constantine on his way to the championship.
"I told my boy Thursday morning we were running for the championship and I got up Thursday before I left and I got them ready for school and he said "daddy, daddy, you are the world champ" and I said "not yet son," but he kept staying it so I guess that was a good omen," Upton said. "This deal IHRA has going is phenomenal. We had a good year, didn't tear anything up and won some races. I have to thank my dad, my wife Jackie and my boys Bo Henry and Tucker for this."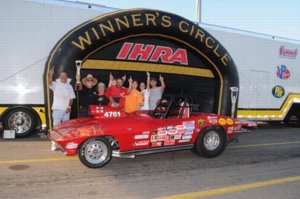 Tommy Maedgen
Maedgen wrapped up the championship bunch with his first title over Webb. Maedgen ran a 9.913 on the 9.90 index to Webb's 9.892 in the final.
"It was a heck of a day. It started when I backed out of the trailer to warm it up and my starter fell in half. I was scrambling to get the new starter on and get ready, but I got everything worked out and it all seemed to fall in place," Maedgen said. "I beat a few great guys in a row including Todd Thompson and Brian Folk and when I beat them I knew today was my day."
Along with Folk and Thompson Maedgen also eliminated Webb and Dale Koncen in the win.
"I got in by finishing third in my division and I thought how good can I be if I am just third in the division? And then we won the last sportsman national at Rockingham in the fall so we thought we would give it a try," Maedgen said. "It is ironic, when we got to a new track we always do well. I told my wife this track likes us so we came back here and won it again."
The following are Friday's final results from the 2009 Nitro Jam Drag Racing Series Tournament of Champions:
Top Dragster -- Donny Urban, Dragster, 7.227, 170.11 def. Travis Harvey, Dragster, 7.184, 169.89.
Top Sportsman -- Mike Koontz, S-10, 7.315, 179.04 def. Billy Thigpen, Chevy, 7.370, 182.26.
Quick Rod -- Bo Upton, Dragster, 8.906, 170.23 def. Matt Weston, Dragster, 8.895, 162.29.
Super Rod -- Tommy Maedgen, Corvette, 9.913, 147.44 def. Donald Webb, Camaro, 9.892, 144.33.
Hot Rod -- Keith Mayers, Porsche 944, 10.868, 136.18 def. Doug Wood, Cutlass, 20.884, 42.37.
Super Stock -- Slate Cummings, Cavalier, 9.093, 133.38 def. David Simmons, S-10, 10.176, 125.47.
Stock -- Michael Beard, Volare, 11.116, 112.05 def. Brent Darroch, Camaro, 10.667, 119.94.