Mon, 4 Jan 2010, 11:50 PM



Barker to Team Up with Speedtech Nitrous and Reher Morrison for 2010 season



Courtesy of Justin Barker



BYRON, Ga. --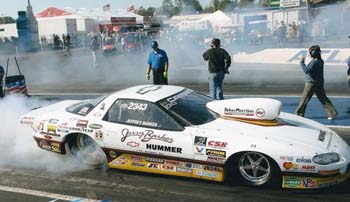 Jeffrey Barker
After 3 consecutive NHRA Top Sportsman Division 2 Championships, Jeffrey Barker driving his Jerry Barker Motorsports Camaro built by Rick Jones, has decided to step up his program a notch. While continuing his long term partnership with Reher Morrison, his engine will be outfitted with state of the art, multiple stages of Speedtech Nitrous.
With an impressive NHRA Top Sportsman win at 9 events and 3 championships, he is looking foward to continuing his success in the Top Sportsman ranks. Barker has also won the Dart Dash that is contested at the Southern Nationals in 2007, and the Jegs Cajun Sportsnationals in 2009.
"We are very excited about our partnership with Speedtech. With industry leading knowledge and expertise that Speedtech offers we are very pleased to have them on our team for the 2010 season. I am definitely looking foward to working with David Reher and Brandon Switzer on our nitrous program as they are the best in the business." Barker will be competeing at NHRA divsion races as well as multiple NHRA national events that Top Sportsman is contested.