Sat, 2 Jan 2010, 10:38 AM



The Power of Faith



Courtesy of IHRA Communications



Greg Slack's Courageous Triumph Over Cancer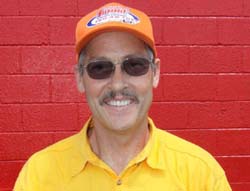 Greg Slack
In his successful twenty-five-year career as a racer, Greg Slack has faced numerous challenges, fought tough adversaries, and overcome seemingly insurmountable odds to win races and championships, but when he rolled his dragster into the Rockingham Dragway winners circle last June, he celebrated a triumph monumentally greater than the Summit Pro-Am Quick Rod victory he had just driven to.
On that day his reward far outshone the gleaming IHRA Ironman. As he hoisted the trophy over his head he was rejoicing in the fact that he had his life back; his life on the track, his life with his friends and fellow racers, and his life with his family.
Yes, as satisfying as his accomplishment over his on-track opponent was that weekend, Slack knew he had out-muscled a much stronger, much more tenacious advisory, one whose wins often mean a devastating loss for whoever comes up in the other lane.
Less than a year earlier, the veteran racer and owner of Converter Design Specialist had been diagnosed with an insidious type of cancer, one that grudgingly afforded victims an average life expectancy of just three to five years.
Slack's inspirational story, and his triumphant return to the sport he's loved all his life, is one of faith and gritty determination.
"I grew up racing with my dad - he used to run at Sportsman Park, which is now Farmington Dragway," said Slack when asked about the early days of his career. "It was a quarter-mile track back then, and I remember going there in the mid-to-early sixties. As I got older I started to race myself, at first with street cars. In the early eighties I decided to build a car strictly for racing, and started working on the Maverick that I have now. By 1985 I had it finished, and started going to local bracket races.
"The first IHRA race we won was the 1986 Winston Spring Nationals at Bristol," Slack said. "We went on to win two or three more races in Hot Rod that year, and finished third in points. We later had a couple more third-place finishes at the national level, and won the (Raiders) Division 9 Super Rod championship twice. Since I started running a dragster in Quick Rod, we have also finished second in the division twice."
As the 2008 IHRA season drew to a close, Slack was in the top-ten in points in both of his classes, and other than dealing with the everyday tribulations of racing, family, and business, he led a relatively carefree existence.
By the middle of September, however, everything took a dramatic and totally unexpected turn, and Slack's life would never be the same again.
Greg Slack
"As usual I was burning the candle at both ends and staying too busy to pay attention to things," he said. "In September I had a couple of lumps come up on my neck, one on each side, and my wife got concerned about them. There was no pain, but she told me that I should get them checked out anyway. I went to my local physician, and when I told him the lumps didn't hurt he said that that wasn't good. He sent me to a specialist who did a needle biopsy, but the results came back inconclusive. They did a surgical biopsy next, and shortly afterwards the doctor called and told me I had Mantle Cell Lymphoma, which is a non-Hodgkin lymphoma. He just flat told me 'Greg, if you're going to have any lymphoma cancer at all this is not the one you want to have.' I asked him what we were looking at, and he said the median survival time after being diagnosed was three to five years. I said 'three to five years, huh? None of us knows from one day to the next what we might encounter, if we'll even have another day or not, so that's quite a bit. If my God wants to heal me He'll heal me, if He doesn't He can take me home because I'm ready to be with Him.'"
In October, Slack's doctors began an aggressive course of chemotherapy treatments.
"I got seven chemo treatments during a five-day period the first time I went in," he said. "I remember it well for many reasons, but mainly because I celebrated my fifty-second birthday while I was in the hospital. I went back the weekend of Halloween and got another seven treatments and that was followed by nine more just after Thanksgiving. Right after I came home that time I came down with Nutrigenetic Fever and Esophagitis. I had to go back into the hospital, and I was there until December sixteenth. At that point they collected stem cells from me and sent me home. On January twentieth I went back in for another week of chemo and the stem cell transplant. I came through it in record time, but I wasn't home twelve hours when I was hit with devastating diarrhea and a high fever. Back I went to the hospital, where I was diagnosed with a C-dip bacterial infection. That can be fatal, and the doctors had a real tough time getting a handle on it. At last I got over it and was able to go home again."
Having had enough of hospitals, Slack was ready to get back to the race track, much to the surprise of some.
"I went back in for a check-up the first of March, and the nurse was setting up my schedule for additional visits," he said. "One of the dates was the Monday after the national event in Rockingham, and I told her that she'd have to change it because I had a race to go to that weekend and if it rained we might have to stay an extra day. She said she thought that it would be OK if I wanted to go and watch a race, and I said 'watch? Ma'am, I'm going to be racing. She said 'oh no, you're not going to be racing. You won't be up to it - you won't have the reflexes. Oh no, there's just no way.'
"Well, needless to say, not only did I race at Rockingham, but I made it to the Pro-Am at Farmington, which was more than a month earlier! It was tough on me, but I sure didn't have any trouble with my reflexes. I was destroying the tree right from the start. If I didn't red-light I was all over the tree - I just didn't have any bad lights. I never had a problem settling right back into what we had been doing and I never had any trouble behind the wheel. But by the time I loaded both cars up after the race I was exhausted. That was harder on me than anything."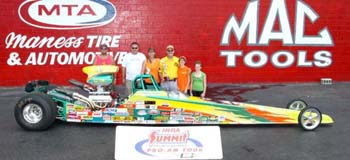 Greg Slack
Slack hung tough, however, and as mentioned made it to Rockingham for the Nitro Jam event. He followed that up with trips to Pro-Am events at Mooresville, Piedmont, and Richmond before returning to Rockingham Dragway in June to claim a hard-fought emotional and physical victory over the toughest opponent he's ever had to face. That weekend he drove his Quick Rod car to the winners circle and proved that faith and determination can move mountains. He didn't stop there, however, as he later added a runner-up and a win in Super Rod at Darlington to finish the season fifth in Quick Rod and ninth in Super Rod. In other sportsman action, Slack was a semifinalist in the Moser Axle Mania Sportsman Showdown. He also grabbed a runner-up finish at the President's Cup Nationals in September.
As for the future, Slack is cautiously optimistic. He has to have his blood checked once a month and every other month he goes in for a CAT scan. At the end of December he will also have a bone marrow extraction done, which he claims "is not too bad."
"My doctors say that 60 percent of their patients are making it past five years now, but they don't have any contingency plan after that. Of course this is a type of lymphoma that they have just recently discovered, so they are making progress with the way they treat this particular type of cancer. Luckily I was very healthy before I was diagnosed, so that has really helped me kick this thing into remission. It knocked the feet out from under me, for sure, but I have to give the Lord credit and thanks for the way I've been able to fight it off. Of course I could go in at any time and have them tell me that it's come back, and although that's not the brightest thought to look forward to, I just don't dwell on it; I live one day to the next. I put this in the Lord's hands and that's where it will stay. Without His help, and the love and support of my family, friends, and fellow racers, I'm not sure how this would have turned out. I am truly blessed."
For a quarter of a century Greg Slack has been a tough and resourceful racer, and those traits now seem to have allowed him to weather a terrible storm. The good Lord willing, he'll be out there for another twenty-five years.