Tue, 22 Dec 2009, 02:28 PM



Making a Difference



Courtesy of IHRA Communications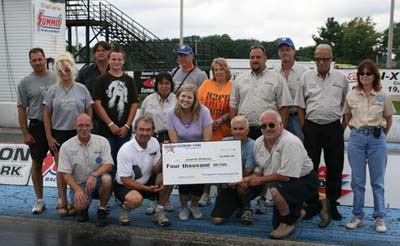 Members of the Gazette Newspapers
NAPA Auto Parts
JDRF Walk Family
Chances are at some point in your life you or someone you know has been directly affected by one of the world's fastest growing diseases - diabetes.
In the United States alone a new case of diabetes is diagnosed every 30 seconds and if that trend continues it is estimated that some 380 million people worldwide will be affected by the illness by the year 2025.
And among those affected are an ever increasing number of children.
While those numbers are clearly alarming, there are those who are willing to put up a fight in an attempt to halt this deadly disease in its tracks.
Organizations such as the Juvenile Diabetes Research Foundation (JDRF) and the American Diabetes Association (ADA) are among those doing their part to raise awareness and funding for diabetes research, but additional help is still needed.
And that is where the Gazette Newspapers/NAPA Auto Parts JDRF Walk Family comes into play.
If the JDRF Walk Family has anything to do with it, the number of people struggling with diabetes in the next few years will finally be on the decline.
And that, according to team promoter Terry Mowery, is exactly what this race team is all about.
"It would be absolutely thrilling to be around when they find a cure. I know it is out there, we just have to keep fighting and one day they will find it," Mowery said.
Roughly 10 years ago Mowery began a race team with a modest 10 members running at drag strips and circle tracks across northeast Ohio with little idea the impact they would one day have. Fast-forward nearly a decade later and that team has grown to over 60 members, 100 sponsors and nearly a dozen drivers all doing their part to help find a cure for juvenile diabetes.
The team has grown so big even professional drivers are getting in on the act trying to help make a difference and find a cure for diabetes.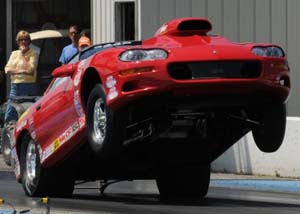 Larry Weisenberg
"We started as a race team with a small crew and as we grew the drivers came to us and suggested we pick a non-profit charity to help. A couple of people on the team have or knew someone who has diabetes so we decided to work with the JDRF," Mowery said. "It is quite remarkable what this team has accomplished in such a short period of time."
Last year alone the race team raised over $12,000 for juvenile diabetes research through various fundraising and donation efforts and in 2010 the group has even bigger plans.
"Every year we raise more and more money and get more people involved so really the sky is the limit with this team," Mowery said. "It is exciting to see all that we have been able to do and I look forward to our family growing even bigger next year."
So how did a small group of grassroots racers from Ohio become major players in the fight to cure diabetes?
It all started with Mowery and his love of motorsports.
"I knew the owners of a local track and I helped them with billboards and other promotions and after a while a couple of teams asked me to promote them as well. Over time I simply went from the track to the teams," Mowery said.
At first Mowery's involvement was mostly centered around circle track racing, but as time went on his team quickly grew to become very popular with drag racers as well. Today the team is primarily focused on drag racing, however there are still a few circle track teams involved.
Once the team was on its feet one of the racers approached Mowery with an idea and the rest, as they say, is history.
Members of the Gazette Newspapers
/NAPA Auto Parts
JDRF Walk Family
"One of the racers approached me about working with a non-profit charity. So we got together and discussed it and decided to work with the Juvenile Diabetes Research Foundation because the issue hit home with many of the racers," Mowery said.
Once Mowery and the team aligned with the JDRF it was only a matter of time before word got out about what the team was doing.
And as word spread of the good works the JDRF Walk Family was doing more and more people in the motorsports industry offered their services and wanted to get involved with the team and their quest to make a difference.
Today the Gazette Newspapers/NAPA Auto Parts JDRF Walk Family - as it has become known - is comprised of three circle track teams and six IHRA sportsman drag racing teams including those of Larry Weisenberg, Matt Zapp, Brian Foecking, Tim Campbell, Kyle Rokosky and Cole Rokosky.
The team also works closely with Funny Car driver Bob Tasca who donates money and promotes the JDRF through a special design on his car done once a year.
Working primarily out of northeast Ohio, the team works closely with the IHRA sanctioned facility Thompson Raceway Park in Thompson, Ohio and Summit Motorsports Park in Norwalk, Ohio. During the year the teams often race and set up booths at various races held at these tracks where they hand out literature and raise money through various fundraising projects.
Some of the teams even donate their winnings back to the program.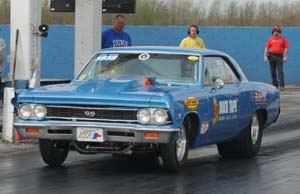 Matt Zapp
JDRF team member Matt Zapp knows all too well the hardships associated with having diabetes and spends much of his racing season raising awareness and money for the JDRF.
"My uncle Buck and a few of my other family members have diabetes. Uncle Buck has battled the loss of his eyesight due to his sugar and I simply want to help make a difference in helping find a cure for this challenging illness," Zapp said. "We operate our racing program as a family and Uncle Buck played a big role in helping me with my racing career.
"Uncle Buck now works for NAPA and JDRF has been very involved with NAPA. It is through that relationship that I met Terry and became involved with the JDRF program.
"We run the JDRF logo on our car and last summer we pledged 100 percent of our race winnings from Summit Motorsports Park to the JDRF. I also helped locate and assist JDRF with a trailer for the race program. Needless to say this means a lot to me and any little bit I can help goes a long way."
Zapp is a longtime supporter of the JDRF race team and a longtime drag racing veteran. Zapp was introduced to the sport at a young age by his father Robert Zapp and immediately became hooked to the thrills of drag racing.
"When I turned 16 my dad and I visited Thompson Raceway Park together. That was all it took," Zapp recalled. "I have been hooked as a driver, car owner and track employee ever since."
Now Zapp is proud that he is able to make a difference doing something he loves.
"We work with a great crew at MJ NAPA, racers Tim Campbell Sr., Tim Campbell Jr., Larry Weisenberg, Brian Horton and the fine folks at our local race tracks. They help make all this possible," Zapp said.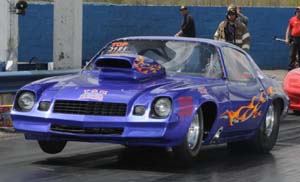 Tim Campbell Jr.
Tim Campbell Jr. is another member of the JDRF race team that enjoys being able to give something back.
Like Zapp, Campbell was introduced to racing by his father and was immediately hooked. Tim Campbell Sr. spent many years racing Top Sportsman and Pro Stock with the IHRA before Campbell Jr. essentially took over the family business.
"When I was old enough he put me in the seat and that is how I got involved with racing," Campbell said. "I have been racing since I was 18. We race Top Sportsman and participate in as many divisional and bracket races as we can at Thompson Raceway. We hit about a dozen races a year with our team."
Just like his father before him, Campbell enjoys taking his family to the track and operating as a family race team. And it is through his family that he got involved with the JDRF.
"My daughter Cassandra was born with Spina Bifida so we did a lot with Rainbows, Babies and Children and when I found out what JDRF is all about, helping kids in need and trying to find a cure, I immediately got involved," Campbell said. "This is a family outfit for me. My daughter Cassandra and my son Timmy we go as a family as much as we can so anything I can do to help children is a big deal to me."
Through their hard work Campbell, Zapp and the rest of the JDRF Walk Family have helped raise thousands of dollars toward diabetes research and continue to seek opportunities to give and get people involved.
Along with raising money at drag racing events, the JDRF race team also participates in other fundraising efforts including JDRF Walks at the Cleveland Zoo and the Canton Hall of Fame and offering raffles at various car shows and festivals across northeast Ohio.
The group has grown so big professional drivers ranging from Funny Car driver Bob Tasca to exhibition driver Bob Motz have contributed to the cause in some way.
Together Campbell, Zapp, Mowery, the JDRF race team and thousands of volunteers across the nation have found a way to use their talents to help others. During the holiday season their work acts as a reminder that anyone can make a difference no matter how small the contribution.
And that is the message Mowery hopes to spread as the Gazette Newspapers/NAPA Auto Parts JDRF Walk Family continues to grow.
"Never in my wildest dreams did I think we would be able to accomplish so much from such humble roots," Mowery said. "It just goes to show that anyone really can make a difference."