Tue, 15 Dec 2009, 07:48 PM



National Guard ADRL Extends Official Fuel Status of VP Racing Fuels



Courtesy of ADRL Communications



O'FALLON, Mo. --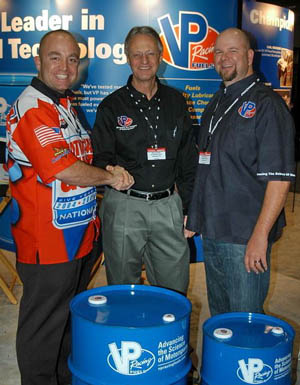 Kenny Nowling, Steve Scheidker and Jason Reuckert
The National Guard American Drag Racing League (ADRL) is pleased to announce a multi-year extension of its partnership with VP Racing Fuels that makes VP the official fuel through 2014 for the eighth-mile drag racing series.
"We're thrilled to extend the agreement and the benefits that accompany our relationship with the ADRL," VP Executive Director of Marketing and Communications Steve Scheidker said. "With ADRL racers constrained by relatively few rules they're constantly motivated to push the limits of their combinations, which in turn provides an excellent proving ground for VP's leading-edge fuels."
Additionally, the massive crowds at National Guard ADRL events offer an ideal opportunity for VP to build awareness for its newest fuels which appeal to a broader consumer base, Scheidker added.
"For example, SEF94 is a specially blended fuel for use in small engines that will appeal to anyone with a chainsaw, lawnmower, generator or any other portable gas-powered equipment, while VP100 is a street-legal, 100-octane unleaded gasoline that will boost the performance of any high-performance vehicle from muscle cars and street rods to sports cars and exotics."
National Guard ADRL President and CEO Kenny Nowling said he's especially happy to extend an agreement with such a key partner as VP Racing Fuels.
"We couldn't be happer about VP Racing Fuels remaining as our official fuel provider," Nowling stated. "Steve and everyone at VP does a great job and have contributed greatly to the tremendous performances we've seen from our racers on the track."