Sun, 22 Nov 2009, 11:52 AM



Hoover Earns IHRA's Highest Honor



Courtesy of IHRA Communications



Gugliotta, Lang, Lagana, Gulitti and VP Racing Fuels Take Home Special Awards



NORWALK, Ohio --
After a season filled with tight point battles and incredible racing it was not easy selecting this year's IHRA special award winners, but in the end five names rose to the top and will add their names to the IHRA history books.
Ed Hoover took home IHRA's highest honor in 2009 as Sportsman of the Year, while Frank Gugliotta (Crew Chief of the Year), Kenny Lang (Pro Driver of the Year), Bobby Lagana Jr. (People's Choice), Chris Gulitti (Sportsman Driver of the Year) and VP Racing Fuels (Sponsor of the Year) also took home end-of-season hardware for 2009.
"It was an extremely competitive and, at times, crazy year for the IHRA, but in the end our award winners from this past season persevered and showed what IHRA racing is all about," said IHRA President Aaron Polburn.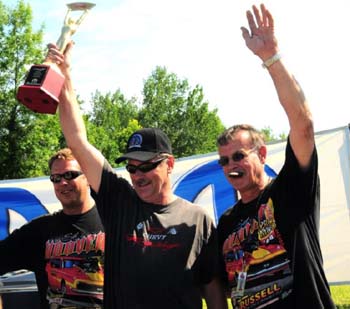 Hoover and Trussell
At the top of that list is veteran Ed Hoover.
Sportsman of the Year is an award reserved only for the elite in IHRA competition. With on track performance put aside, the award is given to a driver who represents the true spirit of competition and conducts him or herself in a manner befitting an IHRA competitor.
Simply put, Sportsman of the Year is widely considered IHRA's "Hall of Fame" award.
Hoover adds his name to a distinguished list of past winners after an incredible season and career with IHRA. Known as one of the innovators of the Pro Modified class, Hoover won the very first Pro Mod race back in 1990 and he hasn't looked back since.
While on-track performance is not a component of the Sportsman of the Year award, Hoover's numbers simply can't be ignored. After nearly 20 years behind the wheel of a Pro Mod machine Hoover has tallied an impressive 17 career victories, good enough for fourth all-time, and 29 career final rounds.
With the help of team owner Paul Trussell, Hoover put together his best season yet in 2009 with five final round appearances and a runner-up finish in the championship standings.
With his driving talents put aside, where Hoover really stands out is off the track where he is always willing to lend a helping hand. And it is for that reason that Hoover, after decades traveling the IHRA circuit, has earned the distinction as IHRA Sportsman of the Year in 2009.
While Hoover had a career year in 2009, the only thing standing between him and a championship was Kenny Lang, the recipient of this year's Pro Driver of the Year award.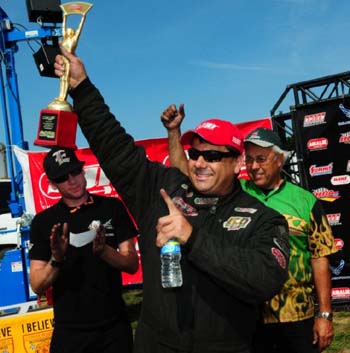 Kenny Lang
Lang had an unprecedented season behind the wheel of his '53 Corvette with eight final round appearances in 10 races, four victories and a 27-6 round win-loss record. Thanks to that incredible season Lang was able to cruise to his second consecutive IHRA World Championship and easily take home Pro Driver of the Year honors.
"Being named Driver of the Year is a huge accomplishment and we are very happy to get that kind of recognition. Obviously we did have a very good year. Right from the get go everything went about as well as it could have gone," Lang said. "We stumbled a little bit earlier in the year and I think if we could have latched on to our early problems we could have had an even better year.
"Still eight finals in a row, four wins, being top qualifier at a majority of the races - if you put everything on the table it is pretty much as good as it can get."
Another driver who enjoyed an incredibly successful 2009 campaign is Pro Stock competitor Frank Gugliotta.
Joining the three-car Elite Motorsports Pro Stock team at the beginning of the year, Gugliotta helped tune himself into championship contention - leading the points for a majority of the season before slipping to third - and his teammates into major threats. Known as one of the top tuners in the sport, Gugliotta's incredible season has earned him Crew Chief of the Year.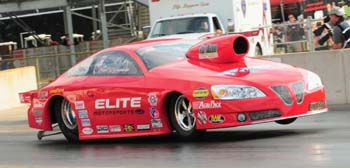 Frank Gugliotta
"I certainly wasn't expecting this, I am in shock," Gugliotta said with a laugh. "Honestly for us to come one race away from winning a championship with a brand new team and for all of us to have the kind of year we had is pretty remarkable."
Tuning his own car into championship contention is one thing, but Gugliotta will admit that trying to make three cars competitive is no easy task.
"It is very difficult. You would think each car would want the same thing, but each one has a mind of its own," Gugliotta said. "And when you take in the driver aspect it makes it that much more difficult. Each driver has a different driving technique so that makes it harder to get it just right.
"We had a good year, but I can't take all the credit. We have a lot of people over here helping us, but this is still quite an honor."
In the sportsman ranks no driver had more success on more levels this season than Chris Gulitti.
Behind the wheel of his '96 Firebird Top Sportsman machine Gulitti swept all four Tournament of Champions qualifiers with a national event win, a Sportsman Nationals victory, a win in the Summit All-Star race and a second place finish in the Renegades Division on the Summit Pro-Am Tour.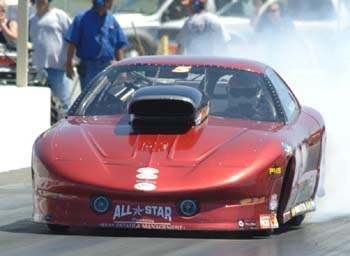 Gulitti
For that Gulitti not only earned a spot in the inaugural Tournament of Champions, he also earned the Sportsman Driver of the Year award.
"This means a lot to us. My team, myself, my father, my wife, Raymond Goodkowski and Ed Williams - everyone that has helped us this season, this is just an incredible honor," Gulitti said. "We have worked really hard on our program and we stuck to what we felt was working and it has really paid off.
"We are not always the fastest guys out there, but we can certainly be competitive and when we have to we will get in there and make some noise."
IHRA's top sponsor award in 2009 belongs to VP Racing Fuels.
VP Racing Fuels has always been a major player in the world of motorsports. In 2009 VP stepped up to be the official race fuel of IHRA and they made a huge difference at the track. IHRA racers experienced better performance, more consistent runs and the confidence that the VP fuel they use would not vary from race to race.
It is for that reason and many more that VP Racing Fuels has earned IHRA's Sponsor of the Year award for 2009.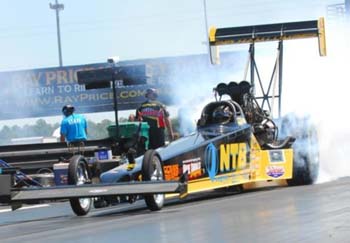 Bobby Lagana Jr.
"We're extremely proud to be named IHRA's Sponsor of the Year," said Steve Burns, VP's President and CEO. "We worked hard to make the most of our long-sought opportunity to work with IHRA this year. The response we've received from the teams, fans and series has been fantastic and we appreciate it."
The final award given out this season is one that can sometimes mean the most to a driver - People's Choice. With fans given the chance to select the winner it means a lot to a driver to know he or she is considered a fan favorite.
In 2009 that award goes to one of the most likable drivers in the pits and someone who has been a staple of IHRA drag racing for the past decade - Top Fuel driver Bobby Lagana Jr.
"It means a lot to know that we have so many fans out there cheering us on. We thrive on our fans and it is exciting to have that kind of support," Lagana said.
After a successful 2009 campaign IHRA now turns its attention to the 2010 season which begins January 29-30 at Palm Beach International Raceway.