Thu, 19 Nov 2009, 01:50 PM



National Guard ADRL Announces 2009 Racer Awards Gala Details



Courtesy of ADRL Communications



O'FALLON, Mo. --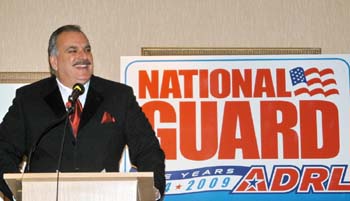 Bret Kepner will return
as Master of Ceremonies.
The National Guard American Drag Racing League (ADRL) is pleased to announce its Racer Appreciation and Awards Gala II will be held Dec. 12, in the Citrus Ballroom at the luxurious Wyndham Orlando Resort in Orlando, Florida. The semi-formal event punctuates the final day of the massive three-day Performance Racing Industry (PRI) trade show at the Orange County Convention Center just down the street from the newly renovated resort.
"All season long our race teams put on a great show for National Guard ADRL fans and I really look forward to the one night a year we get to return the favor," series president Kenny Nowling said. "Celebrating the accomplishments of our five world champions is a real honor for me, as is handing out a few special awards to some very deserving people."
In addition to presenting 2009 National Guard ADRL World Championship rings to Todd Tutterow (Pro Extreme), Khalid Al-Balooshi (Pro Nitrous), Spiro Pappas (Extreme 10.5), Scott Gray (Pro Extreme Motorcycle) and Matt Hartford (Extreme Pro Stock), the world's premier eighth-mile drag racing series will name its 2009 Rookie of the Year, Driver of the Year, Employee of the Year and Track of the Year.
Also, the Jim Oddy Award, presented last December to Pro Extreme driver Frankie Taylor, will go to the ADRL racer who best demonstrated sportsmanship in conjunction with competitive drive throughout the 2009 season.
Finally, the 8th annual Walter W. Henry Memorial Award, the most prestigious award in doorslammer drag racing, will be presented to a person or group of individuals who has made an important and significant impact on the sport over an extended period of time. Past winners include Nowling, National Guard ADRL co-founder Dave Wood, last year's winner Flowmaster Inc. and noted drag racing historian and ADRL television reporter Bret Kepner, who will again serve as Master of Ceremonies for this year's Gala.
All current National Guard ADRL drivers, riders and sponsors are offered complimentary passes to the semi-formal attire event, which begins at 7 p.m. with cocktails, followed by dinner, door prizes and the awards ceremony wrapping up by 11 p.m. To RSVP, send an email to Aimee Visney at aimee@adrl.us or call the National Guard ADRL office at (636) 272-2375.
Additional tickets for guests and team members are available for $50 each, payable by credit card, check or money order, and must be paid for by Nov. 25, as tickets will not be available at the door. The inaugural National Guard ADRL Racer Appreciation and Awards Gala welcomed more than 400 attendees, so early ticket orders are encouraged to avoid disappointment.
To check on room availability at the Wyndham Orlando Resort, call (407) 351-2420 or visit online at www.wyndham.com/hotels/MCOWD/main.wnt (case sensitive). National Guard ADRL attendees to the nearby PRI show (Dec. 10-12), also are encouraged to visit www.performanceracing.com/tradeshow as soon as possible to arrange show credentials or make reservations at several other area hotels.
National Guard ADRL Racer Appreciation and Awards Gala II
WHAT: The 2009 National Guard ADRL Racer Appreciation and Awards Gala II
WHEN: Saturday, December 12, 2009
WHERE: Wyndham Orlando Resort, 8001 International Drive, Orlando, FL 32819
SCHEDULE (Subject to change)
7:00 p.m.: Cocktails
7:30 pm.: Dinner
8:15 p.m.: Racer Appreciation and Awards Ceremony
ATTIRE: Semi-formal, coat and tie required
TICKETS: Complimentary to all current National Guard ADRL drivers, riders and sponsors. Additional crew members and guests may purchase tickets in advance for $50 each, payable by Visa or MasterCard by calling (636) 272-2375 or by mailing a check or money order to: ADRL, 2341 Hwy. K, Ste. 202, O'Fallon, MO, 63366. Tickets must be purchased in advance with payment received by Nov. 25, at 5p.m. EST, as they will not be available at the door.