Sat, 13 Sep 2003, 08:47 PM



Event Postponed to October 3-5



By Larry Sullivan


Photo copyright Auto Imagery, Inc.





MOHNTON, Pa. --
8:15 PM -- Drats! Schucks!! Faggeddaboutit!!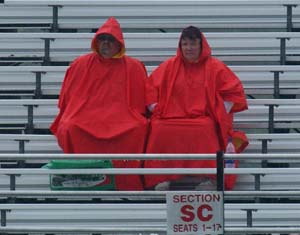 Rain, Rain Go Away
Mother Nature just delivered a crushing blow to any plans of racing tonight or finishing this race this weekend.
The track was dry, the Safety Safari was applying the finishing touches, and Pro Stock Bike was lining up in the staging lanes. The the bottom fell out, wiping out all the hard work and flooding the track. It's still raining hard.
This race has been postponed to the weekend of October 3-5. Sportsman racers will get time trials Friday, October 3. The race will resume on Saturday, October 4, with the same schedule that was supposed to be used today. Final eliminations will be Sunday, October 5.
All Professional qualifying runs from last night will stand when the race is resumed.
Stock Eliminator will be an "all-run" field since they have not started their first round yet.