Sun, 28 Dec 2008, 06:50 PM



Hillary Will Wins



Courtesy of Todd Myers



Top Fueler Hillary Will wins the Scott Kalitta Memorial Trophy in Sydney



BLACKTOWN, AUSTRALIA --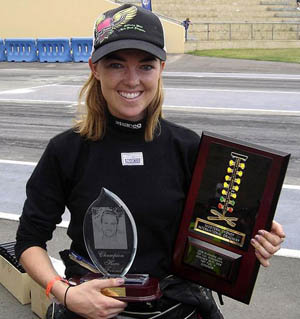 Hillary Will
NHRA Top Fuel star Hillary Will, the world's fastest female, claimed the inaugural Scott Kalitta Memorial Trophy by winning the Shannons U.S.A. v. Australia Top Fuel Showdown at Western Sydney Int'l Dragway in Sydney, Australia, Sunday.
Will, a 28-year old native of Fortuna, Calif., was the only American competing in the event. Her team, led by crew chief Jim Oberhofer, was plagued by many mechanical problems throughout the event but posted the quickest lap of the event in the final round by defeating Aussie Terry Sainty, 4.743 seconds, 303.16 mph to 5.284 sec., 260.51 mph.
Will, the No. 3 qualifier (5.519 sec., 197.94 mph) defeated No. 6 qualifier Mark Mariani in round one of eliminations after Mariani's dragster would not go into reverse after the burnout. Will got the solo run and advanced to the semifinals after smoking the tires immediately upon hitting the throttle, 13.309 sec., 79.83 mph.
In the semifinals, Will raced against Martin Stamatis. Will got a huge starting line advantage (.118 sec. to .334 sec.), but both dragsters struggled to maintain traction when they got near half-track. When all of the smoke cleared, Will's win light was on after the pedal-fest, 5.909 sec., 189.31 mph to 6.054 sec., 155.47 mph to advance to the final against Sainty.
"This means so much to me and this team," Will, who has now claimed Top Fuel titles in three different sanctioning bodies (ANDRA, NHRA, and IHRA), said. "To get this trophy and take it back to the States is such an honor for us. Scott was my mentor, and he was like a brother to me. We miss him so much, but we are so happy to win this trophy for Connie, Doug, Scott's wife Kathy, and his boys, Corey and Colin and the entire Kalitta family."
Scott Kalitta, a teammate of Will's at Kalitta Motorsports and the 2005 and 2006 champion of the U.S.A. vs. Australia Top Fuel Showdown, died June 21, 2008, from injuries he suffered in a high-speed Funny Car racing accident at Old Bridge Township Raceway Park during qualifying for the NHRA national event in Englishtown, N.J.
Scott, the son of Kalitta Motorsports team owner and drag racing legend Connie Kalitta, was a two-time NHRA Top Fuel World Champion (1994-1995) and the winner of 18 NHRA national events (17 Top Fuel, 1 Funny Car). Scott is survived by his father, Connie; wife, Kathy; and sons, Corey, 15, and Colin, 9.
Scott continues to hold the Australian Top Fuel speed record, 332.84 mph, set in December, 2006, at WSID with Oberhofer at the helm. On that lap, Scott also posted the quickest Top Fuel time ever on Australian soil, 4.517 seconds.
The 2008 racing season was the best of Hillary Will's three-year career as a professional driver. Will became the fastest woman in the world when she posted a 335-MPH lap down the quarter-mile race track at the first event in the 2008 NHRA season. Will then powered her 8,000-horsepower, nitro-fueled dragster to a career-high fourth place finish in championship points after scoring three final-round finishes and five semi-final round finishes. She picked up an emotional first NHRA national event title in Topeka, Kan., June 1, 2008.
Based in Ypsilanti, Michigan, Kalitta Motorsports is a Top Fuel and Funny Car drag racing team in the NHRA (National Hot Rod Association) Full Throttle Drag Racing Series. The racing operation was started in 1959 by legendary drag racer and team owner Connie "the Bounty Hunter" Kalitta.