Wed, 24 Dec 2008, 10:10 AM



Popular 10.5 Super Street Outlaws Team Joins PMRA Pro Modified Series



Courtesy of Bruce Mehlenbacher


Photo Credit: Mark Ackert





Ajax-based Custodio Racing to Run New Nitrous-powered Camaro in 2009



AJAX, ONTARIO --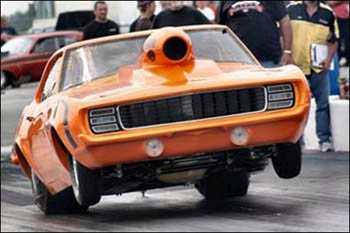 Luis Custodio
The Pro Modified Racing Association is pleased to announce that well-known 10.5 Super Street Outlaws racer Luis Custodio will be racing with the PMRA for the upcoming 2009 season.
"We're jumping in," said Custodio, who has raced since the early 1980s, and has been campaigning a 1969 Camaro in the popular 10.5 Super Street Outlaws class for the past several years.
"I've watched the series (PMRA) grow over the past four years, and it has done a fabulous job," he commented. "We're getting together with the Pro Modified teams, and whether we race with them or enough of the 10.5 guys come in and we run together, I think it will open up a whole new field."
The Ajax resident, running a nitrous-powered big-block Chevy, posted his best run at the Street Car Nationals at Cayuga in August of 2008 with a 6.999-second, 201.85-mph pass. Ironically, the car experienced an explosion, severing a nitrous line and causing a major fire. Although Custodio tried to get the blaze out with his on-board extinguisher, it was no match for the fire. Fortunately he got out of the car safely; the car was pretty well destroyed.
So Custodio is preparing a new car for the upcoming season which will be built similar to his old car, but will be tweaked to run with the Pro Modifieds. The new car will once again be nitrous-powered, running a 598-cubic inch Chevy engine with a two-speed Marty Vanin transmission. An Aeromotive Fuel Systems unit will sit atop the big engine. Sponsored by Triple C Construction and Lui's Painting and Decorating, the Custodio Racing Team is comprised of Luis, Mario Cabral, Marty Vanin and Luis Andrade.
Custodio said he is prepared to put the big Pro Modified slicks on his car over the regular 10.5-inch slicks usually run in the 10.5 Super Street Outlaws class. "I'll run the big tires," he said. "That should be interesting."
But Custodio believes running the 10.5 class will provide a new dimension for the PMRA.
"This should open up a new field," he mentioned. "But at the end of the day we're here to have some fun."
The PMRA will compete at several drag strips in 2009, including dates at Toronto Motorsports Park in Cayuga, Ontario, starting with the season opener on May 16 and 17, at St. Thomas Dragway on July 11 and 12, and a season-closer at the Southwestern Ontario track of the Grand Bend Motorplex on September 5 and 6.
Negotiations are underway way with several US race tracks based in Michigan, New York, Ohio and Pennsylvania as well as Quebec with the plan of presenting a six or seven event PMRA drag racing series for 2009.