Wed, 24 Dec 2008, 07:08 AM



Kathy Fisher Earns Prestigious Top Alcohol Dragster License



By Brian Wood



GAINESVILLE, Fla. --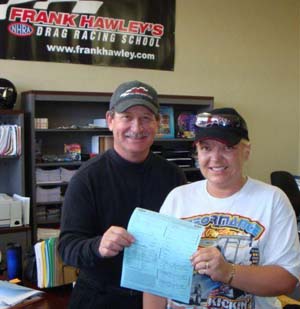 Frank Hawley and Kathy Fisher
"Making it into the five-second zone blew my mind!"
Kathy Fisher is no stranger to the high-speed thrills associated with competition on the dragstrip. After all, she says she drag races because "I love the challenge of being as perfect as you can be - every pass." But her recent accomplishment at Frank Hawley's Drag Racing School at Florida's Gainesville Raceway put all of her previous experiences into perspective. Fisher, of Lima, Ohio, earned her Top Alcohol Dragster license after skillfully completing one of the school's most difficult advanced classes.
"Driving a blown alcohol car was a huge jump for me because I've been in the same dragster running mainly 8.90 classes for the past five years," said the racer, business owner, and broadcasting personality. "I knew going in, from talking to other racers, that getting a license in a Top Alcohol Dragster would likely take more than the six runs that normally come as part of the course. And I was only planning on making three runs, since there was just a partial course available the week I went to Gainesville. To be honest I was just hoping that I wouldn't have to repeat any of them so I could at least make it to the 2-3 shift."
Fisher needn't have worried, as once she got behind the wheel of the supercharged dragster her performance was nearly flawless. It was her time to shine. Another student's changing plans afforded her an additional three runs, and that was all she needed to earn the coveted TAD ticket.
"I was thrilled to get the opportunity to get three more runs." Fisher said. "After I made it through the first three, there was no question that I would keep going and see if I could finish the course and get my license."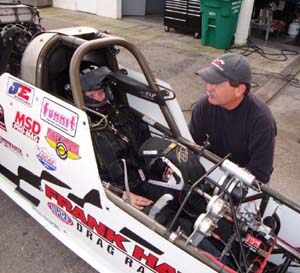 Fisher and Hawley
Fisher made the most of the three additional passes, eventually posting the quickest and fastest runs of her career en route to successfully fulfilling the requirements of the licensing program.
"I made my first full run during my fourth time in the car," Fisher said. "It was just amazing and I really had no idea how fast I was going until I saw the time slips after I made my final pass. I mean, before this class I had never reached 170 mph in the quarter-mile, so to see 187 at the eighth-mile and almost 230 at the quarter just blew me away."
For the record, Fisher's best pass yielded an elapsed time of 5.99 seconds at 229.20 mph.
"I was so pleased with everything," Fisher said. "Although I had practiced the runs in my head as much as possible, you still can only prepare yourself so much ahead of time. I really surprised myself that I never had to repeat an early run."
"Driving these cars where the driver is responsible for the engine starting line rpm, has to be able to do the foot-swap properly and make gear changes, makes them some of the more challenging cars to drive," said Frank Hawley."Therefore, I think it's a good idea for someone to get licensed in a car like this then if they make a transition to a different type of car, it will be much easier. Another way to look at it is this; if a driver gets licensed in a blown alcohol car then the transition to driving an A/Fuel car would be easy. If you get licensed in an A/Fuel car and get an opportunity to drive a blown car, then the transition could be more challenging."
"I was quite impressed with Kathy's ability, jumping from a Super Comp car into a blown alcohol car with a pedal clutch where you have to shift it," said Hawley. "It's a difficult transition. In a very short period of time she showed she was up for the challenge and actually made some great runs. She got into the five second zone and signed off on her license."
Fisher, who most recently campaigned a Quick Rod dragster on the IHRA tour, has no immediate plans for Top Alcohol competition. Her short-term goal is to help husband Kevin sort out his new Top Dragster car, working with him at the track in 2009. Having experienced the heightened sensory jolt that comes with taking five-second blasts down the quarter-mile, however, it's a safe bet that this competitive woman eventually will see action in a supercharged dragster.
"I don't plan to get involved in Top Alcohol right away," Fisher said. "This was something I just wanted to do for so many reasons. At first I wasn't sure how I would do in the car. Supercharged cars are more involved than anything I've driven before and I had never gone that fast on the track. I'm very proud of the fact that I accomplished something that is considered by many racers to be tough and challenging."
"All of the background in the other dragster certainly helped her in handling this car," Hawley said. "She did a nice job getting the car straight down the track. She looked safe in the car and she drove it as fast as it would go. Her future potential in this sport is wide open and I think Kathy would do a good job driving somebody's car."
"There is no better place to learn how to race than Frank Hawley's school," Fisher said. "Frank signed my first Super Comp license six years ago and now his name is on my Top Alcohol license. I'm really proud of that. When you attend Frank's school you get to take in so much more while you're there than just getting your license. Not only do you become a better driver but you also become a better person. What he teaches goes beyond the race track and he has helped me in more ways than I ever expected. It's neat to be able to take advantage of his racing experiences and his almost two-and-a-half decades of training drivers. He's seen it all and if you listen and pay attention you get to take a little bit of that away with you."