Tue, 16 Dec 2008, 09:30 AM



Frank Gugliotta to Drive Third IHRA Pro Stock Entry for Elite Motorsports



Courtesy of IHRA Communications


Photo copyright 2008 BME Photography





NORWALK, Ohio --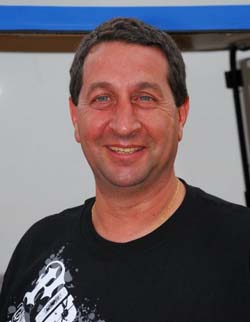 Frank Gugliotta
The two-car team of Richard Freeman and J.R. Carr has entered into a multi-year agreement with veteran Pro Stock shoe Frank Gugliotta to bring him on board as the third Pro Stock driver for Elite Motorsports. Freeman, Carr and Gugliotta will all campaign identical RJ Race Cars 2009 Pontiac GXP's with power from Jon Kaase for the next three seasons.
The team has also entered into multi-year agreements with Chariot Motor Coaches and AgriPack, J.R. Carr's company, who will serve as major sponsors on all three cars with associate sponsorships from Safety Kleen Products, Marc Heitz Chevrolet of Norman, Ok., Finish Line Fuels of Lindsay, Ok. And AgriPack.
"We're very excited to bring a driver as talented and consistent as Frank Gugliotta to Elite Motorsports," Freeman said. "He has been one of the top Pro Stock drivers in the world over the last five years so when J.R. and I saw he was available we didn't waste any time in getting his name on a contract. The deal came together quickly, but it would never have been able to happen without the agreement we signed with Chariot Motor Coaches. Their financial backing gave us the flexibility to make this move."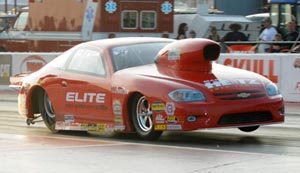 Richard Freeman
Gugliotta, a Mt. Airy, Maryland resident, finished third in the IHRA Pro Stock points standings last season. He has 10 career IHRA national event championships and has finished in the top seven in points standings each year since his IHRA debut in 2003. Freeman finished just outside the Top 10 in 2008. His strongest showing came at Maryland International Raceway where he was a semifinalist at the President's Cup Nationals. He fell, ironically, to Gugliotta in Maryland with a trip to the finals on the line. Carr made his debut at the IHRA World Finals in Rockingham.
The team will bring back its entire brain trust to the pits as well. Robert Freeman, Royce Freeman, Pete Smallwood, Ricky Hamby, Royce Freeman Jr. and Gerald will turn the wrenches for all three drivers. Robert Freeman is Richard's brother, Royce Freeman is his father and Royce Freeman Jr. is his older brother. It is a true family affair on the Freeman side.
"It doesn't matter that they're my brothers and my dad, they are among the best in the business at what they do," Richard said. "I would want to hire this crew if I were not related to them because they work so hard and do a great job. They're experienced, smart and intense.just like J.R. and I."
Royce Freeman Jr. will also campaign a RJ Race Cars '68 Firebird in the Top Sportsman ranks in 2009.
Freeman is thrilled to have this much racing talent on his side.
"J.R. is an incredible racer and I can't wait to see what he can do with a full schedule," he said. "Frank has been one of the greats in this class for a long time. I'm happy IHRA kept Pro Stock as a 16-car field. I'm glad they made that decision.things are headed in the right direction."