Thu, 11 Dec 2008, 10:06 AM



Just How Good Is He



By Bob Frey


Photo copyright 2008 Auto Imagery, Inc.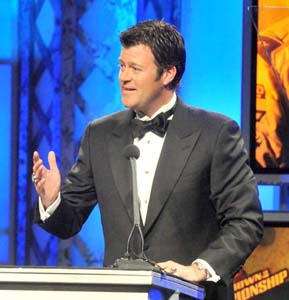 Jeg Coughlin
Pro Stock cars have been a part of the NHRA national event scene since the first race of the 1970 season. At the Winternationals that year the fans got their first glimpse of the "factory hot rods" as they were called, and it might not be an understatement to say that they were the hit of the show. Sure,
Larry Dixon Sr
. and
Larry Reyes
were the big winners in the fuel classes while
Don Hampton
won the popular Top Gas class, but the huge throng in attendance at the famous
Pomona
track absolutely loved the Pro Stock cars. "The nation's best, elated by the formation of the new bracket, were all there to form a field that included the likes of
Ronnie Sox, Bill Jenkins, Don Nicholson, Eddie Schartman, Mike Fons, Wally Booth
and a host of others. No handicap, no brakes and no breakout was the format here," said
National Dragster
in their results issue for the Winternationals. And they continued, "The Pro Stockers made a fantastic debut and the crowd was on its feet for each thrilling pass." In addition to the names above, the field included
Dick Landy, Don Carlton, Don Grotheer
and so many other stars and future stars of the sport. Bill Jenkins won that race when he beat the top qualifier, Ronnie Sox in the final round with a solid 9.99, his third nine-second pass of the day. Since that time, fifty-two other drivers have won at least one Pro Stock national event, and among that group is this year's
POWERade
Pro Stock champion,
Jeg Coughlin.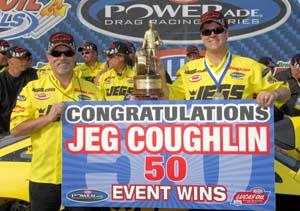 Coughlin celebrates 50th win
last year in Brainerd.
Of the top three professional classes, fewer drivers have won in Pro Stock than in Top Fuel (92) and Funny Car (83) and that's because a couple of drivers have won a whole lot of races.
Warren Johnson
has won 96 races and
Bob Glidden
has won 85 and that's a big percentage of the 618 Pro Stock races that have been contested.
Greg Anderson
, a three-time series champion, has won 57 races and this year's champ, Jeg, is next on the list with 41 Pro Stock titles. Toss in the thirteen races that he has won in the sportsman classes and that brings Jeg's total to 54 overall national event wins and he's done that in five classes. The 54 race wins puts him twelfth on the overall winner's list and winning in five classes puts him in a very select group with three other people who have accomplished that. Those other three are
Scotty Richardson, David Rampy
and
Greg Stanfield
. All of those are pretty impressive numbers and they all put Jeg near the top of almost every list in the sport's history. Not bad for a guy who is still only thirty-eight years old, is it? So that brings up the questions, just how good is Jeg Coughlin? And how did he get so good at such a young age? One of the answers may be genetic, after all, his dad was one of the great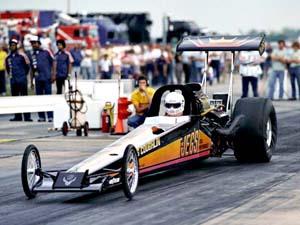 Jeg Sr. in 1984.
drivers in the early days of the sport and his brothers aren't bad, either.
Did you know
that
Jeg Coughlin Sr.
went to his first final round at the 1959 Nationals in
Detroit, Michigan
? He was racing in the Little Eliminator bracket and went to the final round where he lost to a future Hall of Fame driver,
"Ohio" George Montgomery
. The elder Coughlin would go to four more NHRA national event final rounds and he would compete in almost as many classes as his son has. In fact, "Pop" did something that even Jeggie hasn't done and that is compete in both Pro Stock and Top Fuel. In fact, the elder Coughlin may be the only guy who can say that he has raced against
Don Garlits, Jerry Ruth, Shirley Muldowney
and Bill Jenkins in major NHRA national event competition. And the great genetics didn't stop with Jeggie, since his brothers, Mike, John and Troy have also had their share of success both on the national event and divisional level as well as in Pro Mod and in the big money bracket races that have become so popular. But it's Jeggie, as he is called, who is the one who has achieved the highest level of success, winning four Pro Stock championships and one sportsman title, so the question is, what makes him so good?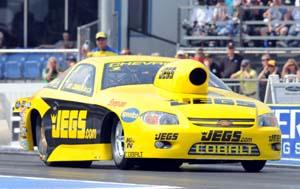 Jeg Coughlin
The above question is actually rhetorical, since I certainly don't have the answer. Maybe it is the genetics, maybe it's a gift, maybe it's the fact that he races so much and maybe it's a combination of all of the above. Whatever the reason is, it's obvious that Jeg is one of the best drivers ever, pro or sportsman, to take a car down the track. All you have to do is check his record to see what I mean. First of all, his five national championships places him among the thirteen drivers who have won five or more such championships. And the group that he is tied with at five is a very impressive group and it includes,
Rick Santos, Scotty Richardson, Dave Boertman, Peter Biondo
and
Joe Amato
. Nice group, huh? He has forty-one national event wins in Pro Stock and besides Mr. Johnson and Glidden, only
Greg Anderson
has won more in that class, while his sixty-eight Pro Stock final rounds is fifth best in the class. But while the numbers alone are impressive, the one thing that sets Jeggie apart from a lot of the other racers is the fact that he really doesn't make many mistakes when he's on the track. He is deadly on the starting line and almost flawless on the track and that's a tough, if not impossible combination to beat. His reaction times are among the best in the sport but the fact that he is almost error free once he gets off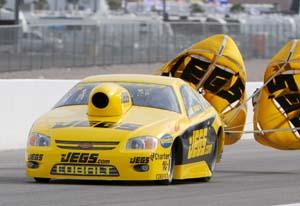 the starting line could be what sets him apart from the competition. In the jargon of the Pro Stock class, he hits his shift points and keeps the car in the groove and those things are extremely important in a class that is separated by thousandths of a second from top to bottom. And Jeg wins despite the fact that he very rarely has what you would call the "best car" in the class. He has only been the top qualifier fifteen times and, as hard as it is to believe, he has only set top speed three times in his entire Pro Stock career. So without a dominant car, either in his early days (beginning in 1997) or in his current job as driver for
Victor Cagnazzi
, Jeg gets the most out of his car and that's what makes him a great driver. Now make no mistake about it, the car that Victor and his team have given Jeg this year is a good car, a very good car, but the fact that it's not normally the quickest nor the fastest gives more credence to the fact that Jeg can drive a race car as good as anyone. Consider this.
Did you know
that in his 570 rounds of Pro Stock racing Jeg has fouled out just nine times? And, even more impressive,
did you know
that in his career he has been first off the starting line a staggering 65% of the time? And as hard as it may be to believe, he is even better in final rounds where he leaves first 68 % of the time.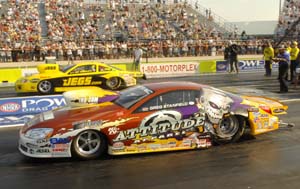 Stanfield vs. Coughlin
This year was another wide open season in the Pro Stock class and there were, realistically, about eight or nine drivers who could have gone the distance. And when the "Countdown" started, it looked like the next six races would mimic the previous eighteen, and by that I mean that it looked like all of the teams in the "Countdown" had the tools to win the championship. I did several interviews with drivers who were going into the "Countdown" and all of the Pro Stock drivers said the same thing, and that is, you would have to win two and maybe three races in the "Countdown" if you wanted to win the championship. As it turned out, nobody won more than one race in the "Countdown" and that certainly surprised me and it leveled the playing field in a hurry. And when
Mike Edwards
and
Greg Stanfield
won their races, the battle for the championship was wide open. Greg Anderson, who came into the final six races in first place, struggled down the stretch and he won nine rounds in the "Countdown" with four of them coming at the last race. I spoke with Greg quite a bit during that time and he was really frustrated that he and his
Summit
Racing
team couldn't put together a couple of good races. "We left a lot of rounds on the table and Jeggie took advantage of it," he said. "That's why he's the champ." Indeed it is and that's another reason why Jeggie is so good,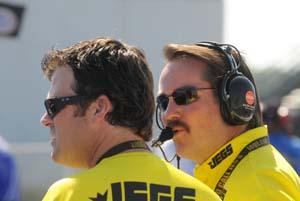 Coughlin and Roy Simmons
because he takes advantage of every opportunity to win rounds and races. During the last six races of the season Jeg had a dozen rounds that involved good, green light starts and he was first off the line in nine of those races. The other rounds included a couple of red lights, thee rounds where he had the exact same reaction time as his opponent and the one round where he broke. Jeg also won because he did what my dad always used to tell me the baseball teams had to do if they wanted to win the pennant, that is, he was very good against the good teams and he excelled against the weaker teams.
Did you know
that Jeg was 16-3 against drivers who were not in the top ten this year? Add to that his 27-17 mark against the top ten drivers and it's easy to see why he is the champ. Oddly enough, he only had a losing record against two of the drivers in the "Countdown" and they were both named "Johnson." He was 2-4 against
Kurt
and 1-3 against
Allen Johnson
. All in all, no matter how you look at it, Jeg may not have been in the lead all season long but he did have a good car all year long. Toss in his driving talents and the superb job that his team did, led by crew chief
Roy Simmons
, and it all adds up to another national championship for Jeg.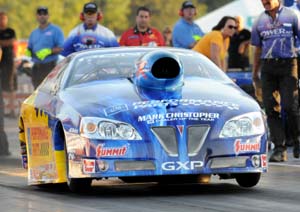 Warren Johnson
There will probably be as many changes in the Pro Stock class going into 2009 as we have seen in quite some time. Of course the restructuring by
General Motors
will affect most, if not all of the GM teams next year, and that includes the top of the line GM teams like Greg Anderson and
Jason Line
, Victor Cagnazzi's
teams and Warren and Kurt Johnson as well as the others who got varying levels of support from GM in the past.
Now I don't claim to know what level of support each of these teams received, but I do know that none of them will be getting more next year than they did this year (or as much, if any in most cases) and that's not good. Since those first days back in 1970 at
Pomona
, the Pro Stock class has been the recipient of factory support, to one degree or another, and without it several of the teams may not be able to compete. Ironically, the word has come down that
Jim Cunningham
will be racing his Ford car next year along with another one that will reportedly be driven by
Erica Enders
.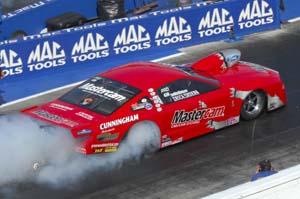 Erica Enders
Jim told me they are getting "some help" with the parts and technology from the factory, but only time will tell if that's enough to make the Mustangs competitive. As tough as the economy is these days, and while most car companies are cutting back on, well, everything, it shouldn't negate the fact that
Ford
should have had a presence in Pro Stock for years. After all, they did fairly well when that Glidden guy was running their cars, didn't they? And I'm not saying that having a Ford Pro Stock car would have made the difference between Ford being profitable or not, but I am saying that it couldn't hurt. Oh, by the way, now that
Honda
has announced that they are going to withdraw from Formula 1, don't you think that should free up some money for inclusion in the Pro Stock class? Might not make a huge difference in their bottom line, but it couldn't hurt. And I'm kind of surprised that
Toyota
hasn't decided to have someone build a Pro Stock engine from their V-8 model. Since
Toyota
competes in auto racing, and will certainly have a bigger presence in drag racing with
Alan Johnson's
Funny car team (not to mention
Cruz Pedregon's
championship team), I think they should get into Pro Stock, too. I'm not saying that a match between Jeg Coughlin's Chevy and someone's
Toyota
will be as big as Ronnie Sox vs. Bill Jenkins, but it can't hurt.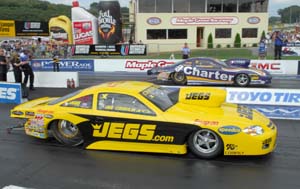 Coughlin vs Connolly
Over the years the Pro Stock class has provided fans with some of the best and closest racing in the sport and 2008 was no exception. And over the years there have been a lot of very good drivers in the class, and a few great ones, and based on what he has done over the past few seasons Jeg Coughlin has to go in the great column. True, we'll never know how he would have done driving a four-speed car against Jenkins, Sox, Landy or Glidden, but we do know what he has done against Anderson, Johnson (all of them), Edwards, Line and his other contemporary drivers.
Did you know
that Jeg has a career record of 388-182 and that has come against fifty four different drivers? And
did you know
that Jeg has a winning record against forty-seven of them. So how would he have done in another era? I guess we'll never know, but let me say that he seems to be doing just well in this era and that, in my mind, makes him one of the best Pro Stock drivers ever.