Mon, 8 Dec 2008, 10:36 PM



Enders Lands a Full-time Ride with Cunningham Motorsports



Courtesy of Rob Geiger


Photo copyright 2008 Auto Imagery, Inc.





HOUSTON --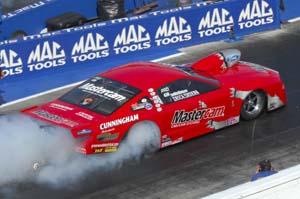 Erica Enders at Indy
Popular Pro Stock racer Erica Enders will compete full time in the 2009 Full Throttle Drag Racing Series behind the wheel of Jim and Gloria Cunningham's Mastercam Ford Mustang. With technical support from Ford Racing, Enders will begin the season in the same car she drove when she filled in for Cunningham earlier this year at the Mac Tools U.S. Nationals.
"After personally seeing Erica's incredible fan base and how she conducted herself with the fans and in the car at Indy, we asked her to drive for Jim next year and she agreed to race with us," said Cunningham Motorsports crew chief Marcus Bowen. "She did an outstanding job driving our car and produced four outstanding runs. We are pleased to have her driving the car and marketing Cunningham Motorsports and Ford."
After several meetings with Brian Wolfe, the director of Ford Racing, and Doug Hervey, the operations manager of Ford Racing North America, as well as several others from within the Ford Racing Technology group, the Cunningham's have agreed to fully fund the program until appropriate corporate funding can be found.
The plan is to take the current A500 Pro Stock cylinder block and E460 cylinder head and make some much needed revisions to the current tooling used to cast these parts in an effort to drastically improve their current powerplant. In addition to this project, Ford Racing has approved engine block and cylinder head development of its Ford motor. The new combination is currently being tested internally at Ford Racing Technology and could be available to Cunningham Motorsports in late 2009.
In addition to the engine development program, decorated chassis builder Don Ness has been contracted to design a 2010 Ford Mustang Pro Stock body. In support of Ness's work, Ford aero engineers have already scheduled multiple wind tunnel sessions to bring the Mustang body to appropriate levels for Pro Stock competition. Cunningham Motorsports plans to take delivery of the first 2010 Mustang in the spring of 2009.
The 25-year-old Enders already is the most successful female racer in class history with the most races entered, the most final-round showings, the most low qualifier awards, and the most elimination round wins. No female racer has ever won a Pro Stock race.
Enders is perhaps best known for the Disney Channel movie "Right On Track," which chronicles her and her sister Courtney's time in the Junior Dragster ranks. It remains one of the most viewed movies in Disney Channel history.
The first public appearances of Enders and the Cunningham Motorsports/Mastercam Ford Mustang GT Pro Stock will be at the Ford Racing booth throughout the PRI Show, Dec. 11-13, in Orlando, Fla.