Mon, 8 Dec 2008, 10:04 PM



Lucas Oil Super Gas Champion Brian Forrester Has Positive Outlook for 2009 Despite Uncertain Future



Courtesy of Luke Bogacki



PARRISH, Fla. --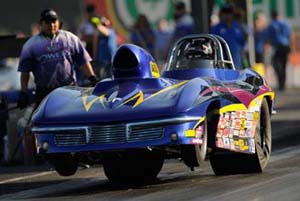 Brian Forrester
When Mike Ferderer, the final competitor eligible to leapfrog Brian Forrester in the season-long standings and steal the 2008 Lucas Oil Super Gas championship, was defeated in round two of the NHRA World Finals in Pomona, Forrester let out a sigh of relief followed by a scream of exhilaration.
"I was actually by myself, in my truck, parked out on some back road in the middle of nowhere," explained Forrester. "And I was listening to the NHRA web cast on my lap top over the internet, and when Leo Taugher announced that Mike had lost, I was just in total shock," he said.
At that late point in the season, Forrester was done accumulating points toward the Lucas Oil title. He finished his points-earning season weeks prior, at the Silver Dollar Raceway Division event, atop the national leader board with 633 points and was left to sit and await his fate as a long list of top contenders took their shot at overtaking his total.
Forrester earned his championship total at the wheel of his 1963 Corvette Roadster, which was originally built in 2004 by Undercover Motorsports before being finished and assembled with the help of Joe Chance. The engine compartment sports a 582 cubic inch beast capable of pushing the machine to the 9.90 index at speeds nearing 170 mph.
Forrester began his 2008 campaign with solid finishes at the opening NHRA Division 2 Lucas Oil events, highlighted by a quarterfinal finish at Orlando. A week later, he drove to the Super Gas title at the AC Delco NHRA Gator Nationals, earning the 3rd national event title of his career. He backed that up in May with a victory at the LODRS event at Virginia Motorsports Park.
"After the win in Virginia, we began to think we might of had a chance to finish well in the points. Honestly, at that point I was hoping to finish strong and earn a top-ten finish. But towards the end of summer, we had a couple rough outings, and a top 20 finish looked like a more realistic goal!"
A late season charge pushed Forrester back into contention, and eventually on stage in California. That run began with a late round finish in Memphis, TN where he scored a crucial win by knocking off Brina Splingaire, who led the national points at that time, in the third round en route to a semi-final finish. Forrester then turned in a clutch performance at the LODRS event at Atlanta Dragway, winning the event to jump into a tie for the top position with Ferderer. Two weeks later, he advanced to the third round at his final points earning event, the LODRS at Silver Dollar Dragway, to take a ten point lead that would eventually hold up for his first Lucas Oil National title.
"It's hard to put into words how grateful I am to represent NHRA and Lucas Oil as their national champion," stressed Forrester. "Looking back on how certain things fell into place starting back in March, and all the way through November, it almost feels like it was just meant to be. Never in my wildest dreams did I ever expect things to end up the way they did. And I've got so many people to thank for help making it all possible. First off, I want to thank the National Hot Rod Association and Lucas Oil Products for providing a safe, fun, and competitive series. I also want to thank Greg Brotherton at Brodix Cylinder Heads, Brent Fisher at Goodyear Competition Tire South, and Kevin Kleinweber at Hughes Performance."
Forrester also credited K&R Performance Engineering, Strange Engineering, Goodridge Performance, AutoMeter Products, Eddie Hollon Designs, JEGS Mail Order, Moroso Performance, Simpson Safety, Nitroplate Coatings, Graska's Custom Paint, Meziere Racing Enterprises, Computech, Mark "the Spark" Irving, Valvoline, AFCO Racing, Stinnett Automotive, CSR Performance Products, East Coast Auto Electric, VP Racing Fuels, Goza Racing Products, and Weld Racing for manufacturing quality components and providing important services tha t played into his teams winning combination.
While his 2008 on-track campaign marked the highlight of his racing career, Forrester's future plans, both on the race track and off, are uncertain. Forrester, who owned Mullis Race Cars for years, sold the company two years ago. Since, he has remained with the Mullis team in a sales and consultant role, helping to make the ownership transfer seamless to Mullis' many customers nationwide. His contract, however, will not be renewed for 2009, making Brian a "free agent" of sorts.
"Right now I don't have any definite plans for the 2009 season. I've got a number of 'irons in the fire', so to speak, but I haven't committed to anything as of yet. If and how much I will race is up in the air right now, depending on future employment and/or sponsorship opportunities."
Forrester has retained the privilege to purchase, assemble, and sell Mullis Race Cars chassis on a car-to-car basis; essentially to appease longtime Mullis customers who are more comfortable dealing directly with him. Those vehicles will be available from a base car, to a wired roller, to a completely assembled, painted, turn-key race car. Forrester will also retain a good majority of the direct relationships with the manufacturers he has dealt with over the last twelve years.
In addition, Forrester will be attending the upcoming PRI trade show in Orlando, pursuing various opportunities within the automotive aftermarket. With over a decade of experience in both the chassis building and high performance parts sales arena, along with a lifetime of on track experience (highlighted by the recent NHRA Lucas Oil Championship), Forrester will no doubt be a great addition to any team he elects to join. For more information, Brian can be contacted directly via e-mail at briancfor@aol.com