Sat, 6 Dec 2008, 10:38 AM



Sheikh Khalid's Al-Anabi Awesome Motorsports' Team on Top in the Bahrain Drag Racing



Courtesy of Roger Richards


Photo copyright 2008 Roger Richards





Championship Series Championship Series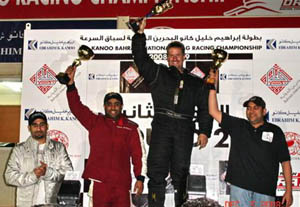 Smith Wins
Von Smith, behind the wheel of the Al-Anabi Awesome Motorsports 1957 Chevy, claimed another victory in the 6 event series in Bahrain. Smith qualified 4th with a 6.11, which is sub-par, based upon the numbers posted by the team recently. Team member Terry Hope reported that in the Bahrain series there are only two qualifying sessions for these events that are held on Thursday and Friday.
The qualifying is unique in that all the cars run the first session one at a time in the left lane followed by the second session one at a time in the right lane. Smith shook the tires in the first session and crew chief Howard Moon chose a conservative approach to the second session. The only car to get down the tricky right lane during that session, the 6.11 was good for 4th behind the top spot anchored by Tommy Mauney. (The numbers for Mauney were not available)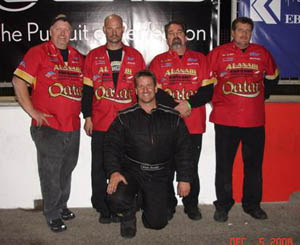 Smith and team.
Mauney had a bye in the first round and met Smith in the semi finals. The Al-Anabi team bested the Popeye Motorsports team driven by Aryan with a 5.90 in the opening round of eliminations. In the semi finals, Smith posted a new track and series record of 5.86 @ 248 mph against a red lighting Mauney to meet his Al-Anabi team mate K. Al Bolooshi in the finals.
Al Bolooshi managed a 6.10 while Smith had to pedal one time to get out of tire shake and still ran 6.06 to claim his second victory in as many races on the Middle East tour.
Sheikh Khalid's Al-Anabi Awesome Motorsports' team with Smith as the driver, which is 6 - 0 in elimination rounds in the series, plan to compete in all of the events in the Bahrain Drag Racing Championship. The team will return to the United States for holidays before returning at the end of January to run the next event.
The 57 Chevy will remain in the Middle East to run the series, which will end in June 2009. A new car is being built for the Al-Anabi Awesome Motorsports team to compete in the ADRL and other series in the United States.