Wed, 3 Dec 2008, 04:58 PM



3B Racing Acquires Matco Tools Racing Top Fuel Team



Courtesy of Ted Yerzyk


Photo copyright 2008 Auto Imagery, Inc.





Antron Brown and Lee Beard will Continue to Lead Championship-contending NHRA Race Team



BROWNSBURG, Ind. --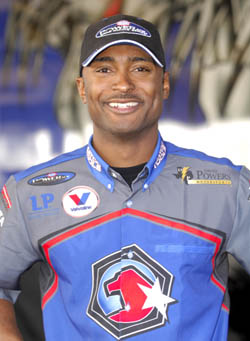 Antron Brown
3B Racing (owned by Tim Buckley) and David Powers Motorsports (owned by David Powers) announced today an agreement that will see 3B Racing as the sole owner of the Matco Tools Top Fuel Team driven by Antron Brown. The transition was completed in an effort to align the financial estates of Buckley and Powers. Powers remains the owner of Hot Rod Fuller's Caterpillar team.
The Matco Tools and Caterpillar teams will continue to operate from the team's Brownsburg, Ind. race shop in the heart of NHRA drag racing near Indianapolis. The structure of the team remains intact with Lee Beard as the crew chief and Brown, an 18-time NHRA winner, as the driver of the Matco-backed rail. The Matco Tools and Caterpillar teams will continue to operate on a shared technology basis. The configuration of the 3B Racing/DPM pit setup also stays with the popular Iron Eagle Club hospitality area located between both the Matco Tools and Caterpillar Top Fuel teams.
"I have enjoyed my experiences with the David Powers Motorsports group the past few seasons and we look forward to taking the entire two-team organization to the next level," 3B Racing owner Tim Buckley said. "The Matco Top Fuel dragster finished in the top five this season and that was a terrific accomplishment with Antron Brown, Lee Beard and the entire team in Antron's first season as a driver.
"The goal for the 2009 season is to contend for and win the NHRA Top Fuel championship. We have the talent to accomplish that goal. We have a fantastic group with these Matco Tools and Caterpillar teams and we look forward to entertaining thousands of guests from both of our sponsors with our popular Iron Eagle Club next season."
Buckley, president and CEO of Yorba Linda, Calif.-based Vintage Design, Inc., has long been involved in various forms of motor sports, including successful ventures in NHRA drag racing. Buckley was a sponsor on Gary Ormsby's championship-winning NHRA Top Fuel team in 1989 and Cruz Pedregon's McDonald's Funny Car in 1992. Other NHRA involvement includes owning Whit Bazemore's Funny Car in the 1990s. Buckley also owned a NASCAR Truck Series and Winston West team earlier this decade before his role as a minority partner in the David Powers Motorsports operation. Buckley also owns Forward Sports Marketing, the agency of record for 3B Racing and David Powers Motorsports.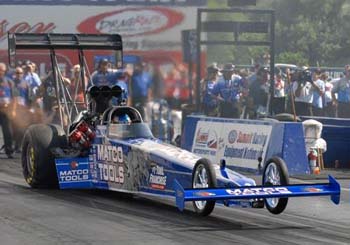 Antron Brown
"This is awesome news for our entire race team," Brown said. "Tim (Buckley) is one of the most inspirational people I've ever met and he will be a great team owner to work for. This announcement will significantly strengthen both the Matco Tools and Caterpillar race teams. From the outside, nothing will change. I really want to stress that to our Matco distributors. I'll continue to ride on the Matco tool trucks and host dinners with distributors before each race. We want to continue to see the awesome support from our distributors and hope to grow our hospitality program next year. 2009 is going to be a fun year and I can't wait to get things started."
"Tim (Buckley) has been a terrific business and racing partner and this move will only strengthen our entire racing operation," Powers added. "It will be an easy transition and we really want to stress that there will be no major changes to the teams. The race team will continue to operate in the same manner and we look forward to fielding two championship-contending race cars with Rod Fuller and Antron Brown."