Tue, 2 Dec 2008, 04:42 PM



Every 2009 Nitro Jam National Event Will be Held on a Full Quarter-Mile Track



Courtesy of IHRA Communications



1,320-Feet to Remain the IHRA Standard



NORWALK, Ohio --
The International Hot Rod Association, a division of Feld Entertainment, Inc., will keep its current 1/4 mile format for all Nitro Jam national event races. This traditional drag racing format is what works best for IHRA as a sanctioning body, its racers and fans according to IHRA vice president of racing operations, Skooter Peaco.
"With our cars, our speeds, our drivers and our safety precautions in place we feel we can safely maintain our current format," Peaco said of quarter-mile Nitro racing. "We are an organization that is known for making big changes when we need to. We tend to make conservative decisions in this area and have completely stopped racing at events when conditions existed that were outside our comfort zone regardless of the class we were running at the time. By no means is our decision to continue quarter mile an attempt to stick our heads in the sand and pretend our sport doesn't need to address these issues. This decision is simply no different than ones we have made in the past. We will continue to monitor the speeds our cars produce, continue to have open conversations with our drivers and adjust as necessary. We have to make decisions based on IHRA nitro teams and our unique situation. Nothing is more important than our driver's safety."
The 2008 IHRA season saw consistent, strong fields in both Nitro classes at Nitro Jam national events. While there were the occasional on-track incidents associated with 8,000 horsepower vehicles in straight-line acceleration contests, the '08 season was one of the safest and most incident-free in IHRA history. That, Peaco contends, is a tribute to many people.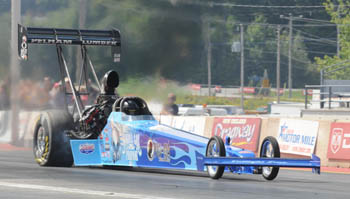 Bobby Lagana Jr.
"That says a lot about our track preparation with (IHRA director of field operations) Jim Weinert and his entire team, says a lot about Chief Craig Clark and his crew at Track Rescue and says a lot about those who operate our IHRA national event facilities," Peaco said. "You can't overlook the drivers and their tuners, either. We have such a great group of drivers in the Nitro ranks, and their Crew Chiefs are as good as you will find anywhere. They are always running on the ragged edge of what their budgets will allow. They are all very familiar with their boundaries.what they can and can't get away with. Our guys can run a big number if they need to, but they know that the key to longevity when you're racing out of your own pocket is to race smarter, not harder. That has contained our speeds and safety-wise that's pretty much all you can ask for. Good, close side-by-side racing is what most of the casual fans in the stands are looking for and our teams understand that. It is exciting when a team comes out Saturday night and puts up a big number. That big run can cost some money if the tune up isn't right, so that has become the exception and not the rule."
Bobby Lagana Jr. has been driving in IHRA's Top Fuel class for over a decade. He is happy the sanctioning body is sticking with the quarter-mile format.
"I definitely am 100-percent for the tradition of the sport and that's why I like the quarter-mile," he said. "Also, because IHRA cars are on a limited budget the cars don't create as much power, and the higher power is what leads to the catastrophic incidents. In a way IHRA created a solution to the speed and danger problem because their teams are on budgets and have to worry about their parts inventories and things like that. There really is no reason for IHRA to go to 1,000 feet."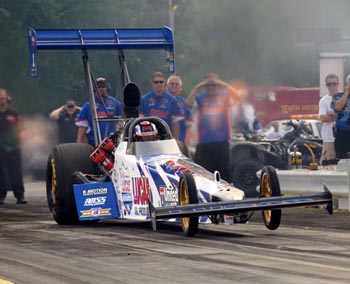 Bruce Litton
2007 IHRA Top Fuel World Champion Bruce Litton has raced in both formats, running quarter-mile in IHRA and venturing over to NHRA to run select national events on the 1,000-foot standard. He is a fan of both formats, but thinks quarter-mile is best for IHRA.
"Quarter-mile is what we've always run, the standard for professional drag racing, but I like them both," Litton said. "As long as I'm racing I'm happy. It only takes us six tenths of a second to cover that last 300 feet and that goes by pretty quick. They went to 1,000 feet for safety reasons, but we really haven't had any safety issues in the shutdown area here in IHRA."
As far as dollars and cents are concerned Litton thinks switching to 1,000 feet on the IHRA side would not make that much of a difference.
"The cars are still hung out and running a good speed at 1,000 feet and all the cars in IHRA can still run 320, so they would still be on the edge. From 1,000 feet on can be very expensive real estate, but that's just a matter of how they're tuned. And it doesn't matter what class you're running, Pro Stock, Pro Modified or Top Fuel.you are always going to be on the edge at the finish line no matter where it is. IHRA has the safety measures in place and I'm very comfortable running the quarter-mile."
Lagana practices what he preaches when safety is concerned. In fact, he has shown the ultimate trust and confidence in IHRA and their safety measures.
"I have let my brother take the car down the track after some national events, and I am more concerned about his safety than my own," Lagana said. "I would never let him anywhere near the car if I didn't know the track was as safe as it could possibly be, and I really don't know what IHRA could do to make it any better."
One of the results of recent events in the drag racing world is the fact that IHRA now boasts the fastest straight-line racing on the planet.IHRA Top Fuel. Nowhere else can you see cars traveling at 320 mph.
"Spectators like speed and it's a catch can, catch can-do," Litton said. "You have to have the speed to run a good number and those speeds really bring something to the sport as far as man and machine. People have always been fascinated by things that go very fast."