Tue, 2 Dec 2008, 12:52 PM



In Memory of Eric Medlen and Scott Kalitta, Capps and Scelzi Race Mini Sprints



Courtesy of Judy Stropus


Photo credit: Gus Reyes





VISALIA, Calif. --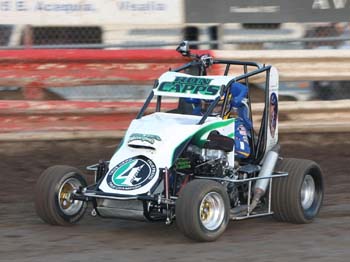 Super 600 driven by Ron Capps
It didn't take long before Ron Capps was back on a race track following the completion of the 2008 NHRA POWERade Drag Racing Series, in which he finished eighth in the point standings driving the NAPA AUTO PARTS Dodge Charger Funny Car for Don Schumacher Racing. He buckled himself into the seat of a Super 600 Mini Sprint last Saturday to compete against 45 similar race cars, including one driven by his soon-to-be-former teammate Gary Scelzi, at Park Plaza Raceway in Visalia, Calif.
Capps drove the Wes and Gloria Shaw-owned Eric Medlen Tribute car on the one-fifth-mile clay oval, the site where Scelzi's sons Dominic (11) and Giovanni (6) race regularly in Mini Sprints.
After qualifying 14th, Capps came in 11th in the main event, while Scelzi, who qualified third, saw his day end in his heat race following a spectacular crash in which he rolled four times.
When Friday night's activities were cancelled because of a wet surface, the entire event was condensed into one day on Saturday. "It was my first time in one of those cars," said Capps. "So, we had a couple of hot-lap sessions in the afternoon and then we went right into qualifying. I qualified 14th out of 46 cars, which is pretty good.
"Owners Wes and Gloria Shaw, who also have two kids who race in the lower classes, have different drivers at times drive this car. One of their drivers, Peter Murphy, was coaching me all night. He's driven the car in the past and has won with it. So, it was a very good car.
"I led my heat race until two laps to go, when I got passed and ended up third. The top four transferred to the 30-lap main event, so I was still OK.
"In the same heat Scelzi had a pretty bad crash, which brought out the red flag. It was a little disheartening to come around during the red flag and see Gary's car upside down. But he was OK.
"Finishing 11th was pretty good because the track got pretty bumpy at times. It was a good experience. These guys are inches away and with open-wheel cars like these it takes just a few tires to touch and somebody goes for a ride. It was amazing to me how close and clean everybody raced throughout the night. To be honest with you, in the last four or five laps I was pretty much hanging on to the wheel for dear life. It was so bumpy and I'm just not used to wheeling one of those cars for 30 laps. It definitely gave me a workout."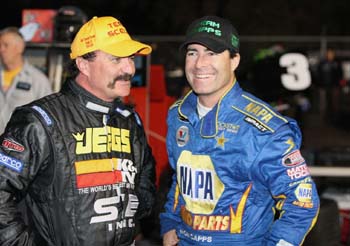 Gary Scelzi and Ron Capps
Scelzi didn't make it into the main event. "My car was fast," he said. "In the heat race, Capps was on the pole and I was on the second row outside. They threw the green and I dropped right in on second place's butt. Yellow flag. Then on the third restart I dropped to the bottom into third place again. The car in front of me started getting sideways and I tagged him and another car ran over the top of me, but we both kept going. After another restart we came around for the green and the car got really tight. I don't know if there was some damage done when it got tangled up on the third restart or not, but into turns 3 and 4 the car seemed to be OK. Then I went back into turn 1 and when I turned the car to get it sideways it caught and put the front end into the berm and then I flipped four times, end over end. That bent the front end, bent the rear end and definitely rang my bell. That was the end of my night."
Capps became connected with the Shaws at the 2007 "Scelzi and Friends" event where a number of NHRA celebrities competed at Plaza Park to benefit DRAW (Drag Racing Association of Women) and the raceway. "We got to talking and Eric Medlen at one time had gone and practiced in one of these cars between races a couple of years ago and they absolutely loved him," said Capps. "In fact, at the next NHRA race after that, Eric had come up to me and said, 'Let's buy a couple of these cars. I'll get a trailer to tow it and we'll just sneak off and race them and have fun.' It seemed only fitting that Eric should be honored in some way in that arena.
"The Shaws went above and beyond that. They put the 'True Hero, True Friend, True Champion' logo with the No. 4 and 'Medlen' on it that the John Force family had made up. They also put a picture of Eric on each side of the car. It was the greatest picture. It brought tears to my eyes when I saw it in the pits for the first time.
"It was an emotional day, but it was a good time. The Shaw family are just wonderful people."
Added Scelzi: "We all had such a good time last year at the 'Scelzi and Friends' event that Capps said he wanted to do it again on an off weekend, and so we did. The Shaws made up hats for us that said 'Team Scelzi, in memory of Scott Kalitta,' and 'Team Capps, in memory of Eric Medlen.' So, it was an emotional tribute to both of these drivers, and that was very heartwarming for all of us."
As for Dominic and Giovanni Scelzi, who competed in two of the less-powerful classes: "Dominic was on the outside front row of his Restricted 600 Mini Sprint heat race and got put into the wall," said the elder Scelzi. "It bent his front end and rear end, so he was out for the night. Giovanni started fourth in his Mini Sprint heat race and ran third. He started in the fourth row in the main event and ran third. So Giovanni was the only one who had a good weekend in the Scelzi family."