Sun, 28 Sep 2003, 11:15 AM



Division 4 Wins Record-Tying Fifth Jegís Allstars Title



By Phil Burges, nhra.com
Photo by:Auto Imagery, Inc.



JOLIET, Ill. --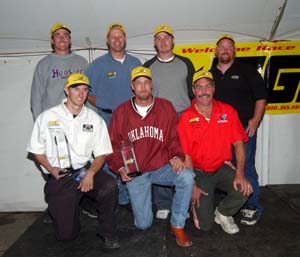 (Front row L-R) Lucas, Freeman, Perry
(Back row L-R) Emmons, Stalba, Biondo, Wier
Led by Super Stock/Stock double threat Harvey Emmons IIIís near-perfect outing, racers from NHRA ís Division 4 won their record-tying fifth Jegís Allstars team championship, holding off Division 7 by 400 points to successfully defend their 2002 team title. The event, the $100,000 19th annual event, features the best Sportsman drivers in eight categories from NHRAís seven divisions competing for team and individual honors.
Division 2, one of the eventís other five-time winners, finished tied for third with Division 5, while the other five-time winner, host Division 3, finished fifth. Divisions 1 and 6 tied for sixth.
Emmons first defeated Division's 3 Clint Blezien in the Stock final with a better reaction time, 11.075 on a 11.03 dial-in to Bleizenís near-perfect but later-leaving 12.102 on a 12.10 target.
Minutes later, Emmons, who also won this event in Stock in 1994, lost a close Super Stock final to Division 2ís Peter Biondo the same way, his 11.037 on a 11.03 outdone by Biondoís better-launching 10.17 on a 10.16 dial. It was the second win in three years for Biondo, who also won Super Stock in 2001.
Emmons, who scored 500 of Division 4ís 1,300 markers, was joined in the winnerís circle by a pair of teammates, Comp winner Robert Freeman and Super Street champ Chuck Wier IV; it was the latter's victory in the 10.90-class final that nailed down the team title.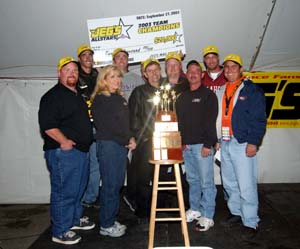 Team Champions Division Four
Freeman, the reigning Division 4 Comp champ, defeated Division 7ís Ed Sigmon, powering his D/SMA Chevy, which last weekend was driven to victory by partner Michael Park at the OíReilly Midsouth Nationals, to a (-.47) 8.68 after Sigmon fouled in his C/Street Roadster.
Wier personally put an end to Division 7ís hopes when defeated that teamís Gary Thompson in the Super Street final round, running a 10.942 to beat Thompsonís 10.934.
Allstars rookie Morgan Lucas helped Division 7 hold onto second place in the team standings when he powered his Lucas Oil Products/Darien & Meadows A/Fuel Dragster to a 5.332 at 268.44 mph to turn back defending champ Marty Thackerís tractionless 5.809 at 208.68 mph. Thacker, a blocker for the Division 2 squad, was trying to become just the third driver to win the Top Alcohol Dragster title back to back, but instead the win again went to a first-time champ, continuing a streak that dates back to 1992.
Bucky Austin also scored his first Jegís Allstars victory and in the process provided one of the few highlights for Division 6, scoring 300 of the teamís 400-point total with his win in Alcohol Funny Car. Austin powered his '01 Firebird to a final-round 5.616, 255.19 to overcome Division 5 ís Cy Chesterman, whose '99 Trans Am was leading until the last instant when his mount went silent and slowed to a 5.700 at just 215 mph.
Division 2 got into the winnerís circle again with Jim Perry Jr. in Super Comp, whose .015-second reaction time and 8.908 beat Division 5 runner Michael Millerís later-leaving 8.903.
Division 1 also made it to Victory Lane in Super Gas with Thomas Stalba Jr., who won an exciting double-breakout final with Division 5ís Butch Kleewein. 9.889 to 9.888.

Final Team Standings
Division 4 	1300 points
Division 7	900 points
Division 2	700 points
Division 5	700 points
Division 3	600 points
Division 1	400 points
Division 6 	400 points