Wed, 12 Dec 2007, 04:04 PM



Just In Time For The Holidays



By Bob Frey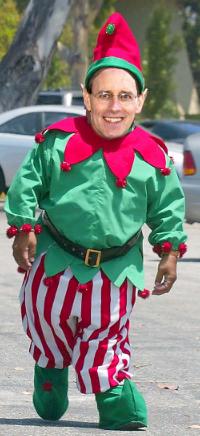 Santa's little helper.
With Christmas only a few days away I'm sure there are people out there who are still searching for that special gift for the drag racing fan in your life. Well, as I've done several times in the past, I'm here to help. From books to videos to hard to find collector's items, there really are a lot of great gifts out there and all you have to do is know where to find them.
In the book department, 2007 was a banner year for drag racing fans. The books run the full gamut from beautifully illustrated "coffee table" books to a very moving tribute to one of the great young stars in our sport. The list begins with a truly wonderful work done by
Tom Madigan
called
"Fuel & Guts
." Printed by "Motorbooks,"(
http://www.motorbooks.com
) it is a 240 page, glossy print book that goes back to the early days of the sport and covers the world of Top Fuel dragsters in
Southern California
from the unique perspective of the author and several "first hand" witnesses. While it is virtually impossible to get a consensus on a lot of things with regards to the early days of drag racing, Madigan attempts to do so by enlisting the help of several of the "people who were there." One such individual is
Bob Joehnck,
a World War II veteran who returned to his home in
Southern California
and opened a speed shop. As a veteran of the dry lakes and the operator of one of the first speed emporiums in the area, Bob came in contact with a lot of racers and he tells the story of the growth of the sport from his point of view. "Just tell the truth or leave the story alone," is how he put it, and he does just that. The eighteen chapters include titles like "Hand Grenade Harry and the Pond," What Is It About Floyd" and "Oh No, Here Comes Garlits." If you're a follower of the sport those titles alone should make you want to go out and buy the book. It is beautifully illustrated with lots of color and black and white photos, some from the author's own collection and others from some of the most prominent photographers in the sport, like
Bob McClurg, Steve Reyes
and more. With a foreword by Hall of Fame member
Dave McClelland
, this book is wonderful from start to finish and it will make a great addition to any drag racing fans collection.
Since I mentioned Steve Reyes I must include his latest book, "Slingshot Spectacular." As one of the greatest drag racing photographers of all time, Steve captured some of the most famous images in the history of the sport. From Larry Bower's clutch explosion to Lew Arrington's devastating starting line explosion in the "Brutus" Funny Car, Steve's photos are synonymous with some of the legendary runs in the history of drag racing. With several books already on the shelf, Steve's latest entry takes a pictorial look at the classic front engine machines that were the kings of the sport almost fifty years ago. This soft cover book is 188 pages of great and classic photos of some of the top front-engine dragsters from the early days of the sport. As can be expected from any book that Steve does, it is beautifully done and the mix of black and white and color photos gives the reader a glimpse at some of the pioneer dragsters of all time. Steve's book is from the folks at Cartech,(http://www.cartechbooks.com) and it joins his others offerings including "Funny Car Fever," "Quarter Mile Chaos" and "Fuel Altereds Forever" as a "must have" for any serious drag racing fan. And, in this world where everything seems connected, I should point out that Tom Madigan's first book, at least as far as I know, was written way back in 1974 and was called "The Loner, The Story of a Drag Racer." It was, of course, a story about the late Tony Nancy and it included photos inside by none other than Steve Reyes.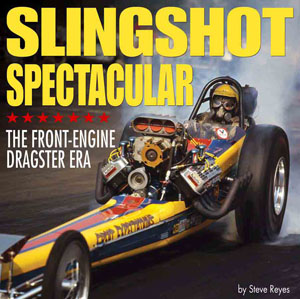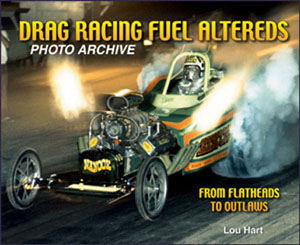 Staying in the early days of drag racing,
Lou Hart
has his latest book out and it joins several others that he has published in recent years. This one is called "Drag Racing Fuel Altereds" and is a photo archive of some of the classic AA/FA's. The book is 128 pages and includes well over one hundred pictures, both black and white and color, of the wild fuel altereds.
John Shanks
and
Tom West
contributed most of the pictures and Lou adds some colorful commentary about the cars, the teams, the drivers and the history of the class. You'll also find some great vignettes by the people who were racing these cars back in the 1960's and '70's and a lot of the stories will bring a smile to your face, especially if you lived through the heydays of the fuel altereds or saw the cars when they match raced at your favorite track.
Lou's latest book joins his others that include "Slingshot Dragsters," and "Drag Racing Funny Cars of the 1970's." There is also a one that deals with the Funny Cars of the 1960's and any or all of them make for some enjoyable reading. Plus, if you are lucky enough to have a drag racing friend nearby, the books are bound to stimulate some great bench racing sessions. After all, we all know who the greatest fuel altered driver of all time was, don't we? If not, let's discuss it...All of the above books can be found at
http://www.amazon.com
.
On a completely different note, Rob Geiger, the Senior Editor for NHRA.com, released a self-published book a few months ago about his friend, Darrell Russell. Called "Darrell Russell, Broad Smiles, Quarter-Miles," it is a look at the life and times of one of the great young drivers in the sport. Darrell, as I'm sure you all know, lost his life in an accident back in 2004, and Rob, who was one of Darrell's closest friends, talks about the incident from a first-hand point of view. He was at the track and at the hospital and was there when they got the news that Darrell had passed away. Rob talks about the folks who were there to help him and the Russell family and his discussions about Kenny and Sheryl Bernstein are especially poignant. The book includes lots of great photos but it's Rob's
writing that really makes it stand out.
It is an emotionally good read, one that may shed a different light on some of the people in the sport whom you thought you knew, but really didn't. Even Rob didn't know some of these folks, or what kind of people they were, until he needed them. You'll also get a new understanding about the Russell family and some of the things they have faced in their lives when you read "Broad Smiles, Quarter-Miles." It's hard to say that a book about the passing of a young racer, and the impact it had on his family, can be uplifting, but this one is.
On the video front, there are a couple of wonderful DVD's that you should get for yourself, I mean, for that special drag racing fan on your list.
Don Gillespie
, who released "Lions, the Greatest Drag Strip," a few years ago, has added a second video to his historical look at one of the most famous drag strips of all time. Called, appropriately enough, "Lions, the Greatest Drag Strip, Part Two," this one may be even better than the first and that's saying a lot. The amount of time and effort that went into this 90 minute piece is simply amazing. The original footage includes some of the legends in the sport and the interviews with greats like
"Pappy" Hart, Tom McEwen
and others just adds to the enjoyment. And believe me, it's worth getting the DVD just to listen to
Tommy Ivo's
interviews. He is and always was a great showman and he is such a wonderful story teller and he'll make you smile just by listening to him. Plus, I have to tell you, I laughed out loud when I heard
Dale Armstrong
talk about going to Lions. I don't want to spoil it for you, but it's really neat. Contemporary superstar
, John Force
, shares his thoughts about Lions and
Rich Carlson
does a nice job with the "voice-over" on the video. But it's the tremendous early video, the shots of some of the premier cars and stars in the sport back then along with the pain staking detail that went into the video that makes this special. Don has done a superb job of telling a story of the track at
223rd Street
, just east of
Alameda
. It's a great video and I want to warn you, you better order two of them because you won't want to give it away. By the way, at the end of the video they say that the third and final edition is on its way. I hope so and I hope it's soon. You can order your Lions video at several places but a good place to go is
http://www.Nitroactive.net
, because that's where you can also order "Once Upon A Wheel," the Hot Wheels tape featuring
Don Prudhomme
and Tom McEwen as well as the tape from
Dragfilms
that features highlights of the 1963 Nationals, the '65 Winternationals and the "Gathering of Monsters," the famous invitational race that included members of the
Mickey Thompson
200 MPH club.
NHRA has released its first season in review video in quite some time. Recapping the 2007 season it includes highlights from every race of the 2007 season. There is a special emphasis on the races that were part of the Countdown to 4 and the Countdown to 1, and the interviews in those sections are especially nice. With shots of the winners from every race you're bound to see your favorite driver on this video, but you may want to get it for the two special sections that are included. One is a tribute to
Eric Medlen
and the other one pays tribute to the life and times of
Wally Parks
. Much like the Darrell Russell book, I guarantee you that you'll feel the full range of emotions when you watch the segment on Eric. His smile was contagious and you simply can't watch this without smiling yourself. And, of course, the tribute to Wally Parks is very moving. At 94 years of age, Wally passed away near the end of the 2007 season and it's only fitting that he is included in any look back at the year that just passed, or any year for that matter. The DVD includes an easy menu that allows you to pick your class and the time of year that you wish to view. In truth, if you're like me, you may click the Countdown to 1 segment and watch that first. The interviews and the emotion displayed in that section are worth the price of the video. The video can be purchased at
http://www.nhra.com
and they guarantee shipment in time for the holidays.
And, finally, if you're really looking for something special, I can recommend a call to my good friend, Mike Goyda. Mike has more special things for that hard-to-buy-for person on your list than anyone I know. If it has anything to do with drag racing, Mike probably has it. From jackets and shirts, to record albums, souvenir programs, old race posters, model cars and more Mike has it. In fact, he has so much stuff that that should be the name of his web site, Mikehasit.com. But it's not, it's http://www.www.goyda.com. Check it out and I guarantee you'll find something that will please the drag racing fan on your list. Oh, and if you're looking for an old picture of the '55 Chevy that your uncle used to race at Atco back in the '60's, there's a good chance that Mike has it. Visit his web site (his phone number is also on there) and order something today and have it in time for the holidays. Mike also has a lot of original artwork, some of it going back fifty years and a lot of it featuring some of the icons of the sport. So check it out and happy shopping!!