Mon, 10 Dec 2007, 03:26 PM



Back to the Future- Carpenter to Debut New '55 Chevy in 2008



Courtesy of Michael Carpenter



CHARLOTTE, N.C. --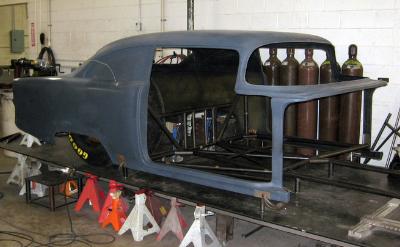 Carpenter's '55
With each incarnation in a series of one-of-a-kind machines, Charles Carpenter has pushed the meaning of the "World's Fastest '55 Chevy" to a whole new level. The 2008 season will continue that trend, as Carpenter is set to debut his latest and greatest ride yet: an ultra-trick, ultra-light '55 Chevy crafted by Terry Murphy Racecars in Blue Springs, MO.
After achieving a tremendous level of success over the last several years in his iconic purple and yellow Tommy Mauney-built '55, including a pair of wins in the Flowmaster American Drag Racing League's Pro Nitrous division in 2007, Carpenter felt the need for a change at the end of the season.
"Looking from the beginning of the season to the end, you can see the writing on the wall," said the Pro Modified legend. "It's going to take low 4.0s during the day and 3.90s at night to be competitive in Pro Nitrous in 2008. We felt the best way for us to remain at the top of the pack is to sell the Mauney car build a true 'outlaw' car for the ADRL series. My old car was and still is a great car, but it was built to IHRA-legal specifications. The ADRL's no-rules format allows us to do a lot of new and different things. This new car is going to incorporate all the latest racing technology while remaining as lightweight as possible, and we are extremely excited about its potential."
When word got out that Carpenter was building a new '55, calls came in from nearly every major chassis builder, each wanting to build Carpenter's next "shoebox". But in the end, the "Father of Pro Mod" chose a relatively new name in the Pro Mod chassis business: Terry Murphy. Murphy has a solid reputation in the Midwest, especially after the success he and veteran racer Donnie Little enjoyed in local Pro Mod action.
"Terry and I have been talking about him building me a new car for a while," admitted Carpenter. "When I finally made the decision to get a new car, Terry was really the only choice on my list. Everybody seems to think you have to get a car from one of the 'big name' builders to go fast, but I plan to prove them wrong. There are several smaller operations out there that can build fast cars, and Terry Murphy Racecars is leading that pack. They build a great looking car, and I have no doubts about performance after watching Terry lay down a 3.99 pass himself late last season."
As excited as Carpenter is about the potential of the new car, it almost pales in comparison to the enthusiasm of the man building it.
"You couldn't ask for a better name to get involved with than Charles Carpenter when it comes to Pro Modified," said Murphy. "We've built a lot of good cars, but none of them get the exposure and name recognition this car will. I'm thrilled to be building the next generation '55 for Charles, and I really feel like it's a big step towards becoming a major player in the chassis game for us."
Though Carpenter's order was placed just over a month and a half ago, Murphy has already completed a large portion of the fabrication, another reason Carpenter tapped Murphy as his next chassis builder. "I knew Terry was one of the few guys out there that could deliver a quality car on such short notice," said the Charlotte, NC based driver. "He has already exceeded my expectations, and I can't wait to get the car and go testing in February."
With continued support from New England-area Pro Mod standout Pat Doherty, electronics guru Paul Albino, Custom Autosound, Buddy's Automotive Concepts, Kelly Bluebaugh, and Deb Woodard, Carpenter and his son and crew chief Mike are ready to take on all challengers the 2008 season has to offer.
"Mike and I are already to get started on next season," the 34-year veteran said. "He was probably the person pushing me the hardest to build a new car, and he has really helped generate the excitement around the whole project. We'll continue to build the buzz at the PRI show later this week, then set our sights on turning all of 2007's momentum into a championship in 2008."
Carpenter is actively seeking primary sponsorship for 2008. For more information about Charles Carpenter Racing and the World's Fastest '55 Chevy, or for a copy of the team's 2008 Marketing Partnership Guide, visit http://www.fastest55.com.