Mon, 3 Dec 2007, 06:36 PM



Down to the Penny



By Jim Samuel


Photo copyright 2007 BME Photography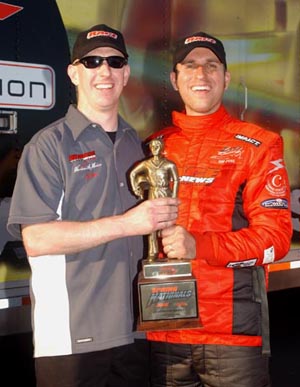 T.J. Zizzo
T.J. Zizzo has it all figured out ... down to the penny.
"It costs us $10,614.17 per run," Zizzo says, "at least as of (the IHRA national event in) Milan."
That's a lot of money for any racing team, but it's a particularly burdensome amount for a low-budget Top Fuel racing team that has little in the way of financial support from sponsors.
So when 32-year old T.J. Zizzo found himself just four rounds away from the IHRA Top Fuel championship, it was only natural that he and his team began to look ahead and think how much the championship paycheck would help them out.
"We really needed that $150,000," Zizzo says. "We were going to that last race (at Rockingham) and we needed that $150,000 to survive. It put too much pressure on us."
Going into the IHRA season finale at Rockingham, Zizzo had a 26-point lead in the championship standings over Bruce Litton. But when Zizzo smoked the tires in his first round race against Kevin Jones, his hopes for the championship and the big paycheck went up in smoke because Litton went on to win all three rounds of eliminations to seal his first Top Fuel championship season.
Zizzo and team celebrate win.
Zizzo got off to a strong start in the 2007 and grabbed the Top Fuel championship points lead when he won the second race of the season, at Rockingham, after being the runner-up in the opener at San Antonio. Runner-up finishes at Epping, New Hampshire; Cayuga, Ontario and Budds Creek kept Zizzo at the top of the standings all season, until he got to Rockingham in October.
"I shook the tires and tried to get back on it," Zizzo says of his first-round race against Jones. "It pulled the front tires up toward the moon. I said 'Wow, this thing has some power.'"
Zizzo says that he and his team were disappointed to miss out on the championship, but that it didn't take long for everyone to get over their sorrow and start thinking about the great year that they'd had.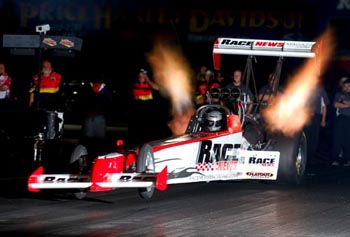 T.J. Zizzo
"We were disappointed," he says. "But by the time we got to the airport, we were laughing and talking about the good times we'd had during the season. It was tough, but we have to look at the year as a whole."
The last few weeks of the drag racing season are difficult for any racing team, but they can be particularly harsh for teams that are made up of volunteers. "Everyone on the team is a volunteer," Zizzo says. "We start losing people at the end of the year. They run out of vacation time. A couple of the guys work on construction and they have to work on Saturdays. You get to the end of the season and you get worn out and burned out."
A long season isn't only tough on team members. It can also be tough on a team's checking account, or in the case of Zizzo Racing, the team owner's credit cards.
"We funded the sixth through 11th races of the season with credit cards," Zizzo says. After getting off to a good start, Zizzo and his father decided they were going to spend money they didn't really have and go after a championship. "There was a point in the middle of the season when we sat down and decided to go for it," he says.
Money is always a problem for teams that do not have a primary sponsor and Zizzo Racing is no exception. But even after such a successful season, Zizzo doesn't think it will have any affect on his ability to land a sponsor.
"I think the sponsorship game is played with relationships," he says. "I don't think that winning an IHRA championship or coming in second will affect a sponsorship."
Without a sponsor, Zizzo and his team will probably not be able to race next year. "We don't know what the future holds for us right now," he says. "We're putting everything on the auction block to pay off the credit cards. We may keep some parts in case we can run again."
When he is not racing, Zizzo works in a small auto body shop that his father opened. Not large by most standards, the elder Zizzo has built a specialized business that caters to the owners of elite automobiles.
As he speaks over the telephone, Zizzo looks out at the shop and describes the cars inside it. "Right now, I'm looking at a Pantera and a 1969 Shelby GT350," he says. "We work on anything but we primarily work on vehicles that people care about. That's what my dad molded the business into."
But even working on high-end collector cars does not bring in enough money to make a living and fund a Top Fuel racing team. "It's only a 1,300 square foot body shop," Zizzo says. "I look out and I see four cars. That isn't going to pay for us to go racing."
As a low-budget team, Zizzo Racing has had to learn how to make the best of the resources it has. At the last race of the season, in Rockingham, NC, "My dad and I hugged each other and said 'If we do nothing else, we've learned a lot," Zizzo says.
Among the most important things they learned was where teams can successfully save money and where it is best to pay more for higher quality.
"We learned that buying used is not always the best way," explains Zizzo. "We learned what to buy used and what not to buy used. We have ancient equipment. We have stuff left over from 1999."
The team also learned how to get ready for each race and develop its tune-ups without the benefit of on-track testing. "We can't afford to go testing. We have never tested," Zizzo says. "We are some of the last people to be able to do this just for the love of the sport."
While money is not the reason Zizzo got into racing, it could be the reason he has to stop. "You do it because you love it," he says, adding that when he is away from the track "I'm tossing and turning between four and five in the morning, wondering if I am doing what I should be doing."
Without the championship paycheck, the 2007 season was not financially profitable for Zizzo Racing. "You look at it as a business and ask what you have gained," Zizzo says. "The answer is nothing."
If financial considerations force Zizzo away from the track next season, the veteran driver says he'll miss the competition but will easily move on. "Maybe if the racing doesn't flourish, I can expand the shop," he says.
"I have a three year old girl and a nine month old boy," he explains, adding that not racing would give him more time to spend with his wife and children. "I don't know if I am relieved or depressed," he says at the idea of not racing. "This (his wife and kids) is what it's all about," Zizzo says. "I really lead two separate lives."
Unlike some professional drivers who say that once they've driven fuel cars, they could never go back to the sportsman ranks, Zizzo says he could be just as happy driving a Top Alcohol Dragster as a Top Fuel Dragster.
"I still have my old Top Alcohol Dragster but it wouldn't be competitive," he says. But, he adds. He would get the thrill of racing no matter what type of car he drove. "When you mash the gas pedal, it's exciting."
If he did have to move back to sportsman racing, Zizzo says he would look at the move as just another step in his drag racing career. "Sometimes you have to go backward to go forward," he explains. "When I was driving a Top Alcohol Dragster 10 years ago, I never thought I'd drive a Top Fuel dragster. It was out of our reach."
But a few years ago, Zizzo and his father had the opportunity to get into Top Fuel racing. "We bought a Top Fuel dragster from Tim Wilkerson," Zizzo says. "He helped show us the way" by assisting the new team until they were used to working with a Top Fuel dragster. "Ever since we brought it out of the box, we've run decent," Zizzo says.
In addition to putting together the best season of Zizzo's career, the Top Fuel driver is equally proud of the safety record he has compiled over his 16 years of drag racing.
"I started driving a Top Alcohol Dragster at 16. I am 32 now," Zizzo says. "I've made more than 200 runs in a Top Fuel dragster and between five and six hundred runs in an alcohol dragster."
In all of those runs, Zizzo says, "all of the wheels of the dragster were upright every time. I've always come back on all four wheels. I'm healthy, my family is healthy and my dad is healthy."
But if finances don't work out for Zizzo and he has to stop racing, the thing he'll miss the most is the time he spends with fans. "The biggest thing I get out of racing is talking with the fans," he says. "When I talk to them, I like to ask them about themselves. If it weren't for fans, I wouldn't be there."