Fri, 30 Nov 2007, 12:46 PM



O'Neill Honored as IHRA's Rookie of the Year



Courtesy of Luke Bogacki



NORWALK, Ohio --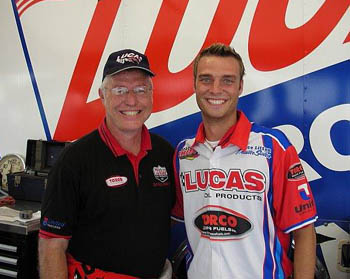 Bruce Litton and Jeff O'Neill
The International Hot Rod Association crowned their 2007 World Champions at the annual season ending banquet at Kalahari Resort in Sandusky, OH November 17. It was there that upstart Top Fuel campaigner Jeff O'Neill, who attended the celebration along with his Litton Motorsports team to honor his car owner and Top Fuel World Champion Bruce Litton, received a huge, albeit surprising, honor from the IHRA. O'Neill, the 26-year old pilot of Litton's second Top Fuel entry, earned the IHRA "Rookie of the Year" honor after competing in Top Fuel for the second half of the 2007 season.
"We attended the banquet looking to celebrate Bruce's title. And that was great--to see a true champion like Bruce accept that title after so many years of hard work, that was as special for me as any personal achievement I could imagine," explained O'Neill. "But then they called me up to the stage as the 'Rookie of the year,'" he exclaimed. "I wasn't prepared for that at all!"
O'Neill, who has been involved in drag racing nearly his entire life, honed his skills in various classes (including Junior Dragster, Brackets, Quick Rod, and Top Dragster) prior to earning his Top Fuel license last winter. He made his Top Fuel debut at the IHRA Rocky Mountain Nationals in Edmonton, where he immediately made his presence known with a runner-up finish in his first event. As a part of the Litton Motorsports team, O'Neill attended five additional events to close the 2007 tour, qualifying at each stop and advancing to two more semi-final rounds.
"I'd like to thank everyone at IHRA for the award. It's a huge honor, and I look forward to developing my relationship with the IHRA as we build upon our success in 2007. And obviously I want to thank Bruce Litton and the entire Litton Motorsports team for giving me the opportunity of a lifetime. Not only have I been fortunate enough to step into a driving job with the number Top Fuel team in the world, I've also been blessed with the best leader, mentor, and friend I could imagine in Bruce Litton. His record on and off the track speaks for itself: He's a deserving champion, and he's helped lay the path for a number of full-time Top Fuel racers."
O'Neill's "Rookie of the Year" award is far from unprecedented from Litton's illustrious list of pupils, which include current Top Fuel competitors Clay Millican, J.R. Todd, and Doug Foley. Each of those competitors earned the same title in their freshman IHRA season while with the Litton team.
"I also want to thank Richard Hartman, Mike Wolfarth, Nicky Boninfante, and the entire team for all their hard work. Those guys gave me a great car all season. And I certainly want to thank my family for all their support--Mom and Dad couldn't make it the banquet to see this, which was the only downer of the whole night. They came to every race this season, and without them I never would've started down this path, much less made it into Top Fuel competition."
O'Neill and Litton hope to announce plans for a 2008 campaign in the coming weeks, as the team is in final sponsorship negotiations that will allow both drivers to compete in a full tour of events. For more information on Jeff O'Neill and the Litton Motorsports team, visit http://www.JeffO'NeillRacing.com.