Wed, 3 Dec 2003, 11:31 AM



Now We're Making Progress!!



By Bob Frey
Photo by:Auto Imagery, Inc.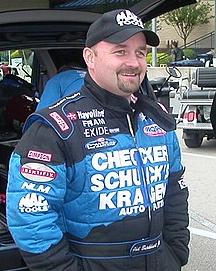 Phil Burkart
Congratulations to
Phil Burkart
for signing on with the
Checker, Schuck's and Kragen
team for next year. Now if I remember correctly, I told you last week that that was going to happen, and, if you read between the lines, I also gave you a real insight into the possible makeup of
"Team Force"
for next year. Among the little tidbits was the fact that I firmly believe
Gary Densham
will return to the team (and I still believe that) and that could be officially announced any day now. Of course with all of the stuff going on in John's world, it may take a day or two longer than that to happen. Besides the addition of one driver, John is also seriously thinking about adding that elusive Top Fuel dragster for next year and that little bit of news could come to fruition as early as next week. One way or another there should be an announcement of a new TF team in the sport very soon. Among candidates to drive this car are, from what I hear,
Melanie Troxel
and
Gary Ormsby, Jr.,
although they would be with different teams. If you've followed this sport for any period of time you can probably figure out which team Gary would drive for. Melanie, as I've said many times before, still has as much going for her as almost any dragster driver in the sport. OK, so there are some seasoned veterans out there who may bring a little more to the table, but if you're looking for a good young driver who can talk about the car (including the mechanical aspects of it) can work with the press, handle the race car and be very "fan friendly,"
Melanie has to be very high on anyone's list. Any team that adds Melanie to their lineup is making a great move.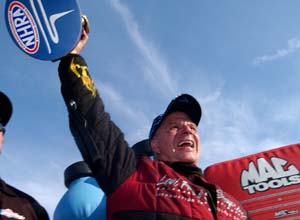 Tim Wilkerson
In addition to the Phil Burkart signing, another Funny Car team is about to name a new driver and they won't have to look far for him, either. Let's just say that it looks like a late season replacement is about to be named as the full time driver of a popular funny car, at least according to what I hear…..There has been a lot of talk lately about
Tim Wilkerson
switching to a Dodge bodied Funny Car next year, and while there has been talk among the parties, I can tell you that as of yesterday, nothing was firmed up. Let's just say that the folks with the Dodge bodies and the guy who would like a Dodge body have spoken and there does appear to be some common ground. Tim, with his great sponsors at
Levi,
Ray and Shoup
, can only get better in his second full year on the tour and I wouldn't be surprised to see him finish in the top five next year. Having said that, the FC field should be loaded in 2004 especially with John's trio of cars, the great CSK teams and soon, the two-car
Pedregon
brothers effort. That full announcement, teams, sponsors etc., will be made Thursday of this week at the PRI show…Also, it appears that a guy who drove Top Fuel this past year, who used to drive Funny Cars, is going back to the Funny Car world and that adds more excitement to that class. So will the new body styles that we'll see in 2004, but I'm not supposed to say much about that….yet….There was also a story going around about another TF driver switching to Funny Car as part of a two-car team that would be based on the east coast and while those discussions have taken place nothing is firmed up yet….Speaking of based on the east coast, have you checked out
Bob Gilbertson's
intern program? Bob released info about it last week and promptly got over 2,000 applications for the gig. And just how much future is there in working on a fuel team on the NHRA circuit? Well,
Larry Dixon
didn't start out driving the car for
Don Prudhomme,
he started out at the bottom and worked his way up. In fact, there is probably more growth and opportunity for young mechanics in drag racing than anywhere else right now. Lots of new teams will need lots of help and teams will certainly need good, capable, young talent to work on their cars. Having said that, get your application to Bob Gilbertson today and, who knows, you could be the next
Donnie Couch
…or whomever!!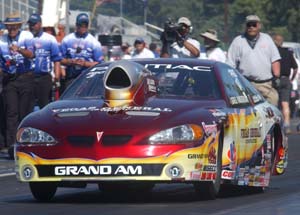 Greg Anderson
If you have received your new 2004 NHRA rulebook you may have noticed a slight change in the wording in the Pro Stock section. On page 161 it now says that the "cylinder bank must be at a 45-degree angle from the camshaft/crankshaft centerline, creating a combined 90-degree angle." That's changed from last year and basically outlaws the use of "offset engines" in 2004. Now let's be honest about this, the only team that anyone even suggested was doing that last year (at least as far as I heard) was the
Greg Anderson
team so most people will refer to this as the "Anderson rule." Having said that, Greg told me last year that the team did test the offset idea but never used it in the car (which would have been legal to do anyway.) And let's also be honest about this, anyone who thinks that this will slow Greg and his team down at all are mistaken. That was, simply put, the best Pro Stock operation out there last year and they proved it on the track. Sure, repeating won't be easy, but then Babe Ruth never hit 60 home runs again but his record stood for a long time and he's a legend. I expect Greg,
Jason Line
and the rest of the
Vegas General Construction
team to come out swinging in Pomona at the start of the season and I fully expect them to be as strong as they were in 2003. Of course, those new 16-inch bead lock wheels could throw a monkey wrench into everyone's plans, although early test results have yielded some 6.78 and 6.80 times by two different teams with two different types of race cars and most of the crew chiefs that I have spoken to think this is a good safety measure for the teams….One of the Pro Stock guys with whom I spoke was
Jim Yates
and he tells me that he is putting his operation in high gear, so to speak. He's ordered a new
Rick Jones
car, some new parts and is anxiously looking forward to the new season. Jim, his wife
Toni
and the rest of the family are great people, a real plus for the Pro Stock class and I look for him to rebound in 2004 from what was, for him, a sub-par year. Amazing, isn't it, Jim finishes in the top ten in points and I say that he had a sub-par year? Most guys would kill for a season like that, wouldn't they?...By the way, I hear that a famous engine builder has sold his shop to concentrate solely on building the engines for a certain Pro Stock driver next year. Hum, wonder who that could be?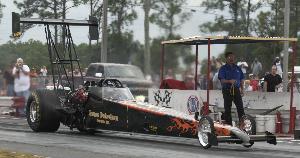 Bill Evans
A couple of final notes for this week…congratulations to
Paul Mercure
for running his A/S Camaro into the 9-second zone at the D-2 National Open in Montgomery, Alabama this past weekend…Speaking of 9-second stockers, we'll be missing one next year when
Al Corda
takes his show to the Super Stock ranks. Al has a really neat LS1 Pontiac in the works for the S/S class and that should be fun to watch. Whether it's Mopar station wagons or Pontiacs, Al make 'em all run very well. Wait, this just in….Al will stay in Stock and run two cars next year. Cool…And a tip of the hat to
Bill Evans
and his team for their winning performance at West Palm Beach. Bill won the Top Alcohol Dragster class by running a very respectable 5.601 at over 253 miles per hour. From what I hear Bill was getting the
Art Gallant
"AT & T" tune-up, that is, they talked on the phone all weekend long and, well, it seemed to work out very well. Nice job, Bill….Speaking of nice jobs, I was going through some
National Dragsters
the other day and there, on the cover, was
Harry Holton
, the current SS/AA national record holder, holding a trophy for making another great run in his Super Stock hemi Plymouth. Now you say "what's so special about that?" Well, the National Dragster was from 1969 and Harry's trophy came from winning Super Stock at Bakersfield. And he's still going strong. Way to go, Harry.