Wed, 3 Dec 2003, 11:31 AM



Burkart to Return as Team CSK Blue Team Driver in 2004



By Bob Wilber
Photo by:Auto Imagery, Inc.



ANAHEIM, Calif. --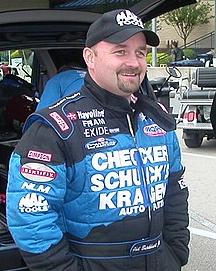 Phil Burkart Jr.
Phil Burkart. Jr., who took over the driving chores for Worsham Racing's Checker, Schuck's, Kragen blue team for the final six races of the 2003 NHRA POWERade campaign, will return to drive the car in 2004.
In his abbreviated stint as blue team driver in '03, Burkart posted a 7-6 round record, was Runner-Up at the fall race in Chicago, and advanced beyond the first round at all but one event.
Burkart also competed at three of the first four races in 2003, driving the independent Team Geronimo Funny Car, but failed to qualify at any of those events. He then joined Worsham Racing two days prior to the Brainerd, Minn. race, as the replacement driver for the injured Arnie Karp in the Artisan Home Entertainment machine, and finally made the switch to the blue Checker, Schuck's, Kragen Pontiac just two races later, after Johnny Gray's resignation.
"Phil stepped in and did a terrific job for us, in the Artisan car and the blue CSK car, under difficult circumstances," said owner/driver Del Worsham. "Not only did he do a great job driving, he also jumped right in and became a valuable part of our whole program. He was very professional, very gracious, and willing to do whatever it took to help the team be successfull. I think it's obvious the team really reacted positively to him.
"There was never really any debate in our camp, or with the people at Checker, Schuck's, and Kragen, regarding who should drive the blue car in 2004," Worsham continued. "As soon as Phil joined the team we knew we had the guy we wanted, and he's been a very positive addition to the program. It's just taken us a little while to wrap up a lot of other post-season details before we got to the point where we could sit down and hammer out an agreement with Phil. We're all very excited to see what Phil and the blue team can do in 2004 with a full season to work with."
Burkart is excited to be returning to Team CSK and is ready to make a full assault on the NHRA POWERade tour in 2004.
"I wish the off-season was over right now, instead of just starting," Burkart said. "Joining Worsham Racing and the Checker, Schuck's, Kragen team this past year was the highlight of my career, and more than anything I wanted to make it a full-time deal. I've worked very hard to put myself in position to be considered to drive for a team as competitive as this one, and it feels great to know we'll be heading into 2004 with our guns loaded.
"With all the changes in the Funny Car landscape this year, the rumors were flying and a lot of people were talking," Burkart added. "You hear your name attached to a lot of rumors, which in its own way is kind of flattering, but this is where I want to be. Our co-crew chiefs, Marc Denner and Chris Cunningham, have been fantastic and they make it a pleasure to be a part of this program. Del and Chuck Worsham are the best, and every member of this organization has treated me extremely well. It's an honor to be here."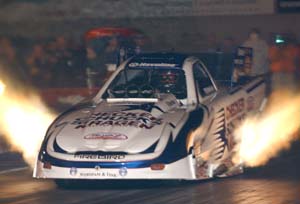 The Yorkville, New York resident has one career victory on the NHRA POWERade tour, the 1999 Pontiac Excitement Nationals, and he nearly bagged his second win at the fall race at Route 66 Raceway in Chicago. It was in the Windy City where Burkart drove the blue CSK car to stout victories over Scotty Cannon, Cory Lee, and Gary Scelzi, lowered his career best E.T. to 4.773, along the way while maintaining a consistent two-hundredths edge over Tony Pedregon, his opponent in the final round. But, an oil leak was detected after the final round burnout, however, and Burkart was forced to shut his car off.
"There is absolutely no question that the Checker, Schuck's, Kragen blue team is ready to win," he said. "We almost got it done at Route 66, and the blue team had already advanced to three other final rounds before I took over as the driver. As the final part of the season went on, we were getting better and better, and things were clicking for us. I know the people at CSK Auto, Mac Tools, and all our other sponsors, enjoy seeing their cars in the Winner's Circle, and I'll do everything I can to help make that happen for the blue team in 2004."
Worsham also expects great things from the blue team in 2004, and sees the team's late season progress as an indicator of things to come.
"The blue team really started over from scratch last year, with Marc and Chris taking over the tuning and nearly an entirely new crew coming in," Worsham said. "They got off to a great start, and then went through a slump in midseason. It's at times like that when you find out what kind of team you have. They hung in there and gutted it out, and when Phil came aboard in September, they really found their stride again. Every time I looked over there, it seemed like they were winning rounds or resetting career numbers.
"I think they're going to win a lot of rounds and win races," Worsham concluded. "I know Phil will do a great job driving, and Marc and Chris will continue to develop as two of the best young crew chiefs in the sport. The whole Checker, Schuck's, Kragen program is looking forward to 2004, and everything we do this winter will be based on making ourselves better."
It will be a busy off-season for Team CSK, as the group will prepare two new racing chassis, built by in-house chassis builder Grant Downing, while finalizing plans for new body designs and an expanded pit set-up. All the changes are being made with the ultimate goal in mind, and Burkart is excited about his involvement.
"I'll be heading out to Anaheim to get fitted in the new chassis, and I'll spend some time helping the guys with all the work they have to do before the 2004 season kicks off," he said. "We're expanding the pit set-up to include a first class hospitality area, based off a 53-foot transporter trailer, and we'll be able to host up to 100 people at a time. Keeping CSK Auto's customers happy is a key way to maintain our program's growth, which gives us the chance to compete for the POWERade Championship. These are all parts of the puzzle, and we want to give ourselves the best possible chance to win."