Thu, 4 Dec 2003, 06:21 PM



Quaker State Racing and Tony Pedregon Pair Up in 2004



Courtesy of Quaker State Racing


Photos copyright Quaker State Racing





Cruz and Tony Team Up



INDIANAPOLIS --
Quaker State Racing announced today that it would return to the National Hot Rod Association as primary sponsor of an NHRA Funny Car, which will be driven by recently crowned 2003 POWERade Series champion, Tony Pedregon.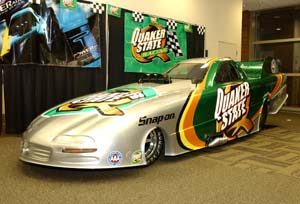 Quaker State Funny Car
"This sponsorship is important to Quaker State for several reasons," James Stone, Director, Quaker State Brand Management said. "First, we have tremendous respect for the NHRA and their fans, and are eager to support the continued growth and success of the series. It also gives Quaker State the opportunity to showcase its quality products and demonstrate its commitment to high performance.
"Second, we have the unique opportunity to partner with the Pedregon family, one of the most successful racing families in NHRA history. Not only are they tremendously talented drivers, but they are also terrific ambassadors of the sport outside the drag strip.
"Third, it reinforces the commitment Quaker State has to the Hispanic community. Not only does Quaker State provide high quality products to Hispanic consumers across the country, but Tony and Cruz are strong supporters of Hispanic community efforts, and Quaker State is proud to partner with them in helping reach and improve Hispanic communities across the country.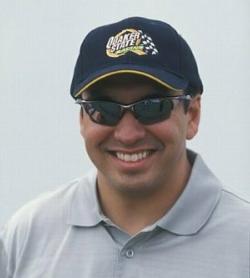 Tony Pedregon
"These three forces combine to equal a winning recipe for Quaker State."
"On behalf of all Pedregon Racing, we are proud to partner with Quaker State," said Tony Pedregon.
"Quaker State is a proven leader both on and off the track and we will strive to continue to do the same. The opportunity to work with such a great sponsor is very exciting for us and we look forward to a high-performance program."
Quaker State's commitment as a primary sponsor will result in further involvement with the NHRA, as well as adding a new, highly-competitive team to the series.
"We are pleased to welcome Quaker State as a primary sponsor in the sport of NHRA POWERade Drag Racing," said Gary Darcy, vice president of marketing, NHRA. "The addition of a top consumer brand name partnering with a new funny car team is a clear indication of the sponsor value and return on investment associated with participation in NHRA and the NHRA POWERade Drag Racing Series."
The pairing allows Pedregon to pair with his brother, 1992 Funny Car champion Cruz, owner of Pedregon Racing. Pedregon Racing was formed in 1999, when Cruz achieved a lifelong goal of becoming a car owner and driver in the NHRA series. For the past year, Quaker State Racing has been an associate sponsor with Pedregon Racing and Cruz Pedregon's NHRA Funny Car.
Tony and Cruz
"The talents of my brother, Tony, are undeniable," Cruz said. "Having Tony on board with Pedregon Racing will only benefit this team. And to bring a recognizable sponsor like Quaker State back into the sport is exciting. I couldn't be more anxious for a race season to get started. I am looking forward to many victories and championships in the future."
"Cruz and I racing together is something we have wanted to do since we were children," Tony said.
"For years we've been racing as competitors and finally we will race as teammates."
Tony Pedregon began his career in the NHRA in the early 1990's, racing Top Alcohol Dragsters. Since that time, he has competed in Top Fuel and Funny Car, earning 27 career victories in Funny Car. His most recent victory came at the ACDelco Nationals at The Strip at Las Vegas Motor Speedway two weeks ago. That thrilling victory clinched Tony's first NHRA Powerade Funny Car championship, after finishing second in the standings four times to former car owner, John Force.
Tony Pedregon, Pedregon Racing and Quaker State Racing will kick-off their new venture with the 2004 NHRA POWERade Series season-opener, Feb. 19-22 at the historic Winternationals in Pomona, California.