Thu, 11 Dec 2003, 12:39 PM



Mitch Myers Hires Steve Boggs for 2004 Season



Courtesy Dean Murdoch, SpeedZone Magazine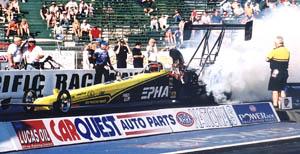 Mitch Meyers
Mitch Myers is proud to announce the addition of tuning guru Steve Boggs to the team. The Epha sponsored A/Fuel dragster will make a strong run for a top 10 (maybe a top five) finish in 2004. The addition of Boggs as a tuning expert will go a long way in putting the Oregon based team into the upper echelon in the TAD class. Mitch's goal is to run a full slate (8 - 10) of National events and probably a full (5 - 8) divisional events.
They will hit the trail hard at the beginning of the year with pre season testing at Phoenix in February and then run Pomona, Houston, Las Vegas and Topeka to start the National end of the schedule. Then Mission, Woodburn#1, and Seattle Divisional events. It is likely they will take the next month off during some of the hotter weather and then return to Seattle for their National event. Sonoma Nat'l and Indy are possibilities depending on the weather. They will end off the season with National events in Chicago, Dallas and Pomona. The schedule is subject to change, but the team goal is to pick and choose events that they feel will be the best suited for their A/Fuel dragster.
Mitch hopes the entire team from the 2003 season will return as the chemistry was very good this past year, he just felt they were one piece short of being a consistent 5.20 - 5.30 car. The availability of a talent of Steve Boggs does not come around very often, as he was THE man in Tony Bartone's camp with both the A/Fuel car and the Blown TAD as well as and the record setting TAFC from the late 90's. When he became a free agent, Mitch was quick to pounce. The new 421 engine combination appears to be the size of choice and with Steve's experience the learning curve should be slight.
To go along with the changes in the team Mitch is very close to announcing a major sponsor to both his team and possibly to NHRA. It is a new company to motorsports with a product ideally suited to the high octane sport of Drag Racing. More on this in the coming weeks.