Thu, 11 Dec 2003, 08:09 PM



Snake Racing Names John Stewart Crew Chief of Green Skoal Racing Funny Car



Courtesy of Skip Allum


Photo copyright 2003 NHRA





VISTA, Calif. --
Christmas came a few weeks early for John Stewart when Funny Car team owner Don Prudhomme appointed him crew chief of the Skoal Racing Green Chevrolet Monte Carlo.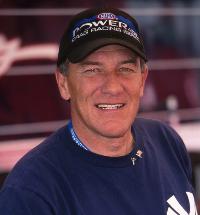 John Stewart
Stewart, 48, is a veteran crew chief who has been involved in drag racing for almost 30 years. He was crew chief on Darrell Gwynn's fifth-place Top Fuel dragster this year.
"He called me and told me he wanted to run for the championship," said Prudhomme. "He said he had the ability, all he needed was the right team to start with.
"I told him he called the right place."
Prudhomme owns the Skoal Racing team featuring drivers Ron Capps (Green car) and Tommy Johnson Jr. (Blue car) and the Miller Lite Top Fuel team, with driver Larry Dixon, winner of the last two NHRA POWERade season championships.
"Obviously Stewart has made a commitment to do what it takes to make the car a contender," added Prudhomme. "We are always looking to add good, experienced people and Stewart definitely fits that description. He has worked with winning cars and tuned winning cars. He also has a good relationship with Todd (Okuhara, Green car assistant crew chief)."
Stewart's goal is simple.
"We want to win races," he said. "I'm excited to be working with Prudhomme, Capps and the entire team. Most of my career has been spent with under-funded team teams. Now I have a situation I've dreamed about; being on a team that has the funding to do what it takes to win a championship. I'm doing what I've always wanted to do.
"We won't be lacking for parts. If we have a need for something, we can get it," Stewart continued. "A winning team needs the right equipment, the right crew and the ability to test. We'll have all of that."
Prudhomme has been disappointed with the Funny Cars' performances. Capps and Johnson finished in the top 10 (eighth and ninth, respectively), but that is seven and eight steps behind where the owner wants them to be.
"Both cars will have different cylinder heads and manifolds this year," Prudhomme said. "We're working hard to get the cars into the winner's circle a lot in 2004."
Stewart grew up in the Sacramento, Calif., area and still owns a construction company there. He was smitten with drag racing at a young age. He drove Top Fuel dragsters in the early 1970s and became one of only 16 members of the elite Cragar 5-second Club in 1973.
His resume includes stints as a crew member on the teams of Connie Kalitta, Shirley Muldowney, Cruz Pedregon, Shelly Anderson, Tim Wilkerson, Bob Vandergriff, Dean Skuza and Jim Epler.
Epler won twice in 2000 - the prestigious U.S. Nationals and at Las Vegas - and was runner-up at Brainerd, Minn., and in the special Budweiser Shootout with Stewart as crew chief.
www.snakeracing.com