Wed, 17 Dec 2003, 10:09 AM



InsideTopAlcohol.com Warm-up to be Held at Lonestar Raceway Park



Courtesy of Will Hanna/ Pro Race Communications
Photo by:Auto Imagery, Inc.



SEALY, Texas --
The second annual InsideTopAlcohol.com Warm-up has found a new home at Lonestar Raceway Park in Sealy, Texas, just west of Houston. The event will be used as a preseason test for many of the top names in Top Alcohol Dragster and Top Alcohol Funny Car on Feb. 14 & 15. In addition to the featured 280 mph alcohol cars, the event will be an open test for many other forms of racecars.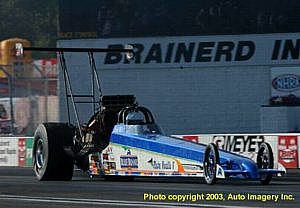 David Wells
Track owners Glen and Dee Brabham are excited to have drag racing's third and fourth quickest classes use their facility to test for the 2004 season. Expected to be on hand are top racers like David Wells (No. 4 national finisher in TAD), Lee Callaway (2002 Division 4 Champ), Karl Brounkowski and James Thompson among others.
"Drag racing is about going fast, so any time you bring cars out that are among the fastest in the world like the alcohol cars, its pretty exciting," said Brabham. "We booked in several alcohol cars last year, and the crowd really liked the side by side three-second, 200 mph+ excitement. We're excited about getting these cars back out here to see what kind of numbers they can put up in the good air we'll have here in February."
"In addition to the alcohol cars, we are going to open it up as a test session to all race cars as long as they have slicks," continued Brabham. "We expect to see some cars that participate in our King of the Strip heads-up program out here as well. We also have an IHRA divisional the next week, so it should be a good test for those cars, too."
InsideTopAlcohol.com owner/editor Will Hanna is excited to bring the event to Lonestar Raceway Park. InsideTopAlcohol.com is a news and discussion site devoted to coverage of the alcohol classes.
"Lonestar Raceway Park is really one of the best kept secrets in the country," stated Hanna. "It really is a top grade facility and the racing surface can hold it's own with any track out there. After seeing Lee Callaway go 3.68, 3.66, and 3.66 at 204 mph in the middle of July last year with a match race tune-up, I knew the track was capable of hosting such an event. Being a crew-chief on one of these cars myself, I can attest that the track here will provide a good test bed for these 3000 hp machines. I think once we hold this event, the secret will be out. Not only will it be great for the racers to test, but it will give the fans an opportunity to see some of the quickest and fastest cars to ever go down the Lonestar Raceway Park 1/8 mile. We hope to host this event at Lonestar for many years to come."
The event will start on Saturday, Feb. 14, and continue on Sunday, Feb. 15. Gates will open at 9 a.m. and testing will begin at 10 a.m. Teams will be able to park on Friday. Alcohol racers are required to pre-enter at InsideTopAlcohol.com.
For more information on Lonestar Raceway Park, visit their website at LonestarRaceway.com.
For questions regarding the event, email Will Hanna at Will.Hanna@InsideTopAlcohol.com