Wed, 17 Dec 2003, 05:43 PM



CSK Auto Extends Sponsorship of Worsham Racing Funny Cars



Courtesy of Bob Wilber
Photo by:Auto Imagery, Inc.



ANAHEIM, Calif. --
CSK Auto, Inc., the parent company of Checker Auto Parts, Schuck's Auto Supply, and Kragen Auto Parts, has agreed to extend its sponsorship agreement with Worsham Racing, featuring the NHRA Nitro Funny Cars driven by Del Worsham and Phil Burkart. Terms of the new multi-year agreement were not released.
CSK Auto has been Worsham Racing's primary sponsor since 1997, and 2004 will mark the fifth consecutive season in which Worsham Racing will field two NHRA Nitro Funny Cars flying the colors of Checker, Schuck's, and Kragen Auto Parts. In addition to its affiliation with Worsham Racing, CSK Auto is also the Official Auto Parts Retailer of NHRA.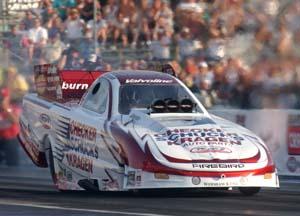 Del Worsham
Owner/driver Del Worsham welcomed the new contract extension, and views it as a validation of not only the team's competitive accomplishments, but also of the marketing value of NHRA POWERade drag racing.
"We're very proud of what we've done over the course of this partnership with CSK Auto, especially in the last three years when our program has really risen to the highest levels," Worsham said. "The people at CSK Auto have supported us in so many ways, well beyond the pure sponsorship part of the program, and we feel we've delivered for them and will continue to do so.
"But, beyond the fact that we're the fortunate team that gets to work with such a proactive sponsor, it's very rewarding to see how much value they place on being involved with NHRA POWERade Drag Racing," Worsham continued. "Our sport is growing, developing, and really evolving right in front of our eyes, but one thing that has never changed is the loyalty and awareness of our millions of fans. They make it work, and Checker, Schuck's, Kragen recognizes that."
Jim Schoenberger, Vice President - Marketing for CSK Auto, was quick to point to the value of the program from the company's perspective, as well as the appreciation CSK Auto has for the team they will partner with for an eighth straight season in 2004.
"Compared to the length of our affiliation with Worsham Racing, I'm relatively new to the program, but its value was clear to me in very short order," said Schoenberger, who returned to CSK Auto in his new position in October of 2003. "My mission is to optimize the value of our company's marketing programs, especially in terms of creating and maintaining an effective message to our customers. Our NHRA/Worsham program has been a terrific method for building customer and employee loyalty, and we plan to take that even further in the future.
"There's also no doubt that we have been very fortunate to work with this particular team over the past seven years," Schoenberger continued. "Del and Chuck Worsham, Phil Burkart, and every member of the organization have been great to work with, and are very dedicated to making this partnership work for everyone. What they've accomplished on the track, and what they've done for our business, is remarkable."
As the program enters its eighth season, changes and enhancements are planned in an effort to move the partnership toward the ultimate goal, the NHRA POWERade Championship.
"We share a vision with the Worshams, and that vision is not just tied to elapsed times and race wins," Schoenberger said. "To field a true championship caliber team, we have to have a commitment to excellence in all phases of the operation, from both the team's perspective and the sponsor's.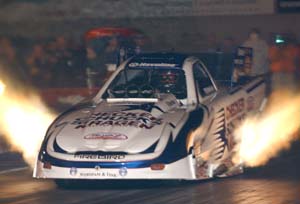 Phil Burkart
"We're working right now on new concepts and new designs for our look and image, better facilities for entertaining our key clients and vendor partners in the pit area, and public service programs that will utilize Del Worsham in a very proactive fashion. On top of all that, CSK Auto will continue to increase its support for the racing operation, giving the Worshams and the red and blue Checker, Schuck's, Kragen teams the resources they need to compete for the Championship. We're very excited to be moving forward."
Del Worsham, a 14-time winner in his professional career, has won 11 races in the past three seasons, while finishing fourth or higher in POWERade points over the same period of time. Worsham has his eyes fixed firmly on the big prize.
"Our goal is to win the POWERade Championship," he said. "CSK has been with us since 1997, and we've grown this program every year by sharing a long term vision. It's absolutely wonderful to have a sponsor that's on the same page with the team, and is a true partner. We all have the same goals, and the key aims are to continue to drive business for Checker, Schuck's, and Kragen while we take aim at a POWERade Championship. The bottom line is, those two objectives go hand in hand."